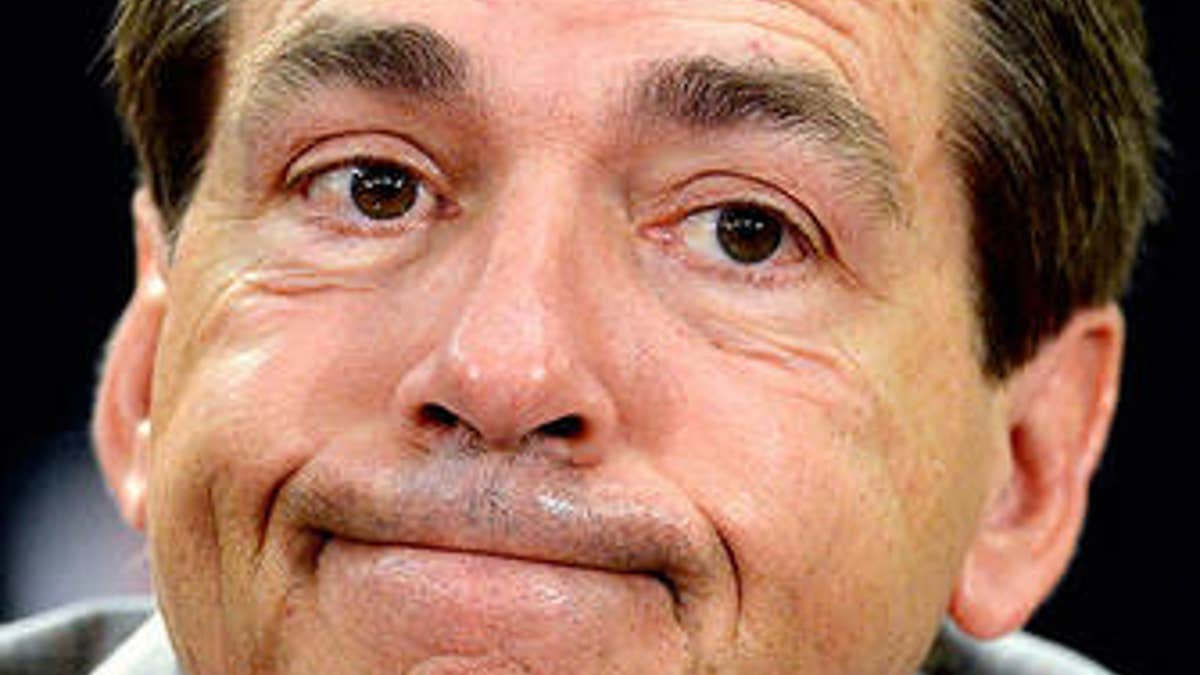 Eight days from the start of the 2013 season, we finally have the 2014 SEC football schedule.
Since the league's website inevitably buckles under the initial rush of traffic, I've cut and pasted each team's schedule below.
This will be the first year that Arkansas and Missouri and South Carolina and Texas A&M are cross-division rivals.
Florida gets to travel to Alabama and retains LSU as its permanent opponent. Congrats, Will Muschamp.
Of note here, the SEC Network launches strong, with A&M at South Carolina on Thursday night, Aug. 28. Let the distribution battles officially begin.
Florida plays at Alabama, Vandy plays at Mississippi State, Tennessee plays at Ole Miss, Georgia plays at Arkansas, Kentucky plays at LSU, Auburn plays at South Carolina, Missouri plays at Texas A&M.
How excited should you be about this? Here's a handy guide:
Here are the full SEC schedules for 2014:
2014 SEC Football Schedule (Conference Games Only)
Week-by-Week
Aug. 28
Texas A&M at South Carolina
Aug. 30
Arkansas at Auburn
Sept. 6
Ole Miss at Vanderbilt
Sept. 13
Kentucky at Florida
Georgia at South Carolina
Sept. 20
Florida at Alabama
Mississippi State at LSU
South Carolina at Vanderbilt
Sept. 27
Texas A&M vs. Arkansas (Dallas)
Tennessee at Georgia
Vanderbilt at Kentucky
Missouri at South Carolina
Oct. 4
Alabama at Ole Miss
LSU at Auburn
Florida at Tennessee
Vanderbilt at Georgia
South Carolina at Kentucky
Texas A&M at Mississippi State
Oct. 11
Alabama at Arkansas
Auburn at Mississippi State
LSU at Florida
Georgia at Missouri
Ole Miss at Texas A&M
Oct. 18
Texas A&M at Alabama
Georgia at Arkansas
Missouri at Florida
Kentucky at LSU
Tennessee at Ole Miss
Oct. 25
Alabama at Tennessee
South Carolina at Auburn
Mississippi State at Kentucky
Ole Miss at LSU
Vanderbilt at Missouri
Nov. 1
Arkansas at Mississippi State
Auburn at Ole Miss
Florida vs. Georgia (Jacksonville)
Kentucky at Missouri
Tennessee at South Carolina
Nov. 8
Alabama at LSU
Texas A&M at Auburn
Florida at Vanderbilt
Georgia at Kentucky
Nov. 15
Mississippi State at Alabama
LSU at Arkansas
Auburn at Georgia
South Carolina at Florida
Kentucky at Tennessee
Missouri at Texas A&M
Nov. 22
Ole Miss at Arkansas
Vanderbilt at Mississippi State
Missouri at Tennessee
Nov. 27
LSU at Texas A&M
Nov. 29
Auburn at Alabama
Arkansas at Missouri
Mississippi State at Ole Miss
Tennessee at Vanderbilt
2014 SEC Football Schedule (Conference Games Only)
Team-By-Team
ALABAMA
Sept. 20 - FLORIDA
Oct. 4 - at Ole Miss
Oct. 11 - at Arkansas
Oct. 18 - TEXAS A&M
Oct. 25 - at Tennessee
Nov. 8 - at LSU
Nov. 15 - MISSISSIPPI STATE
Nov. 29 - AUBURN
ARKANSAS
Aug. 30 - at Auburn
Sept. 27 - vs. Texas A&M (Dallas)
Oct. 11 - ALABAMA
Oct. 18 - GEORGIA
Nov. 1 - at Mississippi State
Nov. 15 - LSU
Nov. 22 - OLE MISS
Nov. 29 - at Missouri
AUBURN
Aug. 30 - ARKANSAS
Oct. 4 - LSU
Oct. 11 - at Mississippi State
Oct. 25 - SOUTH CAROLINA
Nov. 1 - at Ole Miss
Nov. 8 - TEXAS A&M
Nov. 15 - at Georgia
Nov. 29 - at Alabama
FLORIDA
Sept. 13 - KENTUCKY
Sept. 20 - at Alabama
Oct. 4 - at Tennessee
Oct. 11 - LSU
Oct. 18 - MISSOURI
Nov. 1 - vs. Georgia (Jacksonville)
Nov. 8 - at Vanderbilt
Nov. 15 - SOUTH CAROLINA
GEORGIA
Sept. 13 - at South Carolina
Sept. 27 - TENNESSEE
Oct. 4 - VANDERBILT
Oct. 11 - at Missouri
Oct. 18 - at Arkansas
Nov. 1 - vs. Florida (Jacksonville)
Nov. 8 - at Kentucky
Nov. 15 - AUBURN
KENTUCKY
Sept. 13 - at Florida
Sept. 27 - VANDERBILT
Oct. 4 - SOUTH CAROLINA
Oct. 18 - at LSU
Oct. 25 - MISSISSIPPI STATE
Nov. 1 - at Missouri
Nov. 8 - GEORGIA
Nov. 15 - at Tennessee
LSU
Sept. 20 - MISSISSIPPI STATE
Oct. 4 - at Auburn
Oct. 11 - at Florida
Oct. 18 - KENTUCKY
Oct. 25 - OLE MISS
Nov. 8 - ALABAMA
Nov. 15 - at Arkansas
Nov. 27 - at Texas A&M
OLE MISS
Sept. 6 - at Vanderbilt
Oct. 4 - ALABAMA
Oct. 11 - at Texas A&M
Oct. 18 - TENNESSEE
Oct. 25 - at LSU
Nov. 1 - AUBURN
Nov. 22 - at Arkansas
Nov. 29 - MISSISSIPPI STATE
MISSISSIPPI STATE
Sept. 20 - at LSU
Oct. 4 - TEXAS A&M
Oct. 11 - AUBURN
Oct. 25 - at Kentucky
Nov. 1 - ARKANSAS
Nov. 15 - at Alabama
Nov. 22 - VANDERBILT
Nov. 29 - at Ole Miss
MISSOURI
Sept. 27 - at South Carolina
Oct. 11 - GEORGIA
Oct. 18 - at Florida
Oct. 25 - VANDERBILT
Nov. 1 - KENTUCKY
Nov. 15 - at Texas A&M
Nov. 22 - at Tennessee
Nov. 29 - ARKANSAS
SOUTH CAROLINA
Aug. 28 - TEXAS A&M
Sept. 13 - GEORGIA
Sept. 20 - at Vanderbilt
Sept. 27 - MISSOURI
Oct. 4 - at Kentucky
Oct. 25 - at Auburn
Nov. 1 - TENNESSEE
Nov. 15 - at Florida
TENNESSEE
Sept. 27 - at Georgia
Oct. 4 - FLORIDA
Oct. 18 - at Ole Miss
Oct. 25 - ALABAMA
Nov. 1 - at South Carolina
Nov. 15 - KENTUCKY
Nov. 22 - MISSOURI
Nov. 29 - at Vanderbilt
TEXAS A&M
Aug. 28 - at South Carolina
Sept. 27 - vs. Arkansas (Dallas)
Oct. 4 - at Mississippi State
Oct. 11 - OLE MISS
Oct. 18 - at Alabama
Nov. 8 - at Auburn
Nov. 15 - MISSOURI
Nov. 27 - LSU
VANDERBILT
Sept. 6 - OLE MISS
Sept. 20 - SOUTH CAROLINA
Sept. 27 - at Kentucky
Oct. 4 - at Georgia
Oct. 25 - at Missouri
Nov. 8 - FLORIDA
Nov. 22 - at Mississippi State
Nov. 29 - TENNESSEE