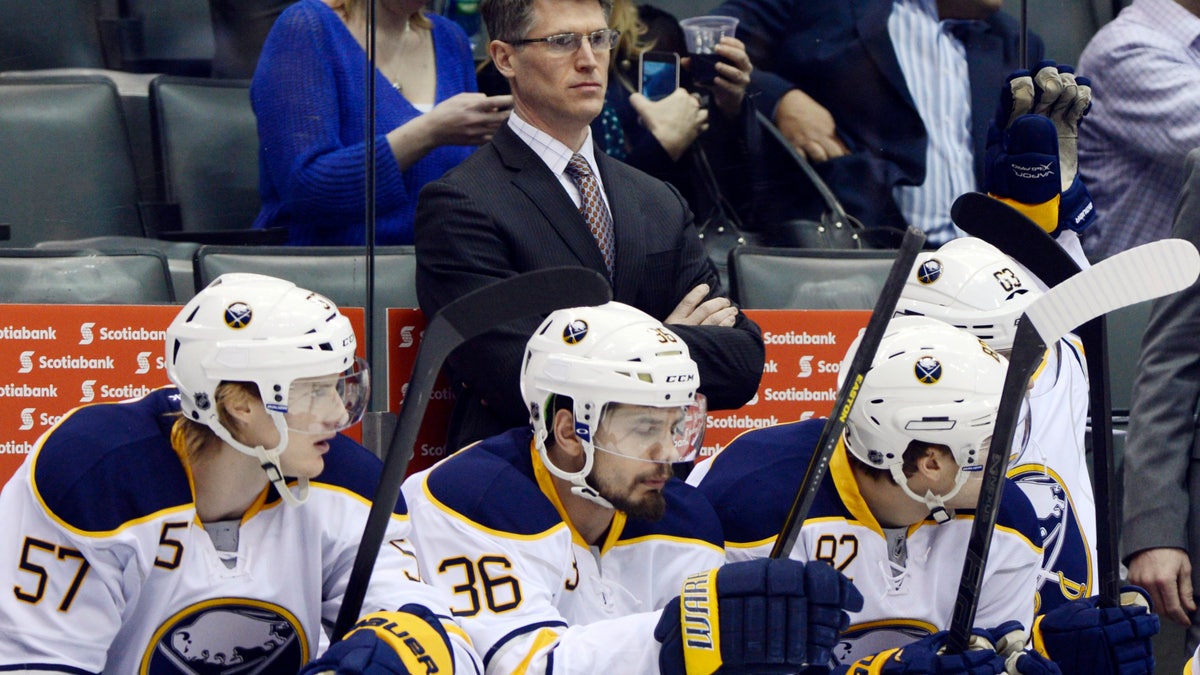 TORONTO – Ron Rolston had no more success than Lindy Ruff behind the Buffalo Sabres' bench.
In his first game as an NHL head coach, Rolston took a 3-1 loss to the Toronto Maple Leafs on Thursday night.
Rolston, who took over on Wednesday after the Sabres fired long-time coach Lindy Ruff, tried to put a positive spin on Buffalo's performance in his debut.
"I liked a lot of things we did," said Rolston, who was coaching Buffalo's American Hockey League affiliate in Rochester when Ruff was dismissed. "We improved in some areas that we talked about. We just need to go back at it and get better."
Rolston said he took a few moments to soak up the scene before his first NHL game.
"It was a great feeling, walking down the hallway and out behind the bench for the first time," he said. "This is a spectacular building, there was great atmosphere, and being out there for the anthems was a special feeling. It was a thrill."
That feeling of excitement will quickly fade if Buffalo continues its tailspin. The Sabres (6-11-1) have lost three straight and five of six. That skid cost Ruff — the NHL's longest-tenured coach — his job after nearly 16 years with the franchise.
Buffalo has fallen to 14th place in the 15-team Eastern Conference and needs to turn things around quickly.
"Most importantly, we need to generate more shots, more scoring chances," Rolston said. "We've got to shoot and get more traffic in front. We've got the guys back there (on defense) who can really shoot it. If we can establish that, it should really open things up for us."
The Sabres ranked 17th in the NHL in goals per game (2.6) and 26th in goals against (3.3). Special teams have also been a problem for Buffalo, which ranks second to last in the league on the power play (12.3-percent efficiency) and 20th on the penalty kill (79.4 percent).
There is work to do, but the Sabres appear ready to listen to a new coach for the first time since 1997.
"It was a different voice, obviously," said Thomas Vanek, who is tied for the NHL lead in goals (12) and points (25) and has been one of Buffalo's few bright spots this season. "He talked a lot behind the bench. It was fine. He tried to teach us a few things during the game."
While they are ready to respond to Rolston, some Sabres acknowledged the situation felt a little strange at first.
"It was weird," Buffalo captain Jason Pominville said. "Lindy's been the leader of this organization for 16 years. It's definitely something we have to get used to. Nothing against Ron, it's just a little weird to have a new voice back there."