Padres, White Sox look to end struggles in weekend in series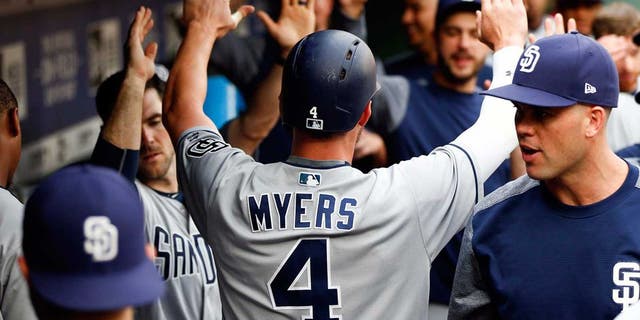 CHICAGO -- Chicago White Sox right-hander Miguel Gonzalez expects a less emotional atmosphere when he makes a delayed start on Friday in a series opener against the San Diego Padres.
Gonzalez (3-2, 3.18 ERA) had a quality start in his last outing on May 5 at Baltimore, his first trip to Camden Yards since last pitching for the Orioles in 2015.
He took the loss in a 4-2 Baltimore victory, allowing just two early runs on six hits while striking out six and walking two in 6 2/3 innings. The White Sox pounded out 12 hits but had no runs until the eighth as Gonzalez suffered his second straight loss.
"It's a crazy game. We had 12 hits and lost the game," Gonzalez told reporters. "I was (also) a little too much amped up. But I settled down."
Gonzalez was originally scheduled to pitch in Thursday's series finale against the Minnesota Twins. But, following a Wednesday rainout, left-hander Derek Holland was pushed back one day.
So Gonzalez goes to the mound on six days' rest and instead faces Padres right-hander Jhoulys Chacin (3-3, 5.26 ERA) in the opener of the three-game interleague weekend series at Guaranteed Rate Field.
Chicago (15-17) has now lost a season-high five straight. San Diego (13-23) suffered a 5-2 loss to Texas on Thursday.
Chacin, in his first Padres season, will have the same rest as Gonzalez.
He's coming off a 5 1/3 no-decision outing against the Dodgers last Friday, when he gave up just one run on four hits, walked three and struck out three.
The lone run was a solo home run by Cody Bellinger, coming on a 2-0 fastball.
"He battled really well," Padres manager Andy Green told reporters. "He gave us an opportunity to win the baseball game. Was he his sharpest? No. But he did enough to win a baseball game against a good club."
Chacin collected his last win on April 29 against the San Francisco Giants, giving up three runs on five hits over five innings. He also struck out six and walked a pair in the Padres' 12-4 victory.
His longest outing this season came on April 19, when he worked eight full innings and tossed 101 pitches in a 1-0 win over Arizona, his second shutout outing of 2017.
Gonzalez was let go by the Orioles late in spring training in 2016 and joined the White Sox, where he posted a 5-8 record and 3.73 ERA in 24 games (23 starts).
Friday's start will be Gonzalez's seventh of the season and first in interleague play. In 2016, he went 1-0 with a 2.04 ERA in three starts against National League teams.
This will be only his second all-time start against the Padres. He had no decision on Aug. 7, 2013, at Petco Park while with the Orioles, allowing three earned runs through six innings in a 10-3 Baltimore victory.
The Padres and White Sox meet for only the 10th time in interleague play and just their fourth all-time series.
Chicago holds a 5-4 all-time lead, but San Diego took two of three in 2014 at the former U.S. Cellular Field, the last time the teams met.