Opinion: Move over Brazil and Argentina, Uruguay is South America's Best Side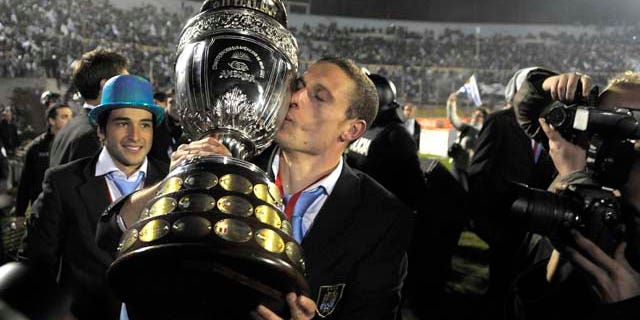 Contrary to popular belief, there are other South American soccer teams besides Brazil and Argentina that can play the beautiful game.
Chile and Paraguay have some pretty good players and teams. Venezuela, too, showed it is an up-and-coming side, while Perú surprised a lot of soccer observers by finishing fourth at Copa América.
And there's Uruguay, which made yet another mark for itself with a marvelous and emphatic 3-0 triumph over Paraguay in the Copa América final on Sunday.
There is no doubt La Celeste is the best of South America. The Uruguayans play with some flair, spark and style behind the sublime Diego Forlán and Luis Suárez, and they like to show they still have some bite to let the opposition know there is a defending team on the field.
Brazil and Argentina can talk as much as they want about South American supremacy. But as we all know, talk can be very cheap, especially in these inflated times.
It is action, and what transpires on the soccer pitch, that speaks much louder than words.The Uruguayans have allowed their talented feet, hard heads, and the soft hands of goalkeeper Fernando Muslera, do the talking the past two years.

You can't argue with success, and they have accomplished just about everything you could ask of a national team. They finished a surprising fourth at last year's World Cup and added a Copa América trophy to its trophy case for the first time since 1995.
It was Uruguay's 15th Copa crown, one more than Argentina.
And there's an added prize – an opportunity to play at the 2013 FIFA Confederations Cup against the top national teams, including CONCACAF champion Mexico, host Brazil, and the European champion that will be decided next summer, plus the confederation champs from Asia, Africa and Oceania.

These past several years have been a renaissance for Uruguayan soccer.
While the eyes of the soccer world have been on Brazil, and the question of whether the national side could be rebuilt into a force to withstand the intense pressures of playing a World Cup at home -- pressures that a talented Argentine side that has everything, including the great Lionel Messi, was unable to shrug-off while hosting the Copa America -- it was easy to look past this team.

Not anymore.

Forlán, who ended the match scoreless in his previous 12 international matches, proved he was a money player with a fabulous, two-goal performance in the final.
Suárez, who forever will be linked to the handball controversial against Ghana in the World Cup quarterfinals, has proven to be a pretty damn good player himself with a goal and an assist Sunday. He finished with four goals and took home the Golden Ball as the best player of Copa America.

For years, the Uruguayans had forged a deserved reputation as being the hard men of South American soccer for their rough and tumble style. While those tactics don't define today's team, they made sure Paraguay received a message or two when they were nursing a 1-0 lead midway through the first half as Diego Pérez, Martín Caceres and Maxi Pereira were booked for yellow cards within a six-minute span for some hard fouls on their opposition.

But for Uruguay, it was skill and guile that ruled the day, not physical play, as Forlán lived up to his reputation as the Golden Ball winner as the 2010 World Cup's best player.

In many ways, the start of the match was reminiscent of last Sunday's Women's World Cup final, when the United States threw just about everything but the kitchen sink at Japan. That ploy did not work, as Americans either could not find the target or the Japanese were up to the challenge.

The opening 10 minutes of the Uruguay-Paraguay confrontation was played in the latter's end as La Celeste sent shots, crosses and passes from flank to flank but to no avail.

Finally, Uruguay broke Paraguay's resistance as Suárez scored in the 12th minute as his shot bounded off the left post and into the net.
It was the best thing to happen to the game with the favorites scoring so early. It forced Paraguay to come out of its defensive shell and actually go on attack, opening up the game.

Not wanting to sit on a one-goal lead, the Uruguayans themselves went on the offensive. It paid off for them as Forlán struck in the 42nd minute after Egidio Arevalo Rios stole the ball from a Paraguayan player at midfield and put a giant exclamation point on the victory with a 90th-minute score.

The match could have turned into a dreary encounter had Paraguay managed to hold off its rivals or worse, scored first. Then the Paraguayans would have bunkered in, paying the entire team behind the ball and inviting their foes to penetrate their backline.

Thank the soccer gods it did not happen as the best team was allowed to play, and most importantly, win.

In soccer, sometimes the best team doesn't always win, given the low-scoring nature of the game and the unusual bounces a ball might take or crazy happenings that might occur during a match. That goes double and perhaps even triple when a championship game is factored into the occasion.

But fortunately, no one has to lament that the wrong team won. Uruguay was deserving champion.

And talk about rubbing some salt into some really big open wounds.

Not only did the Uruguayans win on Argentine soil, which had to be bad enough, they did it in the same ground – Estadio Monumental – where La Albiceleste celebrated winning their first World Cup in 1978.

These certainly are not fun times for the sport in Argentina, especially in Buenos Aires. Estadio Monumental is the home of River Plate, that legendary team that was relegated to the Second Division several weeks ago. Fans rioted over the relegation.

There were fears that the stadium would not be ready for the final, but it was.

National coach Sergio Batista is on the hot seat and could be fired – deservedly, I might add – for misguiding the team into a quarterfinal elimination at home, no matter what he says and how he pleads his flimsy case to remain as the coach.

Now Uruguay wins in that same stadium.

Can the Argentine soccer psyche take any more demoralizing news?

If that doesn't get Argentina off its rear and try to live up to its supposed potential, then nothing will.

As for the Uruguayans, they will be allowed to celebrate for a while, having earned bragging rights until World Cup qualifying kicks off next year.
Argentina and Brazil can say whatever they want, but it will fall on deaf ears because Uruguay proved itself on the field and that's all that counts in soccer.
Michael Lewis, who has covered international soccer for three decades, is a frequent contributor to Fox News Latino. He can be reached at SoccerWriter516@aol.com.
Follow us on twitter.com/foxnewslatino
Like us at facebook.com/foxnewslatino