Nunes has plans to beat Tate, then conquer Rousey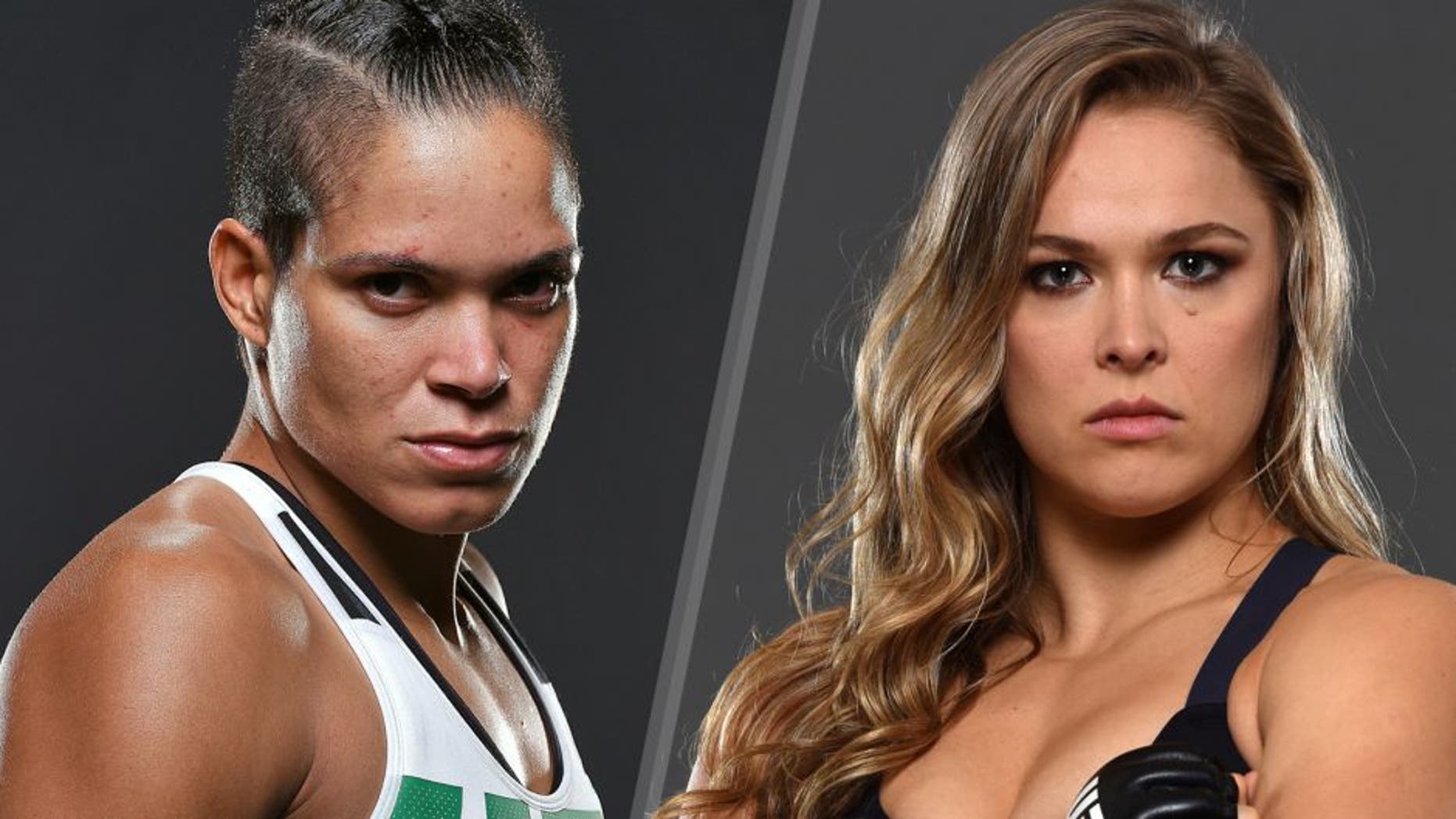 When Amanda Nunes defeated Sara McMann a few weeks back, she knew that a matchup with women's bantamweight champ Ronda Rousey was probably only one fight away.
Nunes stormed through Rousey's teammate Shayna Baszler earlier this year before knocking down and submitting McMann in the first round in August. While she wasn't expecting a title shot, even Nunes was a little surprised that former boxing champ Holly Holm got the call over everybody else in the division when it came time to choose Rousey's next opponent.
Nunes wasn't upset that Holm got the shot although she's not convinced the 2-0 UFC bantamweight is really ready for Rousey just yet.
"I think you have to be ready at any moment. She's had two victories and maybe the UFC thinks she's ready for a title shot," Nunes told FOX Sports on Monday. "I think Ronda's going to win this fight for sure. Maybe Holly Holm will survive the first round, but Ronda for sure is going to win this fight."
With Rousey facing Holm on Jan. 2, UFC president Dana White has expressed interest in matching Nunes up against Miesha Tate on the same card. Nunes has not officially been offered the fight or given a contract, but she's more than happy to fight Tate on that card or any other.
"Miesha has a dangerous style like Sara McMann but I think Sara McMann is stronger than her. I think it's going to be a good fight," Nunes said. "Miesha is a known opponent and I'm going to win this fight. For sure, I'm going to work more and I'm going to do it."
Nunes is keeping a positive attitude about her outlook for a title shot because she knows there's no denying her if she wins her next fight.
Beating Tate might be the best way to send a message to Rousey that she's coming and if that's what it takes to get the champion's attention, Nunes is more than happy to oblige.
"If I need to win one more or two more or whatever. One day I'm going to fight for the title for sure," Nunes said. "It's good for me because I keep training and I keep getting better and better. When I step in there to fight for the belt, I'm going to be the best.
"For some reason, I'm not going to fight for the title but this is going to help me. I'm going to keep getting better."
Nunes has gone 4-1 since joining the UFC with her only loss coming to Cat Zingano in a fight she was winning early before the former title challenger came back late. Outside of that lone performance, Nunes has been unstoppable in her other four fights, racking up four wins while finishing all of her opponents in the first round.
That sounds eerily similar to Rousey, who has only gone past the first round once in her entire career and Nunes is beginning to get a groundswell of support for the cause that she might just be the toughest matchup the bantamweight division has to offer.
UFC color commentator Joe Rogan even supported Nunes getting the shot after Holm was announced as the new No. 1 contender last week.
"I would have gone with Amanda Nunes before Holly Holm," Rogan said over the weekend. "Amanda Nunes looked like a badass when she knocked out Sara McMann. That's a more dangerous fighter. A more marketable fighter."
Needless to say, Nunes agrees with him and she believes that when push comes to shove, she will give Rousey a tougher fight than anyone else in the women's bantamweight division.
"Yes, for sure I'm the toughest matchup for Ronda Rousey -- and I'm going to be better. When I have the opportunity I'm going to evolve even more than now," Nunes said. "It's going to be good. I can't wait."
Nunes is patient enough to fight Tate or whoever the UFC offers for her next fight, but she knows before 2016 is over, the belt won't be around Rousey's waist any longer.
"I believe it," Nunes said about beating Rousey. "I can't wait to hear it -- 'and new!'"