Nugent-Hopkins exceeding high expectations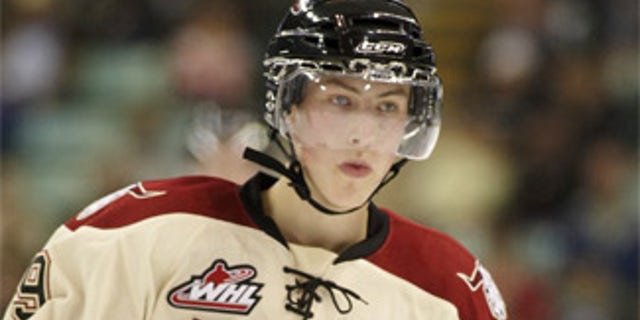 Red Deer Rebels center Ryan Nugent-Hopkins wasn't going to take any of the general managers, scouts and coaches in attendance by surprise in August during the 2010 NHL Research, Development and Orientation Camp fueled by G Series.
Barring a major setback, they all knew he would be a certain top-five pick at the 2011 Entry Draft.
It was much the same five months later when he was named player of the game for Team Orr at the CHL/NHL Home Hardware Top Prospects Game in Toronto.
Now, after he finished tied for third in the Western Hockey League with 106 points, the only thing that's changed is instead of being seen as a top-five pick, he could be the first player picked when the Draft is held June 24-25 at the Xcel Energy Center in St. Paul, Minn.
Nugent-Hopkins led the WHL with 75 assists, and his 31 goals (11 on the power play) were third on his team. He also posted a team-best plus-30 rating.
"I like to set up plays and I consider myself a playmaker -- getting down low and setting up my teammates," Nugent-Hopkins told NHL.com.
"He makes everyone around him better," NHL Network analyst Craig Button said. "He reminds me of Joe Sakic in this thinking and ability. Sakic was one of those guys where it didn't matter what type of game you were playing. You always knew you could count on Joe Sakic and you knew he'd made a play and make a difference, and I feel exactly the same way about Ryan Nugent-Hopkins. In my mind, it will take an enormous effort by another player to unseat Nugent-Hopkins as the No. 1 prospect heading into the Draft because I think he's a star in the making."
In Red Deer's four-game sweep of the Edmonton Oil Kings in the opening round of the WHL playoffs, Nugent-Hopkins had 4 goals and 5 assists. His team hosts the Medicine Hat Tigers in the opening game of the second round on Friday.
As a rookie last season, Nugent-Hopkins finished second on the team in scoring with 65 points, including 24 goals, in 67 games to earn WHL's Rookie of Year Award and help the Rebels reach the playoffs for the first time in three seasons.
He was third on NHL Central Scouting's mid-term ranking of the top North American skaters eligible for this year's Draft, and when the final ranking is released April 12, it would be a surprise to see him move anywhere but up.
NHL Central Scouting's B.J. MacDonald, who specializes in players from the WHL, feels the sky is the limit for Nugent-Hopkins.
"You get a player like (Nugent-Hopkins) … you pair him with (Jarome) Iginla or somebody like that," MacDonald said, "it could be a phenomenal combination. Because with a center like that, who can dish like that, is what a lot of teams strive to get. They want that center who can not only make players around him better, but both linemates. He can dish both right or left, either on his backhand or forehand, with that kind of vision. It's not just the vision, either, but the fact he can lay that puck between the skate boot and the skate blade -- that's hard to find."
Chris Edwards, Central Scouting's Ontario scout, has seen enough of Nugent-Hopkins to conclude his skill set is "very high."
"He dominated the game at Red Deer and you can just see the talent coming right off the stick when he's on the ice," Edwards said. "He sees the ice very well, has excellent puck-handling and play-making ability and skates very well."
Nugent-Hopkins started his season serving as one of four assistant captains for Team Canada at the 2010 Ivan Hlinka Memorial Tournament in the Czech Republic in August. The highlight for the 6-foot, 164-pound forward was scoring the game-winner 1:42 into the first period to give his team a 1-0 victory against Team USA in the gold-medal game.
"Just representing Canada was amazing and awesome and winning the gold-medal game, especially against the U.S., was great since they're such a big rival," Nugent-Hopkins said.
Nugent-Hopkins just missed out at representing his country a second time this season, at the World Junior Championship in Buffalo, N.Y., in January, as he was a late cut from the team. You get the feeling it was a motivating factor in the second half of his season.
The numbers certainly bear that out -- in his first 35 games, he had 10 goals and 37 assists; in 34 games after he was cut from the WJC team, he had 21 goals and 38 assists.
"It was tough getting cut but I tried to take all the positives I could from it and just keep on getting better," he said.
Follow Mike Morreale on Twitter at: @mike_morreale