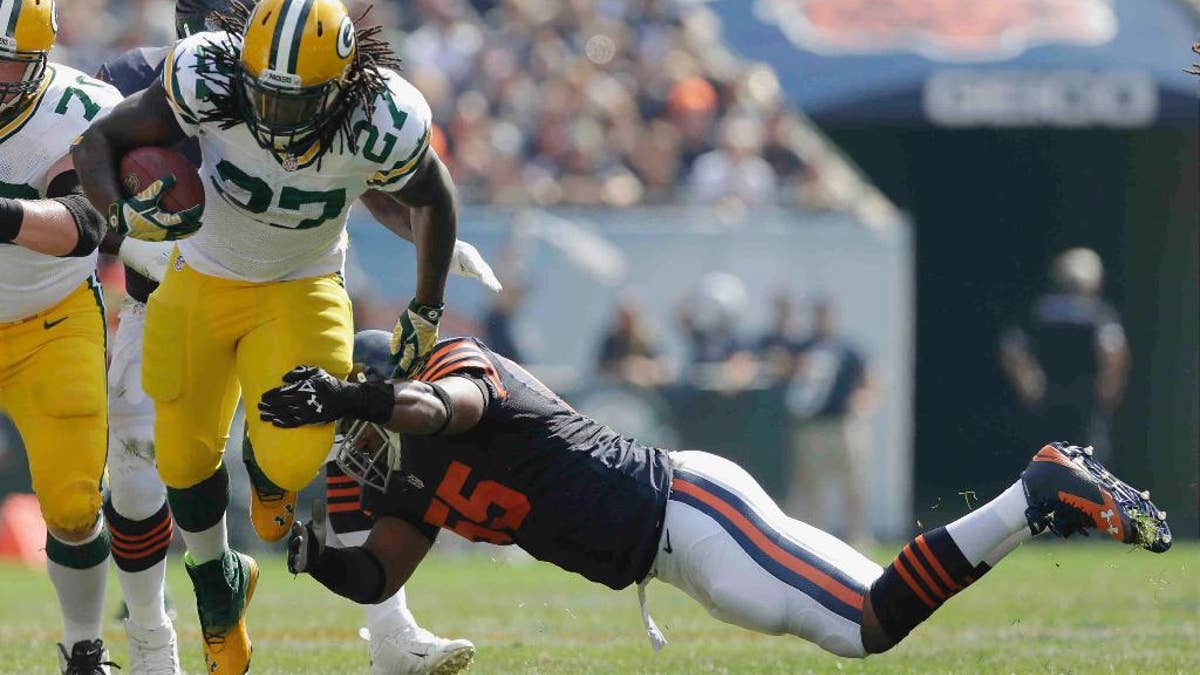 GREEN BAY, Wis. – Offensive lineman Josh Sitton could use a break.
Unfortunately for him, the NFL schedule calls for Green Bay and its standout left guard to play the Minnesota Vikings on Thursday night — just five days after the Packers' last game.
This didn't make him happy on Tuesday.
"I hate it," Sitton said.
Life in the trenches can be enough of a grind with the pounding that occurs in the running game. That part of the Packers offense has been a problem, so far, ranking just 28th in the league at 73 yards per game.
Tuesdays are when offensive linemen really feel the pounding. It's usually a day off in a normal work week in Green Bay.
This is no normal week.
"I think it's stupid. I think it's all about money for the NFL, obviously," Sitton said regarding Thursday night games. "That's what this league is about, is about making money — which is fine. I like to make money, as well.
"But, yeah, it's tough on your body, tough on your head," Sitton said.
Every team has to go through it. In one area, this might be an opportune time for a Thursday game for the Packers given that their passing attack is on a roll.
Aaron Rodgers threw for 302 yards and four touchdowns in a 38-17 win last week over Chicago. Receivers Jordy Nelson and Randall Cobb had two scoring catches apiece. Nelson leads the NFL with 33 catches for 459 yards.
But running back Eddie Lacy, last year's offensive rookie of the year, had another subpar day — and his 48 yards were still a season high. Lacy at least scored his first rushing touchdown of the year on one of his 17 carries.
"Yeah, I think we did some good things, but the offense is still not where we want it," Rodgers said. "Obviously, we'd like to have some more balance. We didn't run the ball real effectively.
"Sometimes it's going to happen when you throw it so well, but we've got to be able to close out games running it a little more effectively."
Lacy is averaging 3.0 yards per carry. Backup running back James Starks didn't get a carry, though coach Mike McCarthy said Tuesday that was the result of poor game management and that Starks should touch the ball every game.
But in the Packers' hurry-up offense, in which tempo is key, sometimes the opportunities for clock-eating drives marked by grinding runs just aren't there.
McCarthy sees the low production as a result of lack of volume. Green Bay had 18 running plays against Chicago, and hasn't had more than 22 in a game in the first four weeks.
There are opportunities to both run effectively and maintain tempo, the Packers maintain.
"Well, the biggest thing within our run game is we've got to get the attempts up, so we need to keep generating first downs," McCarthy said. "Anytime you have a successful run game, you're definitely pushing 30 attempts."
Sitton, looking a bit worn while sitting at his locker, offered another view about the lack of production on the ground.
It was simple and to the point. He sounded tired.
"We're not blocking good enough. The running backs aren't running good enough. The quarterback is not making the right check all the time. Receivers aren't making their blocks good enough," Sitton said. "We're not good enough in the run game right now — all around."
___
AP NFL websites: http://www.pro32.ap.org and http://www.twitter.com/AP_NFL
__
Follow Genaro Armas at http://twitter.com/GArmasAP