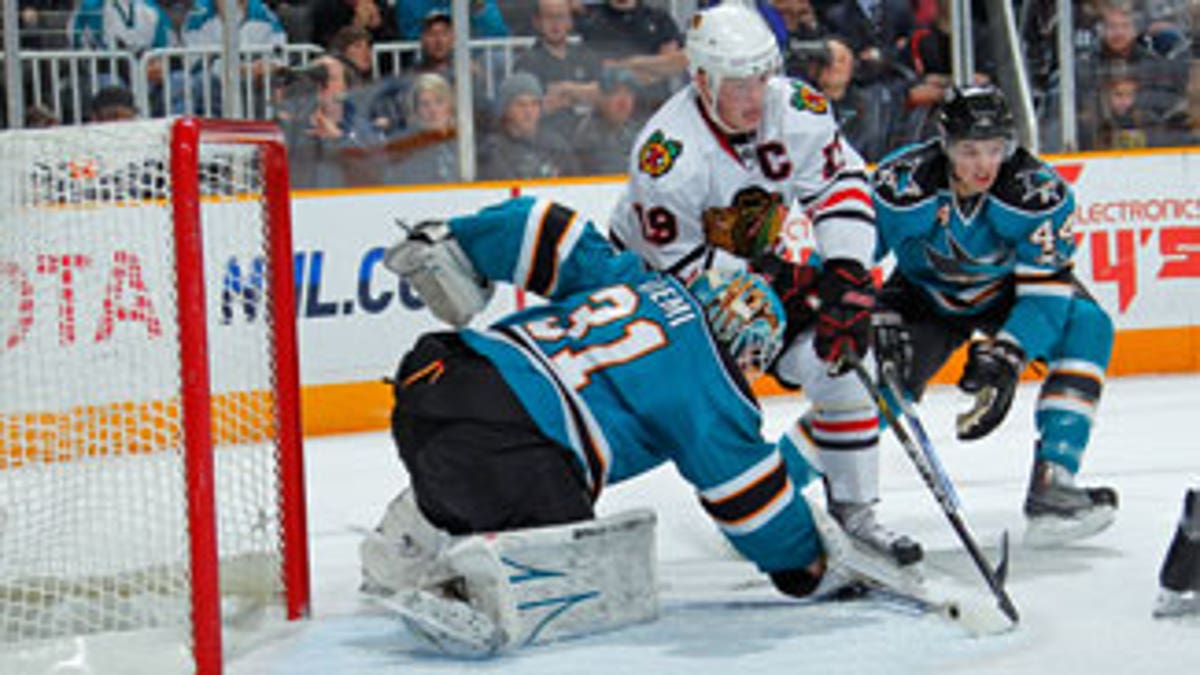 Antti Niemi and the San Jose Sharks have agreed on a four-year contract extension that keeps the goaltender with the team through the 2014-15 season. Financial terms of the deal were not released, but ESPN.com is reporting the deal will see Niemi earn an average of $3.8 million per season.
After a slow start, Niemi has solidified his hold on the Sharks' starting goalie job. He's 23-15-3 with a 2.44 goals-against average, .919 save percentage and 5 shutouts in 42 games this season.
He's currently on a six-game win streak and is 14-2-1 in his past 18 games dating to Jan. 15. The Sharks are 15-2-1 in that span and have gone from last in the Pacific Division and 10th in the Western Conference to the division lead and third in the conference entering Tuesday's games.
"We wanted Antti to remain a San Jose Shark and he wanted to be here," Sharks Executive Vice President and General Manager Doug Wilson told the team's website. "Once he got through his expected integration period with our club, Antti's play has been outstanding, and just as important, he has consistently been a great teammate. And like many of his teammates over this past year, he worked with us on a contract that fits within our team structure and enables us to keep our group intact."
Niemi arrived in San Jose during the summer after the Chicago Blackhawks made him an unrestricted free agent by walking away from his winning arbitration award. The Sharks had signed free agent Antero Niittymaki earlier in the summer, but couldn't pass on signing the netminder who had chased them from the Western Conference Finals just two months earlier.
After beating the Sharks, Niemi led the Blackhawks to the franchise's first Stanley Cup since 1961 in a six-game defeat of the Philadelphia Flyers.
Much like this season, Niemi didn't emerge as the starting goalie in Chicago until past the midpoint of the season, when he had been sharing time with Cristobal Huet. But Niemi got hot late, finished the season 26-7-4 with a 2.25 GAA and 7 shutouts, and was the unquestioned starter in the playoffs.
He went 16-6 in 22 playoff games, including a 24-save effort in the Cup-clinching overtime victory in Game 6 against the Flyers.
Niemi signed with the Blackhawks on May 5, 2008 after going undrafted out of his native Finland. He played most of 2008-09 with AHL Rockford, then spent all of last season with the Hawks. In 84 NHL games, he is 50-23-8 with a 2.38 GAA, .914 save percentage and 12 shutouts.
Contact Adam Kimelman at akimelman@nhl.com. Follow him on Twitter: @NHLAdamK