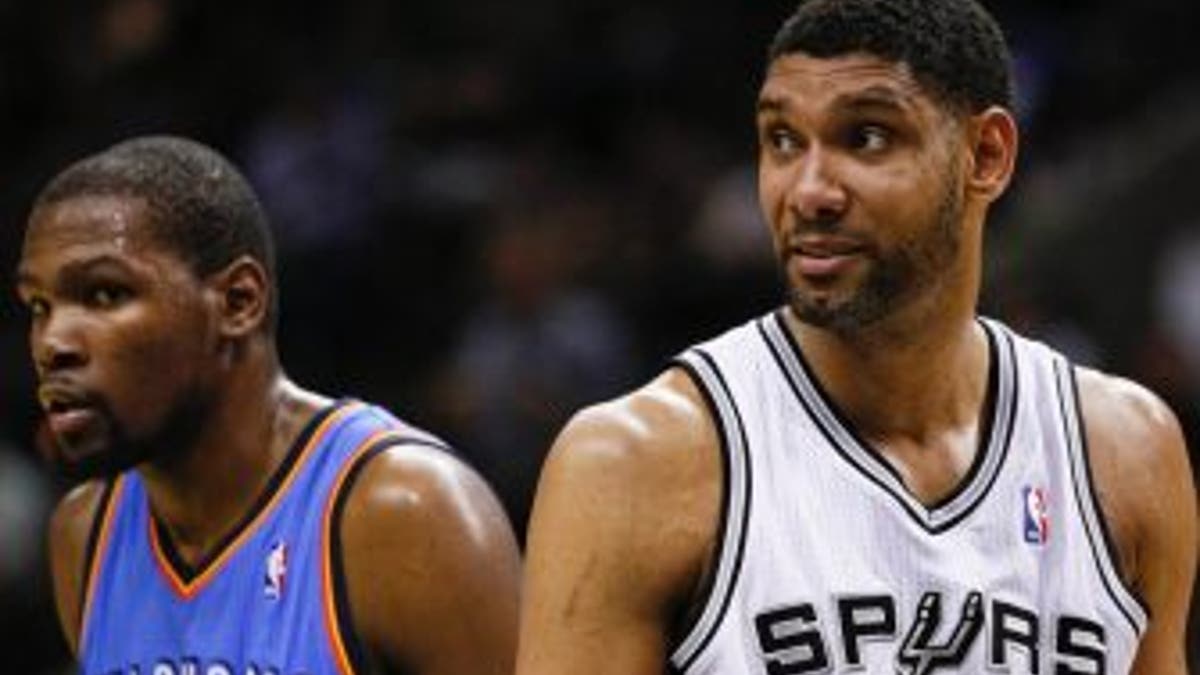 It doesn't seem fathomable that two teams could look evenly matched in a playoff series while also not playing a single game that felt anything like a fair fight. But if such an illogical scenario exists, it's the one playing out in the NBA's Western Conference Finals between the San Antonio Spurs and Oklahoma City Thunder.
The back-and-forth tussle between the West's top two teams continued Thursday night, with the latest knockdown going to the Spurs, who looked like they were swinging with loaded gloves as they blew OKC out for the third time in the series with a 117-89 win at home. And if you looked at Games 1, 2 and 5 in a vacuum, you could hardly make an argument that the Thunder even belong on the same floor as the defending conference champs.
But OKC has looked equally commanding in its two home games thus far, and while the Spurs will have a chance to land a TKO in the Thunder's building Saturday, the most appropriate outcome in a series that has made no sense thus far would be for these teams to meet for one final time Monday with a trip to the NBA Finals on the line.
THURSDAY'S RECAP:
SPURS 117, THUNDER 89
Spurs lead 3-2
Takeaway: For two games in Oklahoma City, it seemed that the return of Serge Ibaka was the answer to all that ailed the Thunder. But on Thursday, rather than utilize a strategy that played around the OKC big man, Gregg Popovich's team decided to double down on going right at him. The haphazard shots around the basket that defined San Antonio in Games 3 and 4 had been replaced by more measured and aggressive attacks at the rim on Thursday, and accordingly, the Spurs found far more success inside, hitting 14 of 20 shots inside the restricted circle after going just 13-of-32 from the same area in Game 4.
On top of that more bellicose approach in the paint, the Spurs also worked to extend the OKC defense when possible, utilizing the size and shooting touch of Matt Bonner and Boris Diaw in place of the more offensively limited Tiago Splitter, who played a playoff-low 11:45 in the win. The promotion of Bonner to the starting lineup didn't bear fruit offensively for San Antonio, as Bonner went scoreless and missed all four of his shots on the night, but the spacing he provided was useful for the Spurs, who bounced back from a dreadful 3-point shooting night in Game 4 to hit 13 of their 26 shots from deep.
When San Antonio is hot from 3, its chances are always going to be good, given the abundance of shooting touch on the Spurs roster. Add in fearlessness at the rim, a huge free throw advantage stemming in part from that approach and a dominant showing on the boards, and then the deck is really stacked. Then throw in a lackluster performance from Russell Westbrook, and San Antonio is practically being handed the game — and that's exactly how Game 5 felt as it played out.
Star Review: It's challenging to pinpoint a true star for the Spurs in Thursday's win because the entire roster played so well from top to bottom, and it's that balance that has made them so dangerous, regardless of the cast of characters around Tim Duncan, Tony Parker and Manu Ginobili over the last decade-plus. In Game 5, every San Antonio player who played more than 20 minutes scored in double-figures, led by Duncan, who had his second double-double of the series with 22 points on 8-of-13 shooting and 12 rebounds. Additionally, Parker seemed to be fully recovered from an uncharacteristic dud in Game 3, with 12 points on 6-of-13 shooting, and Ginobili put a pathetic Game 4 in the rear-view with 19 points on 7-of-9 shooting, including 3-of-4 from 3. Add to that four 3-pointers from Danny Green, two from Diaw and three from Patty Mills, and it's no wonder San Antonio was able to run away with the game like it did.
As for the Thunder, any goodwill they built up with their play at home was lost in a weak second-half effort Thursday that saw OKC shoot just 35.9 percent from the floor and 0-for-12 from 3 — this after shooting 50 percent from 3 and leading by as many as seven in the first half of the game. Kevin Durant was as consistent as you'd expect the MVP to be, scoring 25 points on 11-of-21 shooting, but Westbrook took a surprising backseat in the Thunder's loss, scoring 21 points on just 12 shot attempts. All postseason long, I've been a proponent of Westbrook letting Durant be No. 1 and settling for a 1a role, himself, but after scoring 40 points in Game 4, Westbrook didn't even feel like a No. 2 in Game 5, deferring too often to Reggie Jackson (11 points, 5-of-10 shooting) when the guards were on the floor together. It didn't help matters that Ibaka (3-of-10 shooting) had his most inefficient offensive showing since returning from his calf injury in the loss, either, but in the end, none of these offensive numbers matter much if the Spurs are going to be as undeterred by the OKC defense as they were on Thursday.
Looking Ahead: Game 6 at Oklahoma City, Saturday, 8:30 p.m. ET
What To Look For: If the conference finals' see-saw nature thus far counts for anything, Oklahoma City should win Saturday's elimination game by about 75 points. But all jokes aside, there are a few things the Thunder are going to have to do to actually force a Game 7 and make a return trip to San Antonio Monday night.
The most important is to play a more stringent brand of defense on the perimeter, where the Spurs killed them in Game 5. It's not often that teams are able to shut San Antonio down from 3, given that the Spurs were the league's best 3-point shooting team during the regular season, but at the very least, the Spurs' shots have to be contested — and far too many of them on Thursday weren't. Some of that can be attributed to San Antonio's trademark impeccable ball movement, but there were several times that Thunder defensive laziness played the biggest part in the Spurs getting an open look, and that has to stop in Game 6.
It should come as no surprise to learn that San Antonio has averaged 117 points per game in its three wins and 94.5 in its two losses, and as elementary as it sounds, the Spurs simply aren't going to lose if they're scoring 60 points a half. In the entire Tim Duncan era, San Antonio has only lost two non-overtime games when scoring at least 112 points — the Spurs' fewest points in a win this series — and only once since 2003 have they cracked the 110-point barrier in a playoff game and lost in regulation, that game coming in Game 6 of this season's first-round series against Dallas.
So it all has to start with defense for Oklahoma City, which has proven at various times this series that it is capable of playing it well. And if the Thunder can find a way to cool the Spurs down from 3 and get them to start thinking twice about attacking the rim again, then maybe Westbrook and Durant can provide enough of a spark on offense to knot the series at 3-3.