MLB All-Star Game: Latinos Dominate Starting Lineup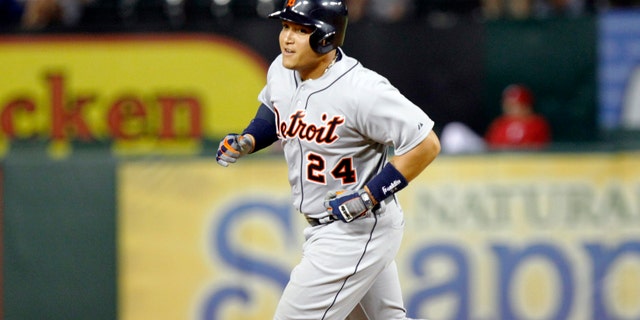 The final results for the players chosen to participate in the MLB All-Star game came as quite a suprise to some.
Baltimore Oriole's first baseman Chris "Crush" Davis slugged his way past Detroit's Triple Crown winner Miguel Cabrera to claim the most fan votes in All-Star game balloting. Washington outfielder Bryce Harper used a final push to win a spot in the National League's starting lineup.
Right-hander Max Scherzer was one of a major league-best six Tigers chosen for the All-Star game July 16 at Citi Field in New York. St. Louis catcher Yadier Molina led the NL fan vote announced Saturday night. He is one of the Cardinals' five All-Stars, tops in the NL.
"I think any time you are getting that recognition, not only from your fan base but from everybody across the nation, I think it feels good to know that people are watching," said Davis, one of 30 first-time All-Stars.
Mets young ace Matt Harvey and third baseman David Wright will represent the host team in the 84th All-Star game. Harvey, a first timer, received the most votes among NL pitchers in the player balloting, outpacing the Dodgers' Clayton Kershaw.
Baseball's latest phenom, Cuban defector Yasiel Puig, didn't make the NL team - at least not yet. The Dodgers outfielder with just one breathless month in the big leagues is among five candidates for the final NL spot, with fans able to vote online through Thursday.
"He's done a tremendous job since he's been up here and created a lot of interest throughout baseball with what he's accomplished," said Giants manager Bruce Bochy, who will lead the NL squad for the second time in three years. "This gives him a chance to get voted on the club if the public thinks they want to see him there."
The league that wins the All-Star game gains home-field advantage in the World Series. The NL won the last three Midsummer Classics and World Series titles.
Davis finished with 8,272,243 fan votes to edge Cabrera, who had 8,013,874. Davis has 85 RBIs, matching his career high and only three fewer than Cabrera. But he has hit 33 homers, seventh best before the break in big league history - he has a week to catch Barry Bond's 39.
Davis is the second first-time All-Star to lead the voting, joining Seattle outfielder Ichiro Suzuki (2001).
The 27-year-old Davis is one of three Orioles selected by the fans, the first time that has happened since Cal Ripken Jr. was one of the picks in 1997.
Shortstop J.J. Hardy and center fielder Adam Jones will take the field with Davis. Baltimore third baseman Manny Machado was selected as a reserve.
In the only close race for a starting role, the 20-year-old Harper trailed Justin Upton by several thousand votes, but he homered in his return from the disabled list this week and moved into the lead. Now Harper will become the youngest NL starter and fourth youngest overall to start in the game, according to the Nationals.
"I'm really looking forward to it and being around the top guys in baseball," Harper said.
Fellow rookie of the year Mike Trout of the Los Angeles Angels was voted to his first All-Star start, too.
Puig is joined in the final NL five by shortstop Ian Desmond of Washington, first basemen Freddie Freeman of Atlanta and Adrian Gonzalez of the Los Angeles Dodgers, and outfielder Hunter Pence of San Francisco.
The American League's five are all relievers: Detroit's Joaquin Benoit, Toronto's Steve Delabar, the Yankees' David Robertson, Texas' Tanner Scheppers, and Boston's Koji Uehara.
New York Yankees closer Mariano Rivera was one of the 68 players selected chosen by fans, managers and big leaguers. The 43-year-old career saves leader will hop across town as part of his retirement tour for a 13th All-Star appearance, second most by a pitcher behind 17 for Hall of Famer Warren Spahn.
"The fact that I went through all the adversity and I'm standing here talking about the All-Star game ... it's a privilege," said Rivera, who has 29 saves this year after missing nearly all of last season with a torn knee ligament.
While Yankees stars Derek Jeter and Alex Rodriguez are working their way back from injuries and will be absent in Queens, Robinson Cano was selected to his fourth straight start at second base.
Scherzer is the first pitcher to start a season 13-0 since Roger Clemens in 1986.
"If they give me the ball that would be pretty special to me," Scherzer said of starting. "You look at how many other great pitchers who are in the game right now who are worthy of starting. If I'm selected that would mean so much."
Scherzer was joined from Detroit by first baseman Prince Fielder, shortstop Jhonny Peralta, and outfielder Torii Hunter. Manager Jim Leyland, who will run the AL squad after leading Detroit to the World Series, picked his ace Justin Verlander for the team.
"This is not a simple thing, but I'm proud of it," Leyland said. "We worked hard on it. We're not going to be perfect. I put a lot of time and thought into it. I had a lot of help. It's still not going to make everybody happy. There's going to be guys who should be All-Stars who are left off. That happens every year."
Third base was a talent-laden position, and one player left off the AL roster was Oakland's Josh Donaldson. The Athletics' only selection was 40-year-old pitcher Bartolo Colon.
Tampa Bay's Evan Longoria and Texas' Adrian Beltre also were not chosen in the AL's crowded third base field.
In the NL, where the preseason favorites are trailing their divisions, no players from the three first-place teams were selected by fans as starters. But the Central-leading Pittsburgh Pirates, with baseball's best record at 53-32, landed four players on the squad for the first time since 1981: closer Jason Grilli, left-hander Jeff Locke, third baseman Pedro Alvarez, and outfielder Andrew McCutchen.
"There are so many guys in this room who are so deserving," Grilli said. "To have as many as guys represented, there could be a lot more."
The AL starters: Davis, Cano, Hardy, Cabrera, Jones, Trout, Blue Jays outfielder Jose Bautista, Twins catcher Joe and Red Sox DH David Ortiz.
The NL starters: Molina, Wright, Harper, Reds first baseman Joey Votto and second baseman Brandon Phillips, Cardinals outfielder Carlos Beltran, Colorado outfielder Carlos Gonzalez and shortstop Troy Tulowitzki.
Based on reporting by The Associated Press.
Follow us on twitter.com/foxnewslatino
Like us at facebook.com/foxnewslatino