Miesha Tate: No one deserves a fight with Ronda Rousey more than me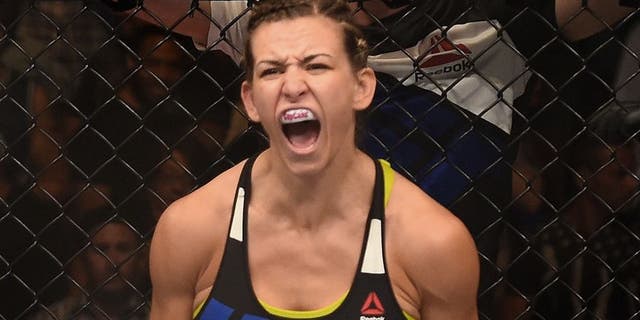 It's impossible for Miesha Tate to completely avoid the barrage of stories running around lately talking about the potential matchup between Ronda Rousey and Cris "Cyborg' Justino.
Rousey is the No. 1 women's fighter in the world, but a super fight with "Cyborg" is considered to be the biggest challenge to her reign as UFC champion. Unfortunately, 'Cyborg' is still competing at 145 pounds and not technically in the UFC just yet until she can prove she can make the move down in weight for a fight with Rousey.
While all of this happening, Tate is still on standby waiting for the official word that she's actually going to be the person to draw another fight with Rousey in the meantime. Tate is ranked at the top of the division off four straight wins and was declared the No. 1 contender following her last victory over Jessica Eye in July.
Despite those accolades, Tate is still waiting on standby for the official word that she's going to face Rousey with the belt on the line later this year.
"It always finds its way to me, whatever information it is online and in social media. I don't know what's going to happen next, I don't know for sure," Tate told FOX Sports recently. "Dana (White) has been known to say things and that's not exactly what happens.
"I'm just buckling down right now, I'm not taking any time off, I'm going straight back into the gym and I'm just going to continue training as though I want to be the world champion. I don't want to get my hopes up too much yet because I know the UFC has not confirmed that with my management that is exactly what's going to happen. I know a lot of things change sometimes and that's part of the industry we're in. I just have my nose to the grind stone and training like I want to become the best fighter in the world."
UFC president Dana White did declare Tate as next in line for Rousey several weeks ago, but an actual date and location for the fight haven't been announced yet. In the mean time, "Cyborg" has been tearing through interviews and social media saying that she will be ready for Rousey at 135 pounds as early as December.
Regardless of those claims, all signs are pointing towards a New Year's date on Jan. 2 between Rousey and Tate, but until the contract is in hand nothing is certain.
"Things are always so up in the air that you kind of end up chasing your tail if you really try to keep up with it in that way. So I've told my management that I'm going to train and I'm going to let them do the figuring out, that's what I pay them to do and that's it," Tate said. "It takes that much more distraction away from me like if I hear 'Oh, the rumor is 'Cyborg' is fighting' and I'm just going to shrug my shoulders and keep training.
"I know my shot's coming. I don't know exactly when but I'll be ready for it regardless."
A fight with Rousey would be Tate's third and likely final chance to uncrown the long reigning women's champion. Tate has taken Rousey deeper than any other fighter in history and that's part of the reason why she's so determined to get another shot at the champion.
The first fight between Tate and Rousey was fueled by anger after the two women were at odds about how the Olympic bronze medalist chose to trash talk her way into a title shot. The second bout happened after a long stint coaching on "The Ultimate Fighter" where Tate was forced to deal with Rousey on a daily basis for six weeks while filming.
Now as she enters her seventh fight under head coach Robert Follis and a four-fight winning streak with three of those victories over top 10-ranked opponents, Tate feels she's better prepared than ever before to finally dethrone Rousey when they meet again.
"I've done what I've done. I've beat top-level girls at what they're good at," Tate said. "I beat Sara McMann with wrestling and grappling and that's her specialty. I beat Jessica Eye with striking primarily and I mostly beat her at her own game and that says something.
"I'm beating these girls at what they're supposed to be good at and they're all ranked in the top 10. I'm No. 1 and I don't know who deserves it more."
Tate isn't exactly pessimistic when it comes to her title shot against Rousey but she's trying to tamp down expectations so there's no chance of disappointment if something changes. Still, Tate knows beyond a shadow of a doubt that the next time Rousey steps into the Octagon, she's the person who should be standing across from her.
"I do believe that I'm next," Tate said. "I believe that I've earned it and I don't believe there's a female out there that deserves it more than I do."