Miami Heat Beat San Antonio Spurs In Game 2 To Tie NBA Finals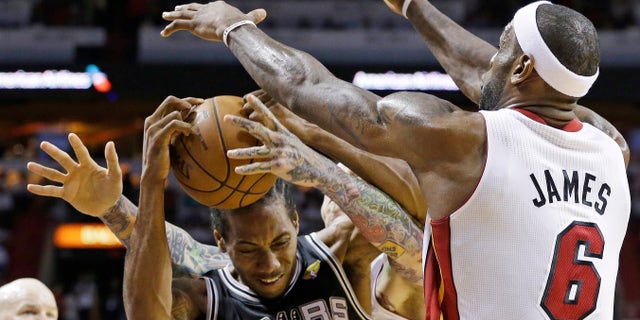 For two days, the thought was that LeBron James needed to do more for his teammates.
Turns out, it was Mario Chalmers and mates who did something for James.
The supporting cast kept it close, and once the leading man joined in, the Miami Heat were back with a blowout in Game 2 of the NBA Finals.
Chalmers led the charge, James broke out to finish it with a flurry and the Heat used a 33-5 run to rout the San Antonio Spurs 103-84 on Sunday night and even the series at one game apiece.
James missed 10 of 13 shots through three quarters and the Heat trailed by a point late in the period before unleashing the lethal brand of basketball that led them to a franchise-record 66 wins this season.
"I already know what we have here," James said. "Like I said, I don't really read into it of what people want more of me or whatever the case may be. I will continue to find my shooters, if they're open, and I will continue to try to put pressure on the defense. If I draw two, I'll find my shooters. I have confidence they're going to knock them down. They did that tonight."
Eventually, so did James.
But it was Chalmers, who came into game with the goal of being a stopper and ended up being the guy who jump-started James.
"My main focus is to stop Tony Parker. That's my job. That's the key to the game, is not let him get going," Chalmers said. "And if the offense keeps going for me, I'm going to take it as it comes."
Chalmers finished with 19 points, and James had 17 points, eight rebounds, seven assists and three blocks — the best on Tiago Splitter's dunk attempt — while shooting only 7 of 17 from the field.
"Honestly, for me, when I was struggling offensively, my teammates continued to keep it in range," James said. " And we even had a lead at one point, especially late in the second quarter when we made that run and I was struggling a little bit.
"So I think Rio more than anybody kept us aggressive, him getting into the paint, him getting those and-ones and making a couple of 3s. It allowed me to sit back and wait for my time."
The Heat made 10 of 19 3-pointers and got 13 points from Ray Allen, and 12 points and 10 rebounds from the previously slumping Chris Bosh.
Danny Green made all six shots, including five 3-pointers, and scored 17 points for the Spurs. They host Game 3 on Tuesday night.
Parker had 13 points on 5-of-14 shooting for the Spurs, who were so precise in their 92-88 victory in Game 1 but threw the ball all over the white-surrounded court Sunday, committing 17 turnovers that led to 19 Miami points.
"In the second half they just run us over," the Spurs' Manu Ginobili said. "We didn't move the ball at all. Their pressure really got us on our heels."
Tim Duncan shot 3 of 13 and finished with nine points and 11 rebounds.
"We didn't play well. We didn't shoot well. I know I played awfully," Duncan said. "Whatever it may be, they responded better than us. So hopefully we can look forward to this Game 3 and regain some of our composure."
James insisted he wouldn't force himself to do more after he had a triple-double in Game 1 but never seized the opportunity to take control of the scoring as the game was slipping away from the Heat.
He didn't need to. Not with Chalmers making big shots, the Heat's defense forcing the Spurs to look shaky all over the floor, and a barrage of second-half 3-pointers.
James finally got some openings late, hanging from the rim an extra second not long after a sensational blocked shot freed him up for a fast break.
The often-maligned Chalmers is frequently found in Heat highlights being yelled at by James or another Miami veteran. But he's as cocky as any of the superstars in Miami, and he has the big-moment plays to back up his bravado, from a tying shot for Kansas in the 2008 NCAA championship game to his 25 points in Game 4 of last year's finals.
"You have to have guts to play with our guys. If you don't, you get swallowed up," Heat coach Erik Spoelstra said. "The good thing about it is the other guys were fine with him making plays."
The point guard sparked the Heat late in the third, after San Antonio had taken a 62-61 lead. He converted two three-point plays, Allen and Mike Miller nailed 3-pointers, and James made only his third field goal of the game during a 14-3 finishing spurt that sent Miami to the fourth with a 75-65 advantage.
They opened the fourth with nine straight points to make it 84-65, and capped the run at 94-67 when James made a 3-pointer, erasing any chance of their first two-game losing streak in five months.
"We were just a little bit more active today," Bosh said. "We really just made an emphasis to continue to try to corral them."
The Spurs had only four turnovers in Game 1, tying an NBA Finals record low. But they surpassed that total in the first quarter, Parker committing two of their five after not coughing it up once in the opener, and the Spurs looked more like the sloppy Indiana Pacers from Game 7 of the Eastern Conference finals than the Spurs of Game 1.
The unrecognizable play continued, Parker firing passes on the pick-and-roll right into a Heat player's leg on multiple occasions and even getting yanked barely three minutes into the third quarter after his struggles continued.
The Spurs responded with seven straight points without him to get back within one. But by the end of the period, it was Chalmers who was the best point guard on the floor.
The Heat dropped Game 1 in last year's finals, and the first two to Dallas in 2006 before going on to win both titles. But those early deficits came on the road, so Dwyane Wade said Sunday's game was a "must-win game" for the Heat.
They arrived to white shirts hanging on the seats that read "Larry loves Miami" with a picture of the Larry O'Brien trophy that goes to the NBA champion.
Larry's not leaving, not if the Heat keep playing like this.
They looked as good as ever in the final 15 minutes of their 100th game of the season, pouring it on and leaving Spurs coach Gregg Popovich often standing with his arms folded on the sideline, with no answers and no way of slowing down the Heat speedsters.
San Antonio had its seven-game postseason winning streak snapped, as well as a six-game NBA Finals win streak that dated to the 2005 finals.
Duncan, who started 0 of 5 in the opener before finishing with 20 points and 14 rebounds, began 1 for 5 in this one. But he never got untracked, though part of the problem was the Spurs' inability to get him the ball enough because of their turnovers.
Wade finished with 10 points and six assists. Miami committed just six turnovers.
The Associated Press contributed to this report.
Follow us on twitter.com/foxnewslatino
Like us at facebook.com/foxnewslatino