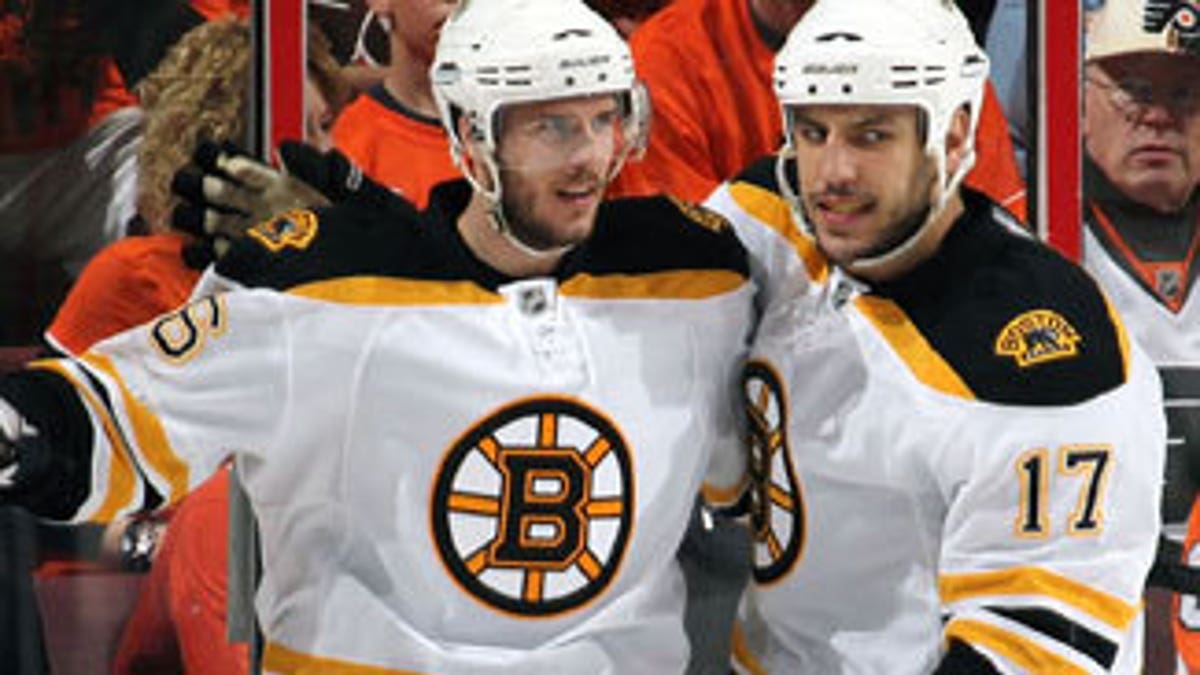 PHILADELPHIA -- Nathan Horton was the star of the first round for the Boston Bruins, with two overtime goals, including the series-winner in Game 7. David Krejci was the star of Game 1 of the conference semifinals against the Philadelphia Flyers on Saturday.
And what about the third member of that line, Milan Lucic?
Lucic has just 2 assists in eight games, after setting career highs in the regular season with 30 goals, 32 assists and 62 points. He's managed to find other ways to contribute -- he had a team-high four hits in Game 1 against the Flyers and was a plus-3 -- but playing on the team's top line, the expectation is for more offense.
However, Lucic isn't losing any confidence in his game. In fact, he felt Saturday's game was his best of the postseason so far.
"I felt it was my best game of the playoffs," Lucic said following Sunday's practice here at the Wells Fargo Center. "I was moving my feet. … I felt like I was skating really well last game. Even though I didn't get a point, I don't feel like it really mattered because I was still getting in there and made some plays. Also started some plays that turned into goals. It would be nice to pop one here -- hopefully soon -- kind of gain some momentum off that."
Coach Claude Julien said he also thought Lucic played better in Game 1 against Philadelphia.
"I think he was better, there's no doubt," he said. "He was skating better. He didn't get on the score sheet, but you look at what he did and what his line did and they were good for us. … You can't keep hammering down on a player because he's not on the score sheet. He did some good things, he threw some body checks. He skated much better. No doubt he was a good player for us yesterday."
Still looking for power -- Bruins captain Zdeno Chara only could manage a bemused smile when asked about his team's power play Sunday. Their 0-for-5 outing in Game 1 against the Flyers dropped them to 0-for-26 for the postseason.
"We're all working on it, we're all trying," said Chara. "We know the situation, we know that we haven't scored yet in playoffs, we all want to make sure that it's going to happen sooner than later."
Julien said despite another game of missed opportunities, he saw some improvements.
"When you look back at the game, you see where there's some openings, some opportunities, and right now it's unfortunate on our power play we're not finding those," said Julien. "We seem to be finding them 5-on-5, but we're not on 5-on-4. So that tells you something, that there's a lot of tension there. When you're tense you're not seeing what's going on -- seams, choices of play. Five-on-five we make the right choices, we find those seams. There's got to be a time where those guys have to relax and understand they have to find those seams and make the right decisions on choices of plays. Same thing with 5-on-5, we take a shot lot of times and we recover the puck; 5-on-4 you have to do the same thing -- even more so. Those are things our guys have to understand. If we do those things better, we'll have some success."
Horton feeling fine -- Horton was the only regular not on the ice Sunday; rookie Tyler Seguin skated in his place alongside Krejci and Lucic.
However, there's no injury to report -- except to Horton's skates.
"His rivets popped right before going out there," said Julien. "Trainer came to see me, and I said we're only going out for 20 minutes, so he had an off-ice workout. No big deal -- he'll skate (Monday) morning."
Contact Adam Kimelman at akimelman@nhl.com. Follow him on Twitter: @NHLAdamK