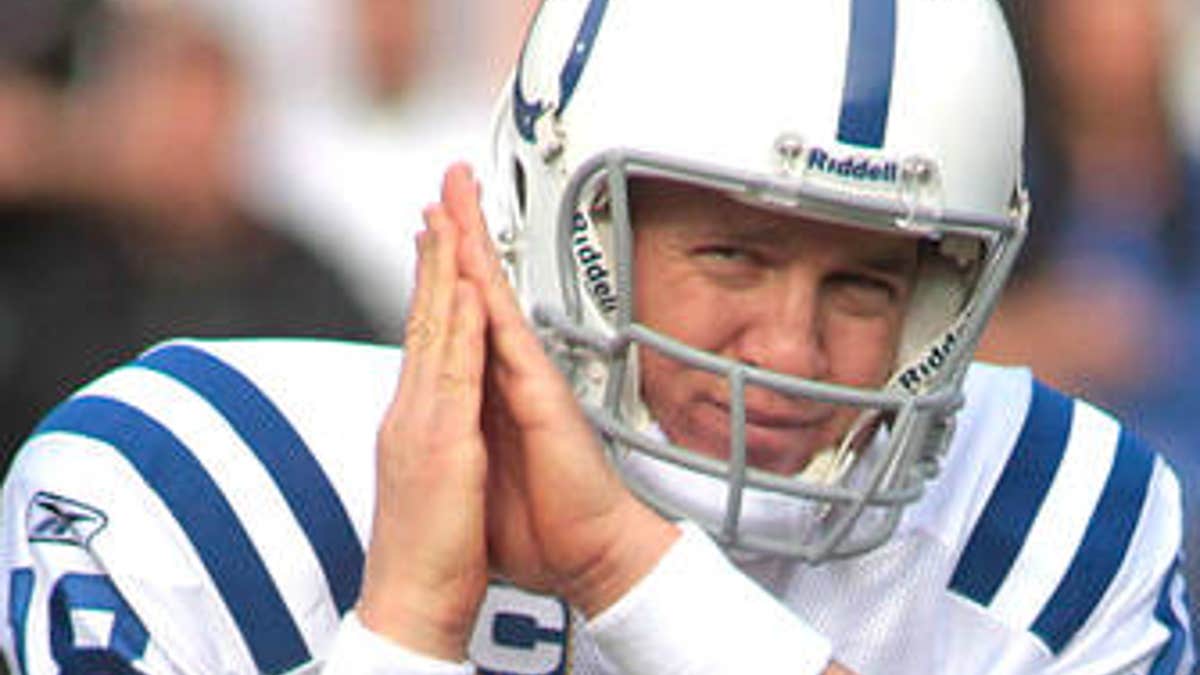 The NFL never has had it so good.
With record attendance numbers, monster TV ratings, and both labor peace and mega broadcast deals locked up for the next 10 years, it's all rainbows and lollipops in commissioner Roger Goodell's world.
Super Bowl XLVI was the most-watched sporting event ever in the US, Giants receivers Victor Cruz and Mario Manningham had the best seats in the house at the Grammys on Sunday night, and the NFL draft will cause twice as much buzz on Twitter as any presidential debate in 2012.
And that's why Peyton Manning needs to retire.
As the quarterback and Indianapolis Colts owner Jim Irsay continue to maneuver in a strategic chess game of public relations and misdirection, my thoughts are on the league, the NFL shield, and the future of the game's greatest ambassador.
Whether Manning has been medically cleared by doctors or not -- Manning was cleared by two different doctors last week, but Irsay insists he hasn't been officially cleared by the Colts organization just yet -- the fact the longtime face of the NFL had three very serious neck surgeries in 19 months should cause widespread concern and caution.
For whatever reason, it hasn't.
As my fellow members of the media scramble to photoshop images of number 18 in Redskins and Dolphins jerseys this week, I can't help but side with TNT's Charles Barkley, amazingly the one clear-minded, rational thinker on the subject with a national platform. Last week, Barkley told reporters: "My first opinion is that I don't think Peyton Manning should play football again. You're talking about a neck. I know he's got a couple of young twins. I don't think he should play football at all."
The four-time league MVP had spinal fusion on Sept. 8. That surgery, the last of the three, was, by far, the most serious.
Reports of Manning's return to the field were breathlessly covered by an adoring NFL media last week. Agent Tom Condon got the word out to his cohorts in the press that the workout went well and the reviews were rather positive, across the board. With the exception of NFL Network's Mike Lombardi, who said Manning struggled throwing the ball to his left, the response was overwhelmingly rose-colored.
"He threw it accurately, he threw it with a good, tight spiral and he threw it with velocity,'' said former Colts GM Bill Polian, now serving as a media talking head, himself. "Marked progress" was the term Polian used on ESPN's "Pardon the Interruption."
But this isn't Joe Namath playing on two bad knees for the Rams. This isn't Joe Montana slinging it for the Chiefs with a surgically repaired elbow. It's not Bo Jackson fielding fly balls with a new hip in Comiskey Park.
This is, arguably, the most recognizable face in NFL history coming off major neck surgery.
Call me a coward, call me a worrywart, call me a Debbie Downer -- but that still worries me.
The medical community, however, has a different stance altogether.
"With the one-level fusion surgery that Manning had, once you're fully healed and given clearance from the doctor, you're fine to play high impact sports again," said Dr. Andrew Hecht, assistant professor of orthopedics and neurosurgery and chief of spinal surgery, Mount Sinai School of Medicine, in New York. "It's a relatively common surgical procedure."
"I've had several top flight athletes -- NFL players, NHL players, baseball players -- have the same type of surgery, and each one of them has not only gone on to play again, but they've played at the same, if not higher, level than before the surgery."
Hecht, who notes that the one major caveat is if the athlete is having post-surgery neurological issues, adds, "Let me put it this way -- if a guy had a broken arm, and had plates and screws put in that arm, and the arm eventually fully healed -- would you be as concerned as you are with Manning?"
Of course not.
"Well, it's pretty much the same thing."
Dr. David Schub, a fourth-year orthopaedic surgery resident at the Cleveland Clinic, adds, "If he's fully healed and his doctors give him the OK to play, they are stating that he has no significantly greater risk of catastrophic neck injury than Blaine Gabbert, Matt Stafford, Josh Freeman or any other NFL quarterback taking the field."
The Colts must decide what to do with Manning by March 8, when the quarterback is due a $28 million option bonus. Manning would be an unrestricted free agent on March 13 if the Colts don't pay him. He'll get big money from Washington or Miami. He could take a good Arizona Cardinals team and make them great. He could turn New York into an All-Manning town and transform the Jets into real contenders in the wide open AFC.
That's all fine and dandy to fantasize about. Unicorns and flying cars are cool, too.
The truth of the matter, though, is that every time Manning goes back to pass next season, we're going to collectively cringe and imagine the worst.
When ESPN shows that close-up visual of the back of Manning's neck -- the Zapruder-ish zoomed-in focus shot of the incisions -- the severity of these surgeries becomes real.
This is not Peyton Manning's ankle or elbow. Again, it's his neck .
And even if the top doctors in the world say he's good to go, the thought of Brian Orakpo or James Harrison launching into his backside in pursuit of a quarterback sack makes me cringe in a way unlike I'd cringe with other quarterbacks being subjected to the same punishment from the blind side.
Come next season, Manning will be 18 months removed from the last time he was on the field in a game setting. How are we so sure he will have the same pocket presence and field awareness that he had pre-surgery? Put him on an inferior team with an inferior offensive line, and how do we know Manning won't be subjected to a different level of pass-rush pressure than the one he was accustomed to in Indianapolis?
Manning's a competitor. I get that.
But which one of these guys isn't?
All this talk of his "legacy" and the comparisons to his brother are fun for talking heads on ESPN to argue about in the middle of February.
But really, who cares?
Peyton Manning has a Super Bowl ring, a Super Bowl MVP award, four league MVPs, and has forever changed the way the quarterback position will be played.
He has more to prove? There's more that he needs to do to solidify his legacy as one of the game's all-time greats? Peyton Manning is concerned about what Jim Rome thinks about his career accomplishments when lined up against his little brother's?
If Manning retires now, the streets to Canton are still paved with gold.
Last month, for Esquire, I interviewed several of the top sports TV producers, agents, and media critics about the game's next great broadcast stars. Across the board, each one of these sources revealed that Peyton Manning will be the most hotly pursued ex-player to ever enter the broadcast game.
"If I were to rank the top five active players that I'd someday want on a studio show, Peyton Manning would be No. 1, No. 2, No. 3, No. 4 and No. 5," one leading sports television executive told me.
Said a leading sports broadcasting agent: "He can have whatever seat he wants on any of those pregame shows or he can be in the booth like Troy Aikman or Cris Collinsworth. He's that good. He'll be that good right away, too."
Hell, Manning could coach, too. Any team -- NFL, college, or high school -- would be delighted to have him tutor and groom a young quarterback.
If Manning called it quits and retired today, his legacy would go untarnished. There'd be no "what ifs", no questions about what more he could have done had he had that one last shot with the Dolphins or the Seahawks in 2012.
He wouldn't have to go shrinking out of the public eye, either. You could make the argument that as a broadcaster, Manning would be even more visible and more marketable than he was as a player. And if he attacks that profession with the same gusto and competitive spirit he took toward playing quarterback, he could be the very best at it, too.
I, obviously, can't tell Peyton Manning what to do with his career. No one can.
And as a fan, I know I'm supposed to want to see him on that field, suiting up as the starting quarterback for one of the league's 32 NFL franchises next August.
But I don't.
I want the NFL to stay on top, I want Manning to go down as one of the greatest to ever play the game with no asterisks or freakish "yeah, buts" tagged to his post-career write-up, and I want to see him as one of the central figures on my Sunday afternoons for years to come.
Nine out of 10 doctors and 99 out of 100 sports marketing experts may disagree, but I'm with Charles Barkley on this one.
Hang it up, Peyton.