Leyland goes new school with changes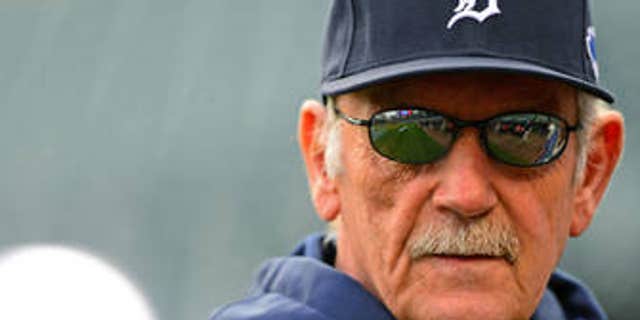 DETROIT – Three thoughts on the Detroit Tigers' 7-3 victory over the Boston Red Sox on Wednesday night in Game 4 of the American League Championship Series:
1. Lineup of the future?
Judging by the reaction on Twitter, some sabermetricians practically wept with joy when Tigers manager Jim Leyland dropped Austin Jackson from first to eighth and moved most of his other hitters up one spot.
The best hitters getting the most plate appearances? The numbers folks are indeed onto something with this, and perhaps one day we'll see most managers stack their lineups the way Leyland did Wednesday night. But let's not expect him to be the keynote speaker at a SABR convention anytime soon.
Leyland acknowledged that his changes were born mostly out of desperation -- Jackson entered the game 3 for 33 with 18 strikeouts in the postseason. It just made sense to ease the pressure off him, even if it meant Torii Hunter making his first appearance in the leadoff spot since 1999 and Miguel Cabrera his first appearance in the No. 2 hole since 2004.
The moves had their desired effect, particularly on Jackson, who went 2 for 2 with two walks, a stolen base and two RBI. Sabermetricians have shown that lineup construction means little to run production, but old-school types like Leyland still buy into the "speed at the top" concept. And the numbers show that when Jackson starts and scores a run, the Tigers win more than 70 percent of their games.
I'd actually love to see the Tigers bat Cabrera first, signaling immediately to the opponent, "It's on!" The leadoff hitter, after all, is certain to lead off an inning only once, so why not?
In any case, Wednesday's moves probably had more of a psychological effect on the Tigers than anything else. Which is not to diminish Leyland's juggling. The Tigers needed a new look, and he gave it to them.
2. Who is going to win this sucker?
Every night, it seems, I change my mind. After Games 2 and 3, I was convinced the Red Sox would prevail because of their superior bullpen. But after Game 4, I'm thinking the Tigers will win because of their starting pitching -- and because of the resurgence of their bullpen, at least for one night.
Leyland used four relievers to cover three innings in Game 4, getting 1 2/3 innings out of lefty Drew Smyly, who issued a crucial walk to Jacoby Ellsbury in Game 2, and attempting to rebuild closer Joaquin Benoit's confidence as well by using him with a five-run lead in the ninth.
Benoit immediately allowed a double by pinch-hitter Xander Bogaerts and RBI triple by Ellsbury, but he then struck out Shane Victorino and Dustin Pedroia and retired his Game 2 nemesis, David Ortiz, on a game-ending flyball to right. The good news: Benoit said he identified a mechanical problem in the middle of the inning, then made an adjustment and started getting the ball down.
Let's not get carried away: The Detroit bullpen still qualifies as a weak link, particularly when compared to the Tigers' outrageous rotation. The No. 4 starter, right-hander Doug Fister, allowed one run in six innings on Wednesday night. After four games, the ERA of the Tigers' starters is 1.00. They have struck out 42 and walked 10 in 27 innings.
The Red Sox actually managed 12 hits in Game 4, matching their combined total from the previous three games. But manager John Farrell strongly indicated that he will start Bogaerts on Thursday night in Game 5. Shortstop Stephen Drew and third basemen Will Middlebrooks are a combined 2 for 23 in the series.
3. A tale of two wise GMs
The Tigers' David Dombrowski and Red Sox's Ben Cherington both had outstanding seasons, and the way they conducted themselves during the three-team Jake Peavy trade discussions revealed much about each.
The Red Sox and Chicago White Sox initially struggled to agree on the Jake Peavy trade. They found common ground on the lesser prospects, but the White Sox wanted an impact offensive player in return.
On July 30, the day of the trade, Cherington called White Sox GM Rick Hahn and said, "I think I can get you Avisail Garcia" from the Tigers. Cherington, admired throughout the industry for his honesty, made his intentions clear to Dombrowski, saying he was acquiring Garcia to trade him.
It probably took Dombrowski about three seconds to figure out what Cherington was doing -- the entire baseball world knew that the Red Sox were trying to get Peavy.
But Dombrowski, knowing that Garcia would end up with the division rival White Sox, went ahead with the trade, anyway. He didn't fret that Garcia might haunt him for the next six years. He was getting Jose Iglesias, a long-term answer at shortstop, and he acted decisively.
The original article can be found at FOXSports.com: Leyland goes new school with changes.