LeSean McCoy hung up on Chip Kelly when he called Tuesday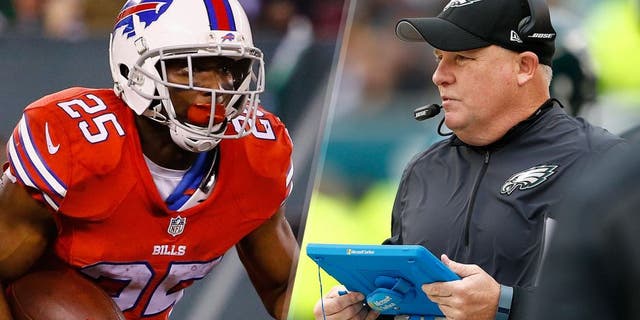 Sunday's game between the Philadelphia Eagles and Buffalo Bills has big postseason implications with both teams vying for a playoff berth in their respective conferences. However, there's a storyline that's taken precedence over the game itself.
LeSean McCoy is making his return to Philadelphia for the first time since being traded by the Eagles in March, and his relationship -- or lack thereof -- with Chip Kelly has been well-documented. Kelly said he would like to shake McCoy's hand Sunday and has tried to contact him by phone, but LeSean has been unresponsive.
On Tuesday, though, Kelly finally got a chance to talk to his former running back ... sort of.
According to Jeff McLane of Philly.com, McCoy answered Kelly's phone call after he didn't recognize the number. Once Kelly identified himself, McCoy reportedly hung up.
Mike Garafolo of FOX Sports confirmed the report, and added that Kelly called back "a few times" and was "intent on burying the hatchet."
It's clear Shady wants nothing to do with his former head coach. And Kelly admitted that McCoy is "rightly" upset over how the trade was handled.
There's little doubt McCoy would love to have a big game against his former team -- and more importantly, his former head coach -- on Sunday.