Latino Stars Skip Mid-Summer Classic, Raul Ibanez on a Tear, and Big Papi Charges Mound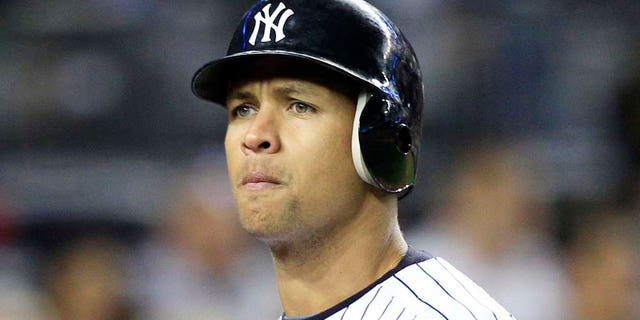 LATINOS IN & OUT OF MIDSUMMER CLASSIC
Alex Rodríguez will miss Tuesday's All-Star game due to the surgery he will undergo Monday to repair the torn meniscus in his right knee.
Rodríguez, elected by the fans to start at third base for the American League, had injured his knee during a game at Wrigley Field on June 19 but continued to play despite the discomfort.
He's hit .359 in his last 16 games with 10 RBIs, but had gone homerless since June 11, a span of 86 at-bats, a career-high, single-season stretch.
Teammate and closer Mariano Rivera will also skip the game due to soreness in his right shoulder.
Seattle's Felix Hernández also won't be going since he pitched Sunday. A rule was put in place that does not allow starters who pitched on preceding Sunday to play in the All-Star game.
The National League will be missing José Reyes, whom fans picked to start at shortstop. Reyes injured his hamstring and is on the DL.
Plácido Polanco, too, the starter at third base, will not be going. The Phillies' corner infielder has missed his last six games due to back problems.
Seattle rookie starter Michael Pineda, Texas' starter Alexi Ogando and another fellow starting pitcher from Toronto, Ricky Romero, were added to the AL team to replace others who miss the game.
The National League, meanwhile, added Arizona catcher Miguel Montero and San Francisco infielder Pablo Sandoval to the team as replacements.
Pineda, Ogando, Romero, Montero and Sandoval have never represented their teams in the Midsummer Classic.
ON A ROLL
Philadelphia's Raúl Ibañez has struggled of late, but on Sunday he headed off into the All-Star break by getting a pair of hits, including a homer and driving a season-high six runs as the Phillies beat Atlanta 14-1.
Ibañez had a strong week. He had nine hits, three of which were home runs, and 13 RBIs. The surge helped Philadelphia take four of six games from the rival Marlins and Braves last week.
April, by contrast, was unkind to Ibañez; the slugger hit just .161 (14 for 87) with one home run and 10 RBIs. He picked it up a notch in May, hitting .315 (34 for 108) with seven homers and 19 RBIs, but dropped off again in June, hitting at a .211 clip (19 for 90) with one home run and five RBIs.
He may be in line for another good month: so far, he's collected 10 hits, three home runs and 13 RBIs. But for the season he's hitting just .238 with 11 home runs, 41 RBIs for the NL East-leading Phillies.
LONELY AT THE THRONE
Felix Hernández came away with another no-decision this week, the latest after another stellar start on Sunday against the Los Angeles Angels.
The reigning Cy Young wishes he could have one of the 110 pitches he threw, a pitch that Mark Trumbo hit for a two-run homer.
King Felix allowed two run and six hits in seven inning. He struck out six and walked one.
Earlier in the week, Hernandez allowed one run and four hits over eight inning. He walked none and struck out 10 in a game the Mariners lost at Oakland in extra innings.
Hernández finished the first half at 8-7with a 3.19 ERA.
FIGHT NIGHT AT FENWAY
Boston's David Ortiz sparked a bench-clearing brawl Friday night after chasing and swinging at Baltimore closer Kevin Gregg.
Gregg came in on Ortiz with pitches three times with the Red Sox leading 10-3 and one out in the eighth inning. The Dominican deemed the third pitch too inside and took some steps toward the mound. Both benches promptly emptied, with Gregg yelling and motioning at Ortiz.
After calm was restored, Ortiz flew out to right but Gregg had some choice words for Ortiz, who told him to run down to first base.
Big Papi then rushed the mound and took a left upper cut that just missed Gregg.
Ortiz did not speak to the press after the game, but on Saturday, according to a report on the Baltimore Sun, said the following: "I apologize to everyone for the situation, even to them, man. I have a lot of friends on that ballclub. Even Gregg, though I don't even know him, but he doesn't seem like a crazy person out there. It's a situation that happened, and I'm not happy about it, and this is not what people come to see when they come to the (park).
Adry Torres, who has covered MLB, NFL, NBA and NCAA basketball games and related events, is a regular contributor to Fox News Latino. He can be reached at elpiloto137@gmail.com or follow him on Twitter: @adrytorresnyc.