Juan Nicasio's Scary Injury, Ubaldo Jimenez Makes First AL Start, and Reyes Goes Down Again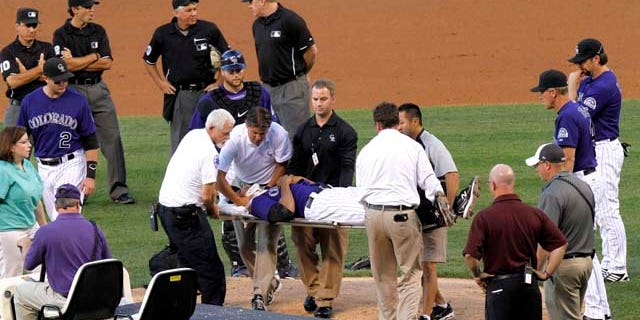 Get Well Soon
Colorado's Juan Nicasio underwent emergency neck surgery early Saturday after he was hit on the side of his head by a line drive hit by Washington Nationals' Ian Desmond.
Nicasio wasn't in the position to field the line drive as his delivery made him fall toward the first base side of the mound. He fell face down to the ground and then laid flat on his back while trainers checked him out. He spoke, moved his hands and legs, and blinked his eyes.
He was later moved onto a medical cart that drove him off to an ambulance.
The team said that the doctor, who performed surgery on the 24-year-old, inserted two screws into the damaged C-1 vertebrae and placed a small metal plate behind his head to stabilize the area. He was placed in a cervical collar and remains under heavy sedation at Denver Health Medical Center, but has control and movement in all his extremities.
According to a report on MLB.com on Sunday, several CT scans done since Friday showed no further complications. His parents in the Dominican Republic were working on obtaining visas to come be with their son, the report said.
Bullpen Blows Lead for Ubaldo
Ubaldo Jiménez made his first start as a member of the Cleveland Indians, but his bid for victory Friday night was squandered by the bullpen. The Texas Rangers rallied to tie the game with two out in the ninth, then won the game in the 11th inning.
Just before the trade deadline, the Indians swooped in and scooped up Jiménez from the Colorado Rockies for four minor league prospects. Jiménez, however, hasn't been the same pitcher that started for the National League in the All-Star game last year and finished the season with a career-high 19 wins for the Rockies.
Jiménez left in the sixth inning after allowing five runs and seven hits. He walked three and struck out seven.

He was 6-9 in 21 starts for Colorado this season.
Reyes Goes Down Again
New York Mets' star shortstop José Reyes injured his left hamstring again on a humid Sunday afternoon at Citi Field before losing to the Atlanta Braves, 6-5. Reyes grounded out in his only at-bat and ran hard to first base.
General manager Sandy Alderson addressed the media after the game and said that Reyes, who will be a free agent after the season, had a mild hamstring pull. He had strained his hamstring earlier in the season, too, causing him to miss two weeks in July.
His .337 average leads the National League.
Big Z's Double Duty
Carlos Zambrano pitched the Cubs to a victory against Cincinnati Reds on Saturday – and hit his second homer of the season for good measure.
It was Zambrano's second straight win and improved to 9-6 in what has been a disappointing season for the Cubs.
"We've be playing outstanding the last [seven] games," Zambrano told reporters after the 11-4 win. "We've been doing the right things, playing good defense. We've been doing the things everybody was expecting from us. That's what this team is capable of. We have a good team."
The Cubs' seven game win streak was broken on Sunday.
Twice as Nice while Beating Royalty
Ervin Santana won two games the week after pitching his first career no-hitter.
He gave up eight hits and allowed one run while striking out seven and walking one batter Tuesday night as the Los Angeles Angels beat the Minnesota Twins 5-1. Then on Sunday, Santana was up to his old tricks and won his fourth straight start. He out-dueled Felix Hernández of the Seattle Mariners, giving up one run, which came on a homer in the ninth inning, in the Angles 2-1 win.
He walked one and had seven strike outs.
"I'm doing the same things I've been doing the whole year," Santana said.
Despite the recent success as of late, Santana is just 8-8 with a 3.21 ERA. He had lost four straight starts in June.
"I haven't changed. I had command of every pitch. Everything was working good," he said.
Hernández wasn't too bad himself. King Felix went the distance, striking out 12 in eight innings. He allowed both runs on four hits and did not walk a batter.
Hernández cruised early and retired 18 of the first 19 batters and at one point struck out four straight. By the sixth inning he already had nine strikeouts. Yet he is only 1-5 in 12 starts at Angels Stadium in his career.
"Santana threw a pretty good game, too, so you've got to give him credit," Hernández, said. "He's a pretty good pitcher, so I just had to keep putting zeros on the board. He's got to do his thing and I've got to do my thing."
Adry Torres, who has covered MLB, NFL, NBA and NCAA basketball games and related events, is a regular contributor to Fox News Latino. He can be reached at elpiloto137@gmail.com or follow him on Twitter: @adrytorresnyc.
Follow us on twitter.com/foxnewslatino
Like us at facebook.com/foxnewslatino