Brown Crown! Celebrating Cain Velásquez UFC Championship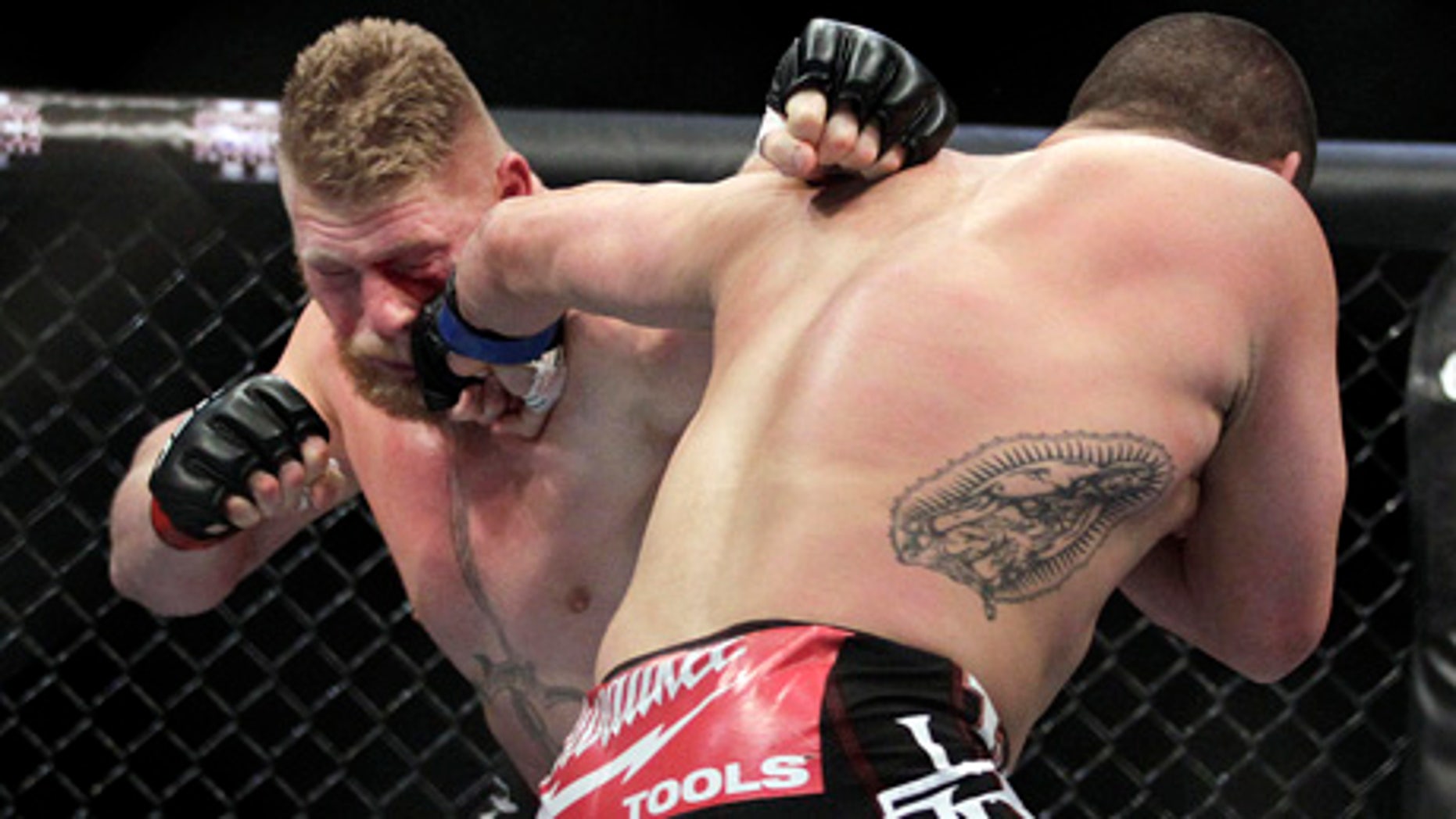 It took all of one round for Cain Velásquez to confirm what his fans and mixed martial arts experts knew all along. His four-minute knockout of Brock Lesnar confirmed that he is the best his division has to offer – and now he has a large silver belt around his waist to prove it.
In one of the most intense and important fights in Ultimate Fighting Championship history, Velásquez controlled and dominated Lesnar, one of its most feared and imposing fighters, to become the sport's first heavyweight champion of Mexican descent.
There were some Lesnar fans sprinkled around the Honda Center in Anaheim, but this was Velásquez's home turf Saturday night. A sea of Mexican flags and signs that read "Sí Se Puede" and "Yes We Cain" overwhelmed the arena. Clutching a Mexican flag himself, Velásquez made his entrance to the sounds of Vicente Fernández's "Los Mandados."
An intense Lesnar came into the ring to Metallica's "Enter Sandman," even shoving a police officer he felt was moving too slowly. The self-described "Viking" came out swinging, but his strong start was short-lived.
In the end, it wasn't even close, as Velásquez bludgeoned Lesnar with heavy-handed blows. The referee called the fight after Lesnar had trouble defending himself, his left cheek bloodied with a large gash. Victorious, Velásquez threw his blood-stained arms in the air, his Mexican flag-mouthpiece visible as he smiled.
It was a humbling defeat for Lesnar, who last week came under fire for demeaning remarks about Velásquez's Mexican heritage.
"Listen, when I get done whooping your ass, I'm gonna go drink a Corona and eat a burrito just for your Hispanic heritage," he said in a UFC promotional piece. "How 'bout that?"
His tone changed after the fight. Lesnar even called Velásquez, who improved to 9-0, a "great fighter" and said he was the better man that night.
Amid loud boos, Lesnar grinned and said: "Congratulations, Cain."
But for all of Lesnar grace, Velásquez was the star attraction on this night.
"I really think that we saw something special," said UFC commentator Joe Rogan. "I really think we saw the beginning of a new era."
Indeed, the win transcended just another UFC victory. It was a victory shared by an entire Latino fan base.
"And todos los Latinos," Velásquez said afterward. "Hey, we did it, huh?"