Can Jose Bautista Top Barry Bonds' 73 Home Runs?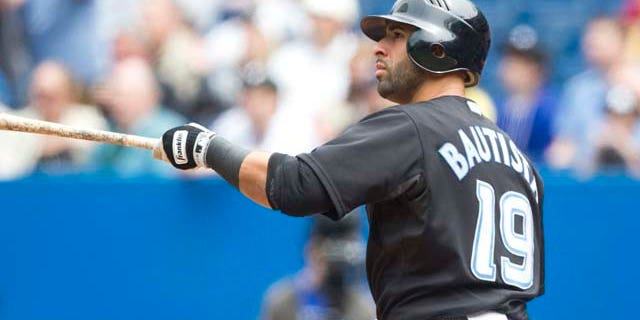 Rajai Davis, Corey Patterson and José Molina of the Toronto Blue Jays have at least one thing in common – they have all played alongside some of baseball's most prolific home run hitters ever.
They now play with another master of the long ball, José Bautista, a late blooming slugger. After leading the majors with 54 homers in 2010 – Albert Pujols was the closest to him with a distant 40 – the Dominican outfielder is at it again, pounding 20 home runs during the first two months of the season.
"Well, up until now the only difference is that I've had more patience. I have more confidence at the plate with the adjustments that I've made," Bautista told Fox News Latino recently. "I've been doing it for quite a while, so I feel more comfortable."
That hitter's zone has reminded Davis, Patterson and Molina of their former teammates and round-tripper specialists – Barry Bonds, Sammy Sosa and Alex Rodríguez, respectively.
Davis, a reserve outfielder, was a teammate of baseball's all-time home run king for the last two months of the 2007 season after Pittsburgh traded Davis to San Francisco. He was there on the bench when Bonds surpassed Hank Aaron's 755 mark.
Davis said that there obviously are similarities between Bonds' and Bautista's approach at the plate. The only difference he finds is that unlike the "30 reporters in the clubhouse" that Bonds had trailing him as he neared Aaron's record, the number dwindles when it comes to Bautista.
"He's taking a lot of that he can't hit and that he knows that are balls. He's very patient at the plate," said Davis, comparing Bautista, his former teammate in the Pirates minor league system, to Bonds. "He's very patient at the plate. It seems like he doesn't swing at too many bad balls. He swings at pitches that he can drive and pitches that he can hit hard."
A former prospect in the Chicago Cubs organization, Patterson came up in 2000 and spent five seasons there with another Dominican slugger, Sammy Sosa, and the 2006 season with him in Baltimore. Patterson was there, a witness as Sosa slammed his way past former baseball greats, reaching the exclusive 400 and 500 home run clubs.
Like Davis, he sees similarities in the way Bautista and Sosa hacked away at the plate.
"They have the same approach no matter what. They don't deviate from it," Patterson said. "They have the same approach whether they're ahead in the count, whether they're behind in the count.
"It's always the same swing," Patterson added. "They're always ready to hit and when they get a mistake, they're always ready to capitalize on it."
During a recent series at Minnesota, Bautista went deep three times in a game. Davis said he was in awe of what Bautista had accomplished, but said that he "kind of always thought he had power but I understand how he's able to do it more consistently now than when he was with Pittsburgh."
Patterson marveled at that feat and said it was very impressive to see Bautista not hit one but three against the Twins.
"It's like sometimes he's hitting pretty much soft toss or just taking regular batting practice. We're up there fighting for our at-bats and scrapping, just happy to get a base hit," Patterson said.
"And I know Jose is working just as hard as we are, but, man, when he hits it...," he added, his voice trailing off.
Can Bautista, at the rate that he's going and with four more months to go in the season, surpass Bond's regular season record of 73 home runs, set in 2001? His teammates surely think he can.
"I think he has the potential to do that, providing he staying healthy. Just continuing with that mindset that he has," Davis said.
Said Patterson, "From what I've seen, sure. Anything is possible in this game and if anybody can do it, he can."
"If he keeps going the way he is, I think he can," said Molina, a former teammate of Alex Rodriguez with the Yankees, from 2007 to 2009.
For now the record is something that he doesn't want to focus on; his only concern is to keep winning games with Toronto, who were four games behind the Yankees in the American League East as of Friday morning.
"It could happen, but in reality I'm not trying to connect the most home runs I can. I just simply want to consistently stay with my approach, keep having good results, stay healthy and help the team win games," Bautista said. "If I do hit a lot of home runs, I'm happy. But if I don't hit them and we're winning a lot of games, I'll still be happy."
Adry Torres, who has covered MLB, NFL, NBA and NCAA basketball games and related events, is a regular contributor to Fox News Latino. He can be reached at elpiloto137@gmail.com or follow him on Twitter: @adrytorresnyc.