Hubener will start against No. 2 TCU as bizarre season keeps rolling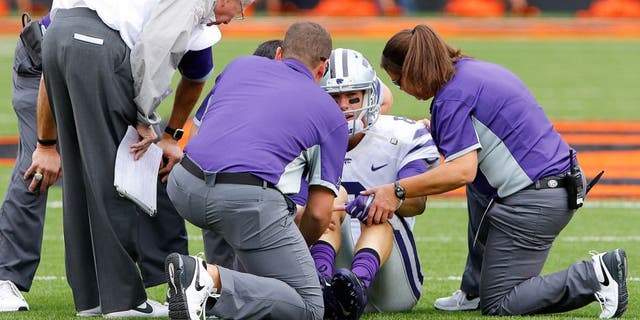 Kansas State is going through one bizarre season.
Take Saturday's game against Oklahoma State as just one example: How many teams can lose their starting quarterback, who started the season as the second-string, replace him in the first quarter with essentially the fifth-stringer and last-standing quarterback option, who is also one of the team's top receivers, lose him, go back to the QB who got his cage rattled and still nearly pull off an upset of the 20th-ranked team in the country?
Maybe bizarre isn't strong enough of a word.
Joe Hubener, the Wildcats' starting quarterback ever since Jesse Ertz went down in the season-opener, will be ready to start Saturday night's game against No. 2 TCU, according to the Kansas City Star. On Tuesday he told the newspaper that he did not sustain a concussion on the hit that knocked him out of the 36-34 loss to the Cowboys. Hubener said he passed a battery of tests as part of the concussion protocol and was given the green light to return to the game.
The only reason he didn't until the fourth quarter was because Kody Cook was, rather remarkably, playing so well. It took a shoulder injury to Cook in the fourth quarter to get Hubener back in.
When he did go in, it surprised many who earlier saw him laid out on the field motionless before needing help to get to the sideline.
"It looked bad, but I was fine once I got back to reality and realized where I was," Hubener said Tuesday. "It wasn't a huge deal. ... I was spinning for sure. I didn't expect to get hit. I would say I was in a little bit of shock."
Hubener led K-State to a touchdown and a 34-33 lead, but Oklahoma State drove for the game-winning field goal.
"I was proud of Joe for being able to come back," Snyder said told reporters. "I was proud of him, because he was a team player. He was invested in what Kody was doing and he was trying to help Kody. When his time came he was ready. A lot of guys might not continue to keep preparing themselves throughout the course of the ballgame."
The Wildcats will have Hubener back under center. But if he has to leave the game again, as for his replacement, well, Snyder is going to just play that by ear.
MORE NEWS: Want stories delivered to you? Sign up for our College Football newsletters.