Harvick weary of coming up short again in Cup race at Texas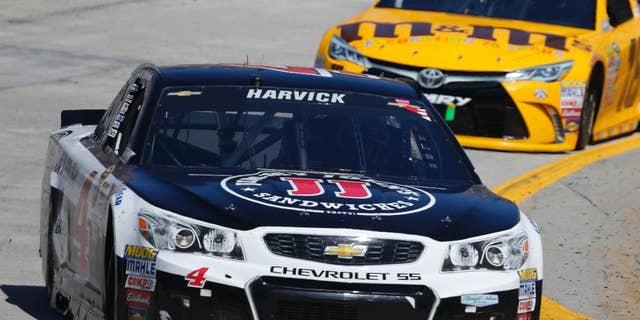 CHARLOTTE, N.C. – Kevin Harvick is leading the Sprint Cup standings and appears on his way to another run at a NASCAR championship. He also could be laying the groundwork for another maddening season in which he dominates on the track until it's time to collect the hardware.
Harvick finished second a frustrating 13 times last season, including the finale when he lost the championship to race winner Kyle Busch.
His numbers last year were astounding: more than 2,000 laps led, a 97 percent completion rate and 23 top-five finishes in 36 races. But in the winner-take-all format, being consistently second-best doesn't earn many trophies.
Harvick has had one of the strongest cars each week this season, but he has just one victory to show for his 485 laps led. He was second at Fontana, where he led a race-high 142 laps. He led a race-high 131 laps at Atlanta, only to fade to sixth.
Now the series shifts to Texas Motor Speedway, one of just four active tracks where Harvick has yet to win a Cup race.
Harvick isn't bad at Texas, and has won five times in the Xfinity Series and once in the Truck Series. He just hasn't made it to victory lane in the Cup series despite six top-five finishes. He has led a combined 109 laps in his last three starts at Texas, and has three consecutive finishes of third or better.
But his inability to win the Cup race has started a running gag with TMS president Eddie Gossage, who has reminded Harvick "victory lane is open after Sprint Cup races, too."
"I just don't think we've ever had a whole day come together for whatever reason at Texas," Harvick said of his Cup futility. "We've had good runs there in the past, but just haven't gotten to victory lane. We just have to figure out how to get in there."
___
LAPS LED: Two drivers have combined to lead over half the 1,815 laps so far in the Sprint Cup Series. Kyle Busch is tops at 486 laps led — one more than Kevin Harvick.
After Busch and Harvick, only three drivers have led more than 100 laps this season: Jimmie Johnson has led 171, Matt Kenseth 143 and Denny Hamlin at 107.
___
DOWNFORCE DEBATE: IndyCar marked a successful return to Phoenix International Raceway, where a decent crowd turned out for the series return after an 11-year absence.
But the racing itself could have been better because IndyCar has yet to find a happy medium in the debate over the appropriate amount of downforce needed to stage a competitive event.
There were only three different leaders at Phoenix, where passing was difficult because the cars carry enough downforce that drivers can go flat-out for an entire lap. That prevents opportunities for outbraking an opponent in a corner, and made restarts the only true chance to pass some cars.
Ryan Hunter-Reay is a master at using restarts to climb through the field, but couldn't do much once the racing spread out and he wound up finishing 10th.
"Some of the best starts and restarts I've ever had, and to come away with 10th place is a pretty dejecting result," he said. "I thought the quality of racing could use some work. In the DW12 era, we had great passing. The aero kits, I think they're not useful. The passing I did was on starts and restarts."
Many drivers clamor for a decrease in downforce because it makes the cars more difficult to handle and allows talent to play a pivotal role in the outcome. NASCAR has gone to a lower downforce package this season that has been overwhelmingly embraced by the drivers, some of whom took to Twitter during Saturday night's race to urge IndyCar to follow suit.
Scott Dixon, who led the final 155 laps, said simply removing downforce is not the automatic fix the series needs for oval racing.
"It's easy to drive from the back seat, man," Dixon said. "Everybody has their two cents. Can we make it better? Yeah, but it's our first time back here and I don't know what you can expect out of that.
"It is a topic and I could see some changes in the future maybe. But we have to do it as a group and do it with lots of testing to make sure it's a better product and not something where we come back and it's worse."
___
BACK TO YELLOW: The number 48 will be emblazoned in yellow this weekend at Texas Motor Speedway as sponsor Lowe's returns to its roots with Jimmie Johnson.
His car used yellow numbers from 2002 through 2011, and for one special paint scheme in 2014. All told, Johnson won 56 races and five championships with yellow numbers.