Gold Cup: Mexico Stumbles Early but Prevails Against Guatemala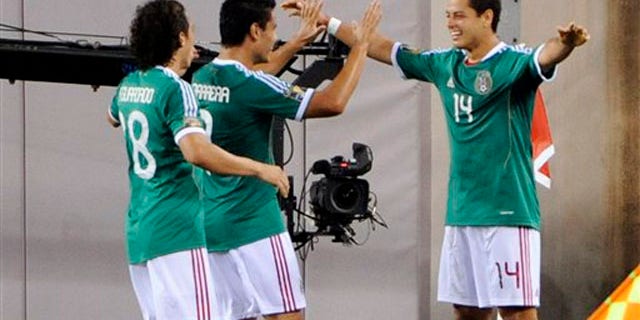 For a good 47 minutes or so at the New Meadowlands Stadium in East Rutherford, N.J. on Saturday night, Mexico gave its supporters, the New Meadowlands Stadium crowd and many CONCACAF officials a major league scare.
Not only were 'El Tri' scoreless, they were losing to Guatemala, 1-0, and staring at early elimination from the CONCACAF Gold Cup and more possible embarrassment and scorn than you could imagine.
Yes, that's right, the great Mexican Green Machine actually faced some adversity on the pitch -- and not off it -- for once in this tournament.
When the fabulous Chicharito (his given name is Javier Hernandez) scored his tournament-best sixth goal to lift Mexico into the lead in the 66th minute, you could have heard the collective sigh of relief from CONCACAF officials. With all due respect to the hosts, the United States, Mexico is the star of this competition.
It certainly was no coincidence that CONCACAF placed Mexico in some of the biggest stadiums in the competition in communities with huge Latino populations.
The Mexicans consistently fills stadiums from coast-to-coast. From Cowboys Stadium in Arlington, Texas, to Bank of America Stadium in Charlotte, N.C., to Soldier Field in Chicago (the final is in the cavernous Rose Bowl in Pasadena, Calif.).
They bring in crowds, make money for the confederation and stir interest and passion, not to mention some drama and sometimes some nervous stomachs.
On Wednesday night, Mexico will meet Honduras in the semifinals at Reliant Stadium, which was close to a sellout on Saturday afternoon. By the time you read this, there probably won't be any seats left, given Saturday night's results.
With Mexico trailing on a fifth-minute goal by Guatemalan captain Carlos Ruiz, no one left their seats at a packed New Meadowlands Stadium.
For the first time in the tournament, the Mexicans found themselves trailing another team.
That was quite surprising, considering they had routed their three group stage opponents by a combined score of 14-1 with some rousing and entertaining displays.
So, for the first time, Mexico faced some adversity.
That's not the end of the world. Every team has to go through some tough times. And, it's not necessarily how you deal with the highs, it's how you deal with the lows and other challenges that shows your real character.
'El Tri' demonstrated theirs.
After Ruiz caught the Mexicans napping, the sleeping giant awakened. 'El Tri' started to attack and attack and attack, but did not have anything to show for their efforts.
Three minutes after he came on at halftime for Israel Castro, Aldo de Nigris scored in a scramble in the penalty area, a very un-Mexican like goal. But then again, they all count the same.
Chicharito, the man who saved Manchester United's skin last season more times than manager Sir Alex Ferguson can count, did the same for 'El Tri', knocking in off a Pablo Barrera right-wing cross in the 66th minute. All order was restored for the Big Green Machine, which held on for a 2-1 win.
Now soccer fans' eyes will focus on the United States-Jamaica match in the first game of Sunday's quarterfinal doubleheader at 3 p.m. ET at RFK Stadium in Washington, D.C.
Another CONCACAF superpower with great expectations, the U.S. endured a sometimes bumpy first-round ride while facing some adversity of its own, suffering a stunning loss to Panama.
The Americans' preparations for a talented Jamaican side certainly has not been helped by the absence of standout midfielders Landon Donovan and Clint Dempsey, who were given permission by coach Bob Bradley to miss training (Thursday through Saturday), to attend the weddings of their sisters in California and Texas, respectively.
They were expected back late Saturday night or early Sunday morning.
Whether that will affect their or the Americans' performance, remains to be seen.
If the U.S. loses, there is little doubt that Bradley will be under fire and his job in jeopardy. If the U.S. wins, Bradley will coach another day -- in Houston against the quarterfinal survivor between Panama and El Salvador.
Come to think of it, de la Torre's job probably would have been on thin ice had 'El Tri' lost to Guatemala, given the mortality of Mexican national coaches the past two decades.
It's not easy being a Mexican coach with the expectations being so ridiculously high.
Failure is not tolerated.
There are, however, different levels of failure. It's one thing to lose to the U.S. in the Gold Cup final. It's another to fall to Guatemala in the quarterfinals.
But the Mexicans don't have to worry about the latter. They only have to prepare for Honduras in the semifinals at good old reliable Reliant Stadium on Wednesday night as they continue to be the star of the Gold Cup.
Michael Lewis, who has been covering international soccer for more than three decades, can be reached at SoccerWriter516@aol.com.
Follow us on twitter.com/foxnewslatino
Like us at facebook.com/foxnewslatino