Giants' Coughlin expects big things from JPP over the final 4 games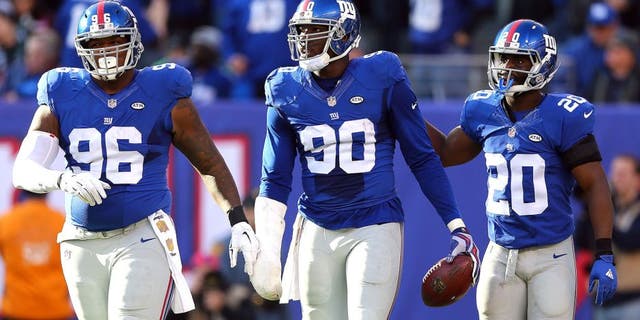 NEWYou can now listen to Fox News articles!
New York Giants head coach Tom Coughlin looked back at the game tape and determined that defensive end Jason Pierre-Paul had his best game of the season in the team's Week 13 loss to the Jets.
Pierre-Paul wasn't credited with any sacks, but he was a source of constant disruption -- Pro Football Focus charted him with eight quarterback hurries and one quarterback hit. Over the Giants' final four games, Coughlin has high expectations for the veteran defender.
"He's a strong rallying point for our team. He's an exceptional athlete," Coughlin said Wednesday during a conference call with Miami-area reporters. "To see him use his right hand last week the way he did, means that he is getting comfortable and confident that he can do that and be successful.
"We expect him to be a huge factor in terms of pressuring the quarterback, and also playing the run."
In addition to his numerous quarterback pressures, Pierre-Paul finished Week 13 with six tackles (two for loss) and a fumble recovery. He has also been excellent against the run throughout his career, and it seems as if his hand has not held him back at all in that area of his game.
Throughout his career with the Giants, Pierre-Paul has lined up primarily at right defensive end in their 4-3 base defense. Since returning from his injury, with a heavily-wrapped right hand, Pierre-Paul has also played a lot of snaps at left defensive end.
"He's played on the right and the left side," Coughlin said. "We think last week was his best game because he, quite frankly, he had no preseason, he had no warm-up or anything of that nature. So he was determined to improve and to play better, and he did."
If the Giants want to make a late run and win the NFC East division, Pierre-Paul will have to once again be the leader on the defensive side of the ball.