Gasol and Grizzlies Look To Even Series with LA Clippers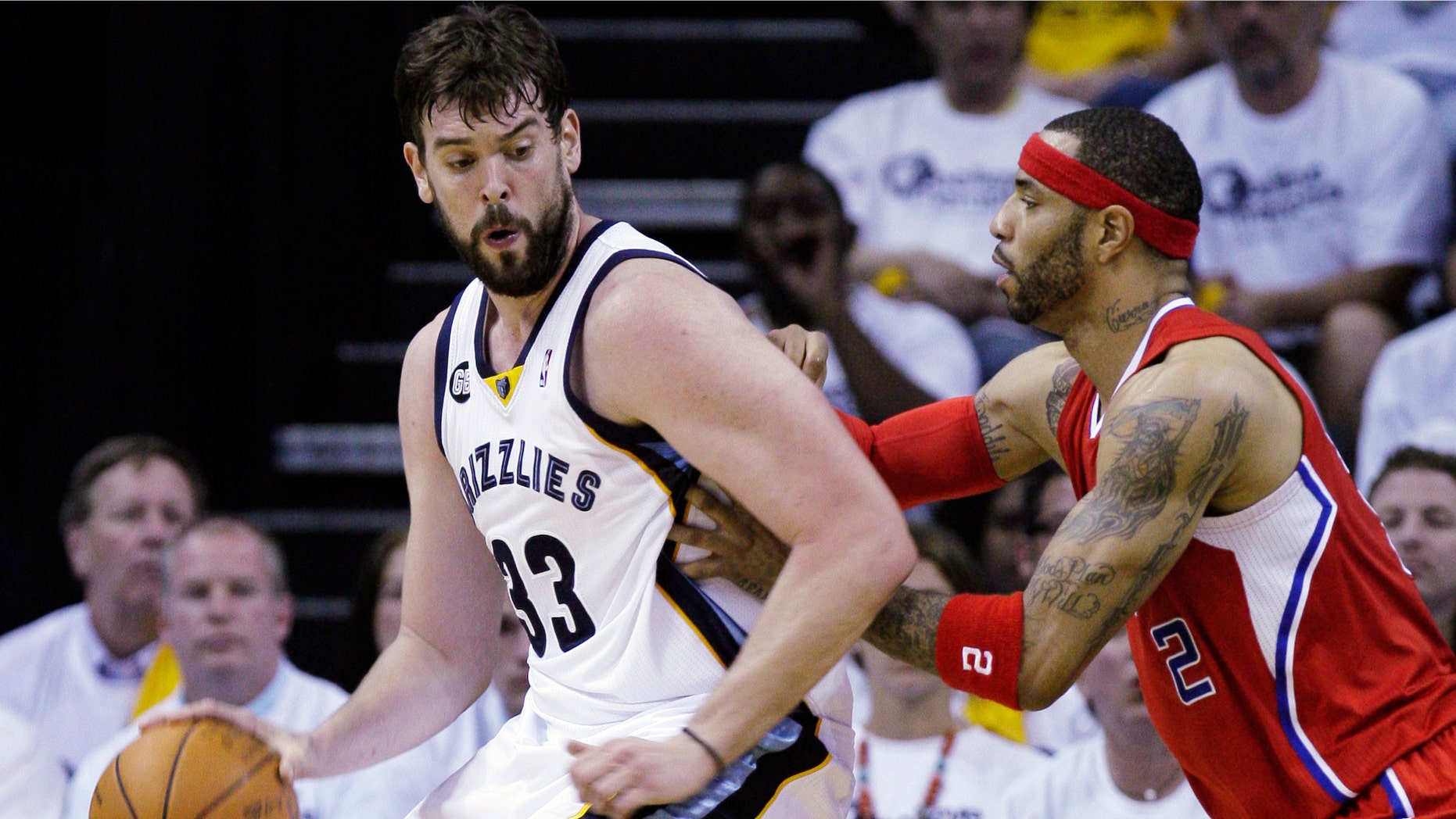 There was a "here we go again" feeling in the minds of the Memphis Grizzlies and 18,119 fans in the sold out FedEx Forum Wednesday night as the Los Angeles Clippers cut a 24 point deficit with 3:03 left in the third quarter down to six points with under a minute left in the game.
Unlike in Game 1, when the Grizzlies blew a 27 point second half lead, an advantage they held for 47 minutes, Game 5 was different. The Grizzlies led 85-79 with 55.7 seconds left and went on a 7-1 run to wrap up a 92-80 victory.
"We did a better job of executing the game plan offensively but especially defensively," said Grizzlies center Marc Gasol after forcing a Game 6 that will go down tonight in Los Angeles. "I think we were more disciplined defensively than we were in the past especially in the fourth when they were trimming the lead that we had."
The ball could bounce the Grizzlies way again as the Clippers All-Star dynamic duo of Chris Paul and Blake Griffin are battling injuries.
Griffin fell to the floor and sprained his left knee. As a precaution the Clippers sent their star forward for an MRI which revealed no structural damage. Paul went up for a rebound and grimaced, the result of a strained right hip flexor. He also jammed a middle finger.
For the Grizzlies the plan is simple: win tonight and it's back to Memphis for Game 7 Sunday afternoon.
Gasol finished with 23 points, seven rebounds and four assists. His low post partner Zack Randolph had 19 points and 10 assists.
Gasol wanted to prove something especially after a lackluster performance in Memphis' Game 4 loss, when he ended up shooting just 1-of-4 with eight points and five rebounds.
"We had our backs against the wall. We still have them. We haven't done anything yet. We want to take it back to LA and give them another big battle," Gasol said.
The Spaniard combined with Zack Randolph to shoot 12-of-14 from the field in the first quarter, torching the Clippers for 27 first quarter points. But just like in the first game of the series, it all changed in the second half as they scored just nine points, all coming on free throws.
The only difference was the end result.
It was just a year ago that the Grizzlies were fighting for their survival in the second round against Oklahoma City, beating the Thunder to shake off being eliminated in Game 6 and force a Game 7 that they lost.
While they find themselves in another must-win scenario in Game 6, Gasol admitted it's a little bit different this time around.
"Last year nobody expected us to do anything. This year we have expectations. With expectations come responsibilities," Gasol said.
Adry Torres, who has covered MLB, NFL, NBA and NCAA basketball games and related events, is a regular contributor to Fox News Latino. He can be reached at elpiloto137@gmail.com or follow him on Twitter: @adrytorresnyc
Follow us on twitter.com/foxnewslatino
Like us at facebook.com/foxnewslatino