Frankie Edgar doubts Conor McGregor ever returns to featherweight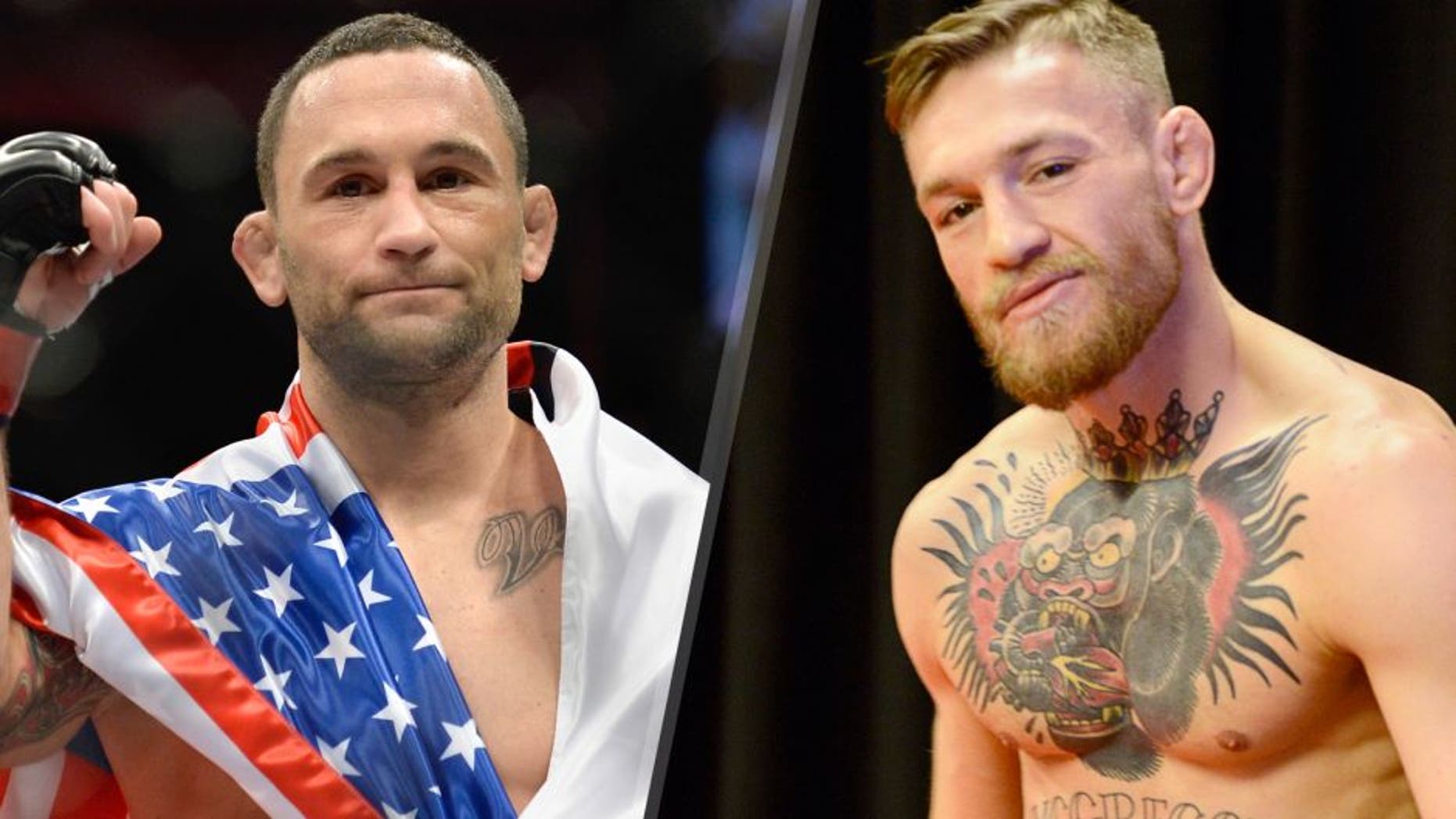 Frankie Edgar had a feeling that he wasn't going to face Conor McGregor at UFC 200 as requested after the featherweight champion ignored virtually all of his interviews and social media posts where he poked and prodded at the Irishman to land the fight.
Edgar knows McGregor likes to be quick-witted with his responses, but after he didn't hear anything over the past few weeks since he lost to Nate Diaz at UFC 196, he started to feel like the matchup was slipping through his hands.
"He didn't respond to anything," Edgar told FOX Sports on Thursday. "He's so quick with his tongue and he didn't respond to anything I was putting out there talking about the fight so I did feel that he was going to stay up and try to get that rematch with Nate."
Edgar's intuition was correct because McGregor will face Nate Diaz in a five-round main event rematch at UFC 200 with the second fight taking place at 170 pounds again.
As disappointed as Edgar was that he wouldn't get to fight McGregor, he received a call from UFC president Dana White on Wednesday that cushioned the blow just a little, because he'll still be competing at UFC 200 with a belt on the line.
"Well, Dana (White) called me yesterday actually," Edgar said about his new fight with Jose Aldo at UFC 200. "I heard speculation that's what they might want, but nothing concrete and then Dana called me yesterday and asked me. My reaction, I said yes. What the (expletive) am I going to do?"
Edgar battles Aldo for the interim featherweight title, with the winner expected to face McGregor later this year where the belts will be unified.
As much as Edgar loves the idea of wrapping gold back around his waist at the end of a fight, he's not fooling himself into believing that this is the real featherweight title he's been pursuing for the last few years.
"Let's just call it the No. 1 contender belt cause that's what it really is," Edgar said. "But I'll play the game. They did it for Conor, they gave him a belt and if I've got to play the whole Conor game to make sure I get this fight, I'm OK with it."
Edgar knows if he beats Aldo he will no longer have to chase McGregor, because the featherweight champion will be forced to unify the titles after his fight with Diaz is finished at UFC 200.
Of course, Edgar isn't sure McGregor will get the result that he wants in that fight because Diaz already beat him on 10 days notice the last time. And he doesn't believe the outcome will be any different in the rematch.
"I think it might a little bit longer because Conor will reserve a little bit more, but ultimately I think it's going to end the same way, or similar fashion at least," Edgar said.
If McGregor falls to Diaz a second time he would return to the featherweight division on a two fight losing streak. Then again, Edgar isn't convinced McGregor will ever return to 145 pounds again so he's not betting on anything just yet.
"I don't know. I don't think so," Edgar said about McGregor returning to featherweight. "I don't know if a win will make him come back, maybe a loss he'd have to come back. Two losses in a row that's supposedly up two weight classes -- it's 155-pounders not wanting to cut weight is what it really is. He'll lose a lot of that value I think.
"The more losses you tack on -- you're going to have a champion come back after a two-loss stint up a weight class? It just doesn't all add up to me."
Either way, Edgar is happy to face McGregor at a higher weight division one day after he conquers his second UFC title in July. Until then, Edgar is only worried about Aldo and nothing else will enter his mind.
"The title is definitely what I want. If he never comes back down, I end up becoming champion, I'm a two weight class champion -- something he's trying to do," Edgar said about McGregor. "Maybe I'll just have to chase him up to 170 to make that fight, to make that payday. Especially if I have the belt he never defended, why not?
"We can defend it at 155 or 170 if it makes him feel better, but honestly the focus needs to be on Aldo so I'm not too worried about Conor right now."