Francis Ngannou lays waste to Andrei Arlovski with vicious first round TKO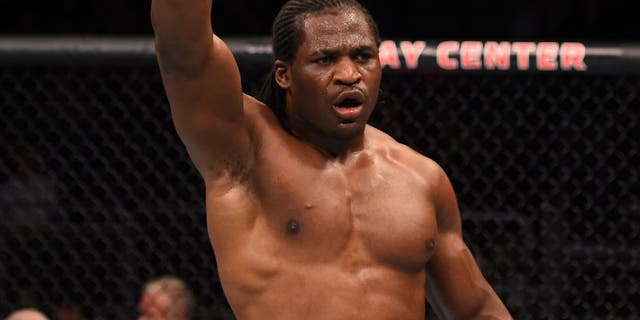 Heavyweights beware, Francis Ngannou is coming for you.
On Saturday night in Denver, the 6-foot-4 monster laid waste to former heavyweight champion Andrei Arlovski with a devastating first round knockout to move his UFC record to 5-0 while finishing every single one of his opponents inside the Octagon.
While Ngannou had been very impressive in his previous fights in the UFC, the matchup with Arlovski was definitely his biggest test to date while taking on a true legend in the division.
Ngannou has steam rolled through several of his past opponents, but knowing that Arlovski possessed a lot of speed and power, the French heavyweight was patient during the first few exchanges in the fight.
Every time Arlovski stepped forward, however, Ngannou was firing back with a couple of his punches just missing the Belarus native while clearly looking for the knockout shot.
Ngannou finally found a home for his sledgehammer like arms after Arlovski ducked his head to throw a punch and received a combination of strikes in return.
Ngannou's left hand glanced off Arlovski's head but he followed that with a right hand that absolutely crushed the former champion directly in the jaw as he twisted, turned and fell face first on the canvas.
Ngannou followed him to the ground for a few more punches, but it was clear the fight was already over as the referee swooped into call a stop to the contest at 1:32 in the first round.
There's no doubt Ngannou had everybody's attention going into his fight with Arlovski, but now he's positioned himself for an even bigger matchup when he returns to the Octagon later this year.
With the kind of power and athleticism that Ngannou possesses, he's going to be a tough out for anybody willing to step up and face the best prospect the UFC heavyweight division has seen in years.