First-place Mets win 5th in row, beat Marlins behind 4-run 8th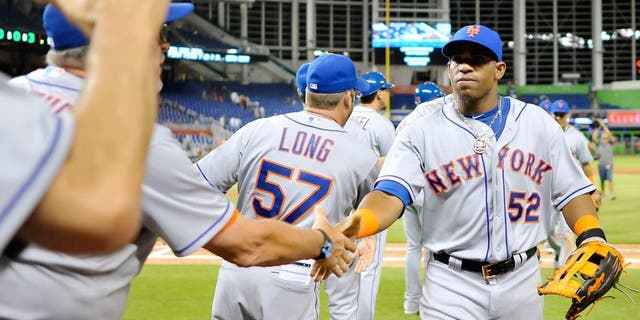 A couple of the New York Mets' biggest hits came from unexpected sources on Tuesday night.
Eric Campbell's tiebreaking pinch single and Juan Lagares' two-run triple highlighted a four-run eighth inning that helped send the Mets to a 5-1 win over the Miami Marlins.
"Our offense is pretty exciting," Mets pitcher Jonathan Niese said. "At any given time during the game they can explode. It's a great feeling."
Niese (6-9) allowed one run and four hits in seven innings for the NL East-leading Mets, who won their fifth consecutive game as they erased an early deficit.
"There's no sense of panic. There's no sense of urgency," Mets manager Terry Collins said. "We hit the ball good early. They felt like they were going to get some chances to score, and the veteran leadership in the dugout, they were just going to continue to plug away and we did."
Relievers Tyler Clippard and Jeurys Familia combined to pitch two scoreless innings to end the game.
Lucas Duda drove a ball over right fielder Cole Gillespie for a single leading off the eighth against Mike Dunn (1-5) and Travis d'Arnaud followed with a base hit. Campbell, a .181 hitter batting for Niese, poked a soft line drive into shallow left field over the outstretched glove of shortstop Adeiny Hechavarria.
"I thought I either hit well enough or not well enough where it would drop in there," Campbell said.
Lagares, batting in the 9 hole, tripled to make it 4-1 and scored on Curtis Granderson's double.
"I think it was a huge hit for (Lagares)," Collins said. "I know he's down a little bit because he's not playing, and I understand it. I totally get it and as we all know there's one way to get back in the lineup, and that's do what he did tonight."
The Marlins have lost six of seven.
"We had some chances" Marlins manager Dan Jennings said. "Again, little frustrating to see a close game. These are the type of games we're going to have to win and when it slips away it's frustrating. (The Mets) right now, they're on a playoff run. They have a lot of momentum going their way. But when you stay right there cheek-to-cheek with them and let it get away it's definitely frustrating."
Dee Gordon's RBI single in the third ended Niese's scoreless inning streak at 18.
"(Niese) has been very, very good and again tonight," Collins said. "An outstanding outing."
Miami starter Brad Hand pitched four scoreless innings before leaving after 84 pitches with a 1-0 lead.
"I threw like 41 pitches through the first four outs," Hand said. "That's never good when you have a short pitch count. I was able to battle and get through four."
Ruben Tejada singled off Adam Conley to drive in Wilmer Flores, who scored from second by beating Gillespie's throw as he slid his left hand underneath catcher J.T. Realmuto's tag.
"I was telling him where to slide, he better have scored," Niese said. "It was good. It was a heck of a slide. He hustled all the way through and it was a great hit by Ruben as well."
TRAINER'S ROOM
Mets: 3B David Wright (back) participated in a workout before he begins a rehab assignment with Class-A St. Lucie. "He hit today, he ran, threw, caught grounders, absolutely looked great," Mets manager Terry Collins said. "Really looked good. He hit some balls hard." ... Collins plans on meeting with RHP Rafael Montero (rotator cuff inflammation) on Thursday in Port St. Lucie, Fla., to give him a motivational speech about his recovery and try to get him back to the big-league club as quickly as possible.
UP NEXT
Mets: RHP Matt Harvey (9-7, 2.91 ERA) is coming off a strong outing against Washington on July 31 as he allowed one run in 7 2/3 innings. Harvey is 3-3 with a 1.86 ERA in his last eight starts.
Marlins: RHP David Phelps (4-7, 3.93) is looking for his first win since June 16 against the New York Yankees. Phelps will be making his fourth start against the Mets this season. He has not figured into a decision and has a 2.70 ERA in his first three outings.