Ex Chelsea coach José Mourinho not headed to Real Madrid, club president says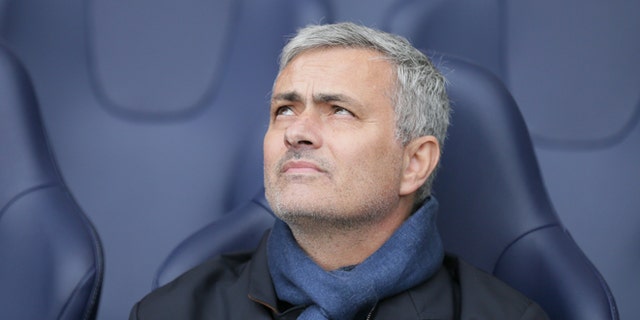 MADRID (AP) – It didn't take long for the media to start speculating where Chelsea's former coach, José Mourinho, might head next.
The day after it was announced that Chelsea and Mourinho were parting ways, the president of his previous team, Real Madrid's Florentino Pérez, said on Friday that he has no intention of replacing coach Rafa Benítez with the Portuguese coach.
In an interview with a Spanish radio station, Pérez didn't dismiss signing Mourinho again, but reiterated that "Benítez is not the problem, he is the solution."
Mourinho left Chelsea for a second time on Thursday as the English team continues to struggle in the Premier League. He was Real Madrid's coach from 2010-13, winning the Copa del Rey in 2011 and the Spanish league in 2012.
"No one can know the future, but right now he will not come to Madrid," Pérez told Cadena SER. "I have good memories of Mourinho, he helped us elevate our level. It wasn't a bad moment for us. With him in command we returned to where we belonged."
Madrid has been in crisis since a 4-0 home loss to Barcelona and an embarrassing elimination in the Copa del Rey for using an ineligible player in a match against third-tier club Cadiz.
Pressure on Benítez increased after the team's 1-0 loss at Villarreal in the Spanish league last weekend, a result that kept Madrid from gaining ground on Barcelona and Atlético Madrid.
Another setback on Sunday against struggling Rayo Vallecano could mean the end of the line for the coach — even if he has Pérez's support.
"It's not true that the players don't get along with Benítez," Pérez said. "I talk to them. There are no players who want him sacked."
Until Mourinho became available on Thursday, former Madrid great Zinedine Zidane was being loudly touted as the immediate replacement to Benítez if he was fired.
"I like Zidane, he will be a great coach for Madrid," Pérez said. "But not now."