Eric Davis: Jim Harbaugh coddled 49ers off the field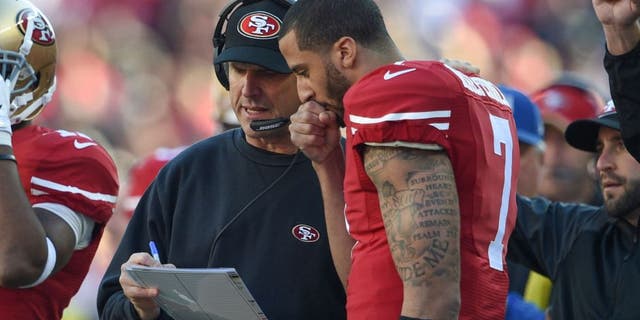 NEWYou can now listen to Fox News articles!
It's no secret the San Francisco 49ers are dealing with one of the worst stretches of off-field problems in recent memory.
Following the latest incident involving Ahmad Brooks, former 49ers cornerback Eric Davis, now with NFL Network, revealed Jim Harbaugh's "coddling" approach to off-field issues could have been a big contributor to the franchise's current issues.
Davis spoke on this topic on Friday morning, and here is the link to the NFL.com video. When asked if he had ever seen anything like what has happened to the 49ers, Davis replied:
"No, I haven't seen anything like it, but what I think people need to understand is that part of the reason -- I think there was a belief, and I've talked to some people on the ground -- there is a belief that players -- just like they used to throw their towels and dirty laundry on the floor in the locker room and leave their trays out in the (cafeteria) and wait for somebody else to clean up their dirt -- that that was a metaphor for what they were doing off the field."
Davis then pointed to Harbaugh's dual nature as the potential cause.
"As hard as Jim Harbaugh was on his guys on the field, he was sort of coddling off the field. He allowed those guys to do some of those things. And I think that's part of what the belief is now with the organization, is that they are moving on from that."
Davis then detailed what the organization is doing now to change this culture of off-field behavior problems. He notes that the franchise went from one "player engagement person" to five this offseason, hiring two additional people for the job and moving two others into the role who were already involved with the organization.
He also pointed to the swift exits of Ray McDonald and Aldon Smith after both players were given an ultimatum that they'd be gone with one more off-field incident as proof the organization is taking a different tack these days.
More from Sportsnaut: