Eddie Alvarez prepares to take on the might, and mouth, of Conor McGregor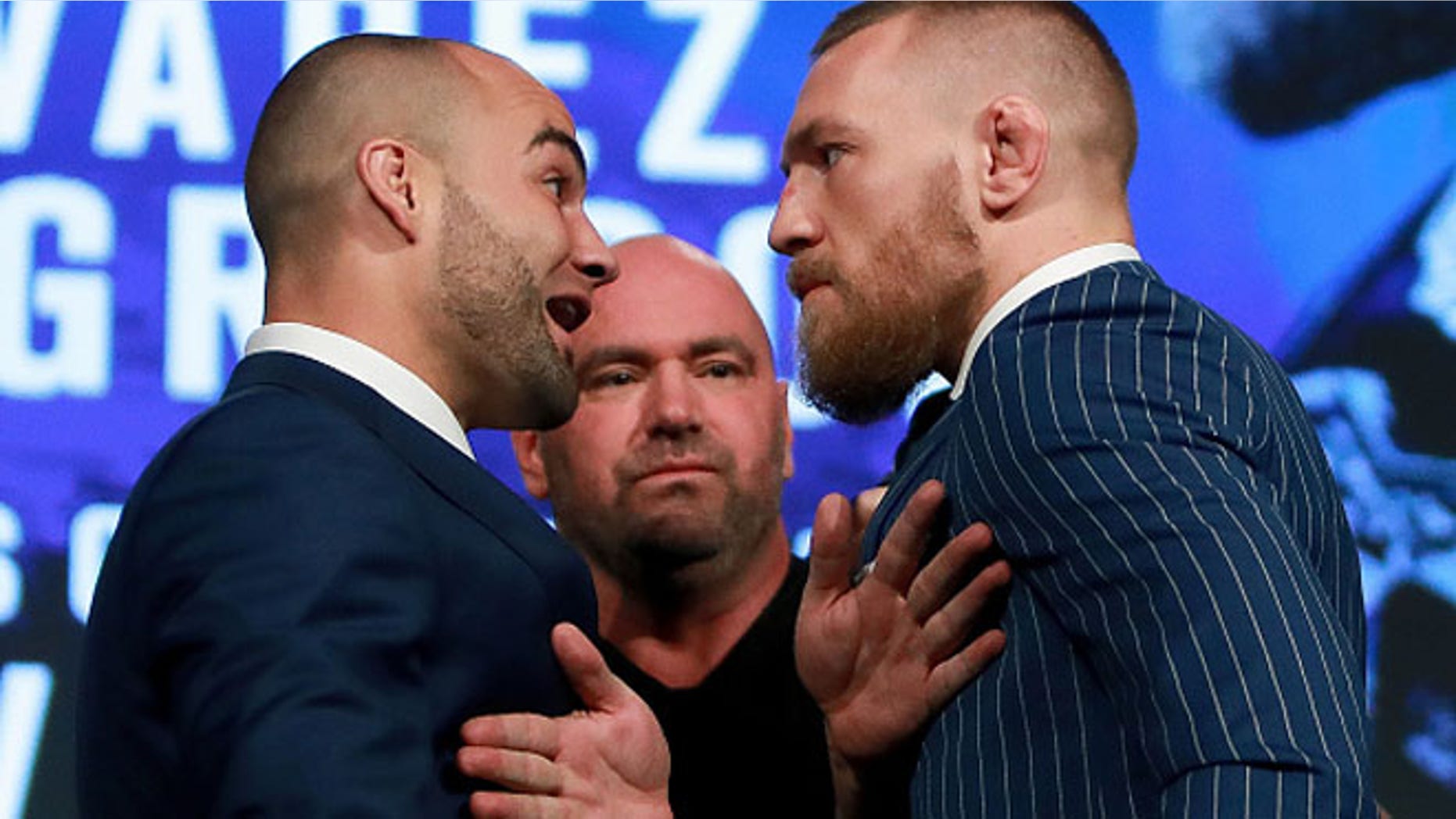 Although born in the United States, UFC lightweight champion Eddie Alvarez doesn't forget his roots.
The 32-year-old MMA fighter often can be seen enjoying one of his favorite Puerto Rican dishes, alcapurria — a fritter made of green bananas and eddoe, or grated cassava.
"As a child, for my father, it was always rice and beans every night," he said. "The food is great, but I can't eat it when I need to cut weight."
And he needs to watch what he eats at least until Saturday, when Alvarez (28-4), defends his title against the controversial featherweight champion, Conor McGregor (20-3), the main event at UFC 205, which is being held at Madison Square Garden.
It's the Big Apple debut of MMA fighting and the first UFC promotion in New York state.
With McGregor and Alvarez on the brink of making history, the Pennsylvania-born fighter says he is living his dream.
"[When] I joined the UFC, it is what I always wanted to achieve," he told FNL. "This is what I dreamed and hoped for. It's happening. It's pretty cool."
He added, "I'm enjoying the ride."
Alvarez defeated Rafeal dos Anjos in July by technical knockout in the 1st round to win the lightweight title.
McGregor defeated Jose Aldo in 13 seconds in December to become featherweight champ – that title won't be on the line, but the Irish fighter could become the first simultaneous two-weight champion.
His most recent fight was in August as a welterweight, when he avenged an earlier defeat at the hands of Nate Diaz.
But the McGregor's prowess inside the octagon isn't the only source of attention he receives – his mouth raises a lot of eyebrows.
Before fighting Diaz, McGregor got into heated verbal attacks with him, including one press conference at which the fighters threw bottles at each other. The UFC fined McGregor for that outburst and made him do community service as well.
Sure enough, during a media conference call last week, McGregor started right in trash-talking his UFC 205 opponent.
"He's claiming it's an easier contest [than dos Anjos]," McGregor told reporters. "I look forward to when the eyes shift, when the eyes roll and the electric shock goes through his whole body, and he goes to his knees, and then he comes up, and he's in survival mode, and that panic sets through his whole body, his whole face. That's something that I look forward to."
The Irish fighter went on, "I will punish him for that, for those words that he's saying. I'm going to retire him on this night."
None of which seems to faze the Puerto Rican fighter.
"I'm slow to anger," he told FNL. "It's hard to get me hot. I'll laugh before getting angry. I think we will have fun."
Which isn't to say that he can't jaw with the best of them.
"Although I am not angry [at McGregor], I am competitive where maybe we go tit-for-tat," he said. "I compete on every level."
Alvarez is an MMA veteran. He was a lightweight champion for Bellator and had a memorable fight of the year with that promotion against Michael Chandler in 2011.
He left Bellator as a champion in 2013 and joined the UFC the following year. He credits his experience in the cage for his cool and collective demeanor.
"I haven't always been that way – before I used to get emotional," he told FNL. "Maybe I was younger, and I didn't understand. But for me now, I feel like I am on the outside looking in, and it makes it entertaining. I take the sport seriously, but [the spectacle] is enjoyable."
Not only does Alvarez not have a personal vendetta toward McGregor, he believes the Irish fighter is a benefit to the UFC.
"There needs to be a balance in the sport," he said. "It's hard for the fighters to connect with the fans. I think it's important to have a guy like [McGregor] to get people excited."
Ironically, Alvarez has also Irish in his ancestry — just not enough to touch his Boricua identity.
"I haven't been to Puerto Rico," he said. "[But] it's something I can't wait to do. My father is from San Juan. Life gets a hold of you, but it's something I want to do."
As for predictions, he has just one: "Tune in Nov. 12 from Madison Square Garden," he said. "It's going to be violent, and we are going to silence the country of Ireland."