DW: Thankfully culture of NASCAR has changed regarding concussions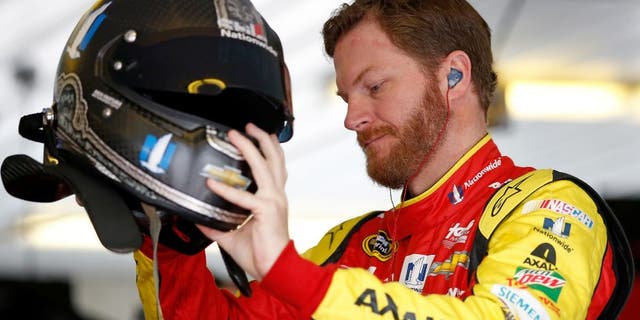 NEWYou can now listen to Fox News articles!
So we are down now to only eight races left in the NASCAR regular season come Sunday at New Hampshire Motor Speedway.
In these first 18 races we've had 11 different winners. Basically that means there are still five spots up for grabs to make the 16-spot Chase field.
Will we have five new winners in the next eight races? Oh sure it's possible, but highly doubtful.
So then you have to look at the drivers who are back there vying to make the Chase on points. I know eight races sound like a lot, but trust me, it really isn't. The sands in the regular season hourglass are quickly running out.
You are going to see the tension continue to rise and that's just to make the Chase, let alone all the stress of once you've made it. You watch these next few weeks and see what happens. Like I am fond of saying, desperate times call for desperate measures and we're going to have our hands full of some desperate drivers.
Obviously the huge news this week hit Thursday when it was announced Dale Earnhardt Jr. would not be racing this weekend at Loudon due to concussion-like symptoms.
Young Alex Bowman who drives periodically for Dale Jr.'s XFINITY race team will fill in this weekend. Now if Dale still isn't cleared to drive next weekend, it has been announced that a newly retired race car driver and my buddy up in the FOX NASCAR booth will dust off his helmet and uniform.
That is four-time champion Jeff Gordon, of course, and if it happens, it's always exciting to see him run at Indianapolis Motor Speedway where he has won a record five times.
I just want to say I am proud of Dale Jr. for going the extra mile when he wasn't feeling well. He has said initially he thought it was sinus-related and saw a doctor for that.
However, when relief still didn't come he took it a step further. Knowing that he has had concussions in the past plus having wrecked as recently as Michigan and Daytona, he decided to reach out to a neurological specialist. After testing, their recommendation was for Dale Jr. to sit New Hampshire out.
I'm glad he, Hendrick Motorsports and NASCAR take issues like this seriously. I've said this before because if comes from painful experience: "Sometimes drivers have to be protected from themselves."
When you are a driver you think you are invincible. You rationalize that things like this can't happen to you. You tell your family, car owner and friends that "it can't happen to me."
No driver ever wants to see someone else behind the wheel of their race car. It's a thing of ego, pride and feeling like you have to "man up." The thing is, you see, it's all a fallacy. We're all human. We aren't invincible. So I'm glad to see across the board that everyone is taking this seriously.
When I say I know from painful experience I am talking about what happened to me in 1983. I was in a vicious crash in the Daytona 500 that year. I mean it was really nasty.
I got my bell rung but I'm driving for the toughest car owner in the business at the time, Junior Johnson. I told myself I wasn't hurt. I told myself I wasn't going to let him or my family down. More importantly, I wasn't about to show any weakness to my competitors in the garage area, that was for damn sure.
That was the culture of the day and it was absurd. I was hurt.
I drove the next two races -- Richmond and Rockingham -- and to this day, I can't tell you a thing about them. I don't remember practicing, qualifying or anything about the races. I was fortunate in a sense, because the Rockingham race got called roughly about 50 laps into it because of rain and NASCAR rescheduled the remainder of the race for the following week.
It was during that down time that I "came to" as I like to call it. I realized I had had a concussion and had finally come out of it.
The bottom line was after the Daytona wreck I had zero reasons for being behind the wheel of a race car. I could have hurt myself even further or even worse, hurt another driver.
Thankfully 1983 is a far cry from the culture of 2016.
We all know and have seen the data coming out of all professional sports about the long-term effects from concussions. Thankfully we've evolved from an era of "man up" or "just walk it off" to realizing that these types of injuries have long-term effects on athlete's health.
I know Junior Nation is disappointed Dale Jr. won't be behind the wheel Sunday. I understand the pressure he is under. He hasn't won yet. He's sitting 13th in the points, which is an area that makes it edgy for him to make the Chase.
Well, guess what? That doesn't mean a hill of beans to me. I'm not disappointed. I'm proud of him for making the right call. That man has his whole life ahead of him. His health comes first -- PERIOD.