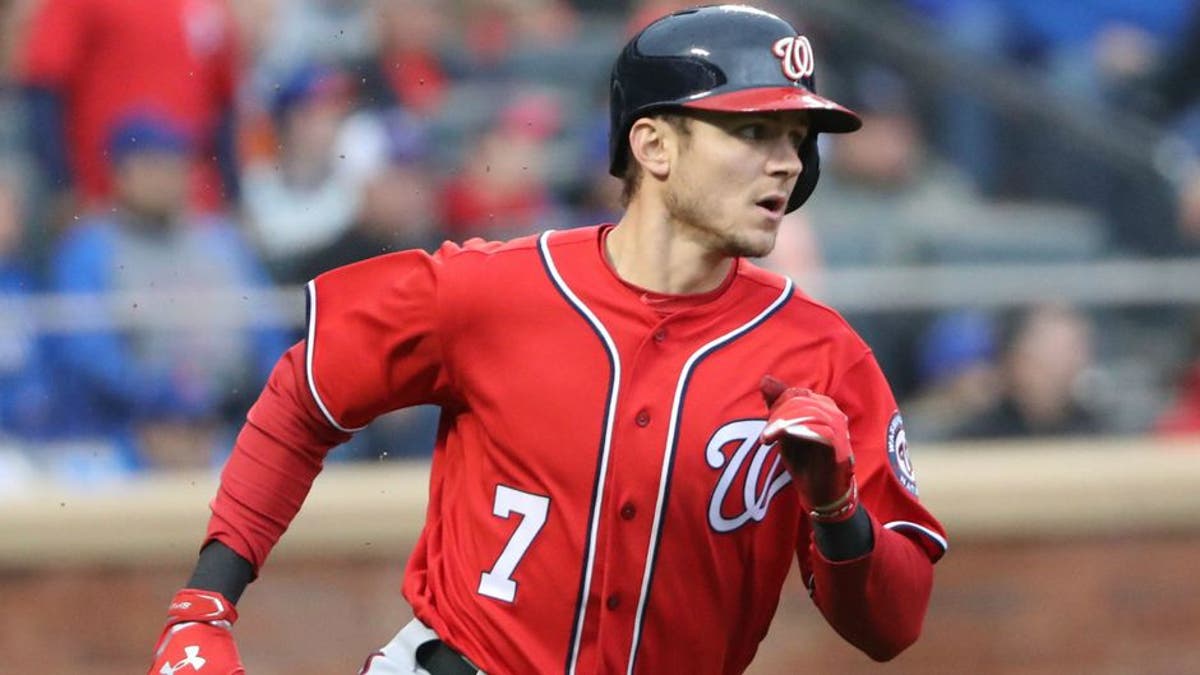 Nationals manager Dusty Baker looks at Trea Turner and sees Rickey Henderson.
And to paraphrase Rickey, Rickey hits leadoff. Rickey doesnt hit second.
A ridiculous comp? Perhaps. But Baker, who normally is not given to excessive praise, believes that Turners speed-power package could make him the most impactful leadoff man since Henderson.
So, on Monday night, the manager returned Turner to the leadoff spot, with Adam Eaton batting second. Turner, who returned from a hamstring injury Friday, hit second the previous two games.
Statistical analysts generally do not place much weight on a batting order, but the Nats choice actually is more complex than it appears.
The team, by batting Eaton first and Turner second, can avoid using three straight left-handed hitters in the 2-3-4 spots Eaton, Bryce Harper and Daniel Murphy.
Turner, a right-handed hitter, would break up the lefties if he bats second. The downside is that hitting him in front of Harper would limit his ability to run and remember, Turner was 33-for-39 in stolen-base attempts last season in just 73 games.
The revival of Ryan Zimmerman could help alleviate the issue; Zimmerman, a right-handed hitter, twice batted cleanup over the weekend, between Harper and Murphy.
Then again, Murphy is still a better choice than Zimmerman at cleanup against right-handed pitchers, even if it leaves the Nats more susceptible to left-handed relievers (the best of whom, by the way, are all in the AL).
Dropping Eaton to the sixth or seventh spot is another option, giving the Nats speed near the bottom as well as at the top of the order. But such a move would take Eaton out of his comfort zone 98 percent of his 2,350 career plate appearances have come in the first or second spots, 89 percent in the first.
Lets just say that all teams should have the problems of the Nationals, who rank third in the National League in runs per game.
Turner, who has played in only nine games due to his time on the disabled list, has struggled thus far in the leadoff spot. But both he and Eaton are better than most teams alternatives 12 of the 29 other clubs have a sub-.300 OBP at leadoff, with the Nationals biggest rival, the Mets, last at .(209).
Whatever the Nats do, theyre going to be good.
A POX ON THE THREE TRUE OUTCOMES!
The sabermetric movement is at least partly responsible for the unprecedented rise in the three true outcomes -- home runs, strikeouts and walks and corresponding reduction of balls in play.
MLB Networks sabermetric crusader, Brian Kenny, already has issued a public mea culpa, knowing that the game has become less entertaining due to the movements emphasis on hitters walking and view of strikeouts as no worse than other outs.
Even the rise in home runs while not necessarily a bad thing -- is partly attributable to hitters trying to get more balls in the air to overcome another data-driven trend, defensive shifts.
Other factors are in play, the rise in pitchers velocity perhaps foremost among them. However one views the situation, this much is certain: The percentage of plate appearances ending in one of the three true outcomes is on pace to be the highest in major-league history, according to MLB Network research.
The top five:
2017: 33.4 percent
2016: 32.3
2015: 30.7
2012: 30.4
2013: 30.3
Yes, that 2017 percentage means that more than one-third of all plate appearances thus far have ended without the ball being put in play.
Commissioner Rob Manfred repeatedly has stated his concern with the games pace of action as well as pace of play.
The solutions are not clear, but baseball needs to find a better way.
ON THE BRIGHT SIDE …
An increasing number of players are turning to data in an effort to improve their performances, and the latest example is a doozy.
Would you believe the Mets Yoenis Cespedes?
In March, the New York Times James Wagner quoted Mets hitting coach Kevin Long as saying that Cespedes and Jay Bruce were the Mets most willing recipients of statistical information.
I asked Long about Cespedes over the weekend, and he said, For him to be leading our team in walks is nothing short of a miracle. The sample remains small, but the Mets have shown Cespedes the zones where he chases pitches, and he has put the information to good use, Long said.
Last Thursday, Long even educated Cespedes about batting average on balls in play; Cespedes entered that nights game at .216, which is quite low.
So Im unlucky? Cespedes asked.
Right now you are, Long explained.
The league average on balls in play generally is around .300, so Cespedes appears due for a hot streak, as long as his recent hamstring issue does not prove a detriment.
Keep in mind, his OPS already is 1.008.
HERE THEY GO AGAIN
The Orioles are up to their usual tricks, defying their typically low expectations with their 13-5 start despite third baseman Manny Machado batting .197, right-hander Kevin Gausman carrying a 7.50 ERA and right-hander Chris Tillman, closer Zach Britton and outfielder Joey Rickard all on the disabled list.
The pitching, rather than crumble due to the injuries and Gausmans early slump, is holding up surprisingly well under new pitching coach Roger McDowell; the Orioles rank fourth in the AL in ERA, with right-hander Dylan Bundy at 1.37 and lefty Wade Miley at 1.89.
McDowell, previously with the Braves, learned his craft under his Orioles predecessor, Dave Wallace, who left to rejoin the Braves as a special assistant. Braves Hall of Fame manager Bobby Cox, who had McDowell as his pitching coach for five seasons, gave the Orioles a glowing recommendation.
We were very lucky that he was available, Orioles manager Buck Showalter said. Roger has a great way about him. Hes very professional, doesnt take himself too seriously. Hes been impressive.
D-BACKS TOMAS FIGURING IT OUT
Diamondbacks left fielder Yasmany Tomas, 26, might never be a walk machine, but he is impressing his new manager, Torey Lovullo, with his offensive approach.
Hes learning every single day about the importance of waiting pitchers out instead of pouncing on what he thinks will be the first mistake, Lovullo said.
Im a big fan of his. He can impact a game with one swing of the bat. Hes working really hard behind the scenes to study pitchers and understand the game plan when hes walking up to the plate. And its translating.
Tomas, through 69 plate appearances, is batting .303 with four homers and a .939 OPS.
BIG DADDIES, ON AND OFF THE FIELD
Two hitters off to hot starts, Braves first baseman Freddie Freeman and Rays right fielder Steven Souza Jr., both have told me since the start of the season that they are better players now that they are fathers.
Freemans wife, Chelsea, gave birth to their first child, Charlie, last September. Souza and his wife, Mikaela, had their first child, Micah, in December.
It was hard for me to let go of a bad game before, Freeman said. I dont dwell on everything now.
Shall we invent a new stat, Babies Above Replacement (BAR)?
UH-OH MARINERS
When a general manager makes as many moves as the Mariners Jerry Dipoto, some are not going to work.
The Ms this week turned on two struggling players who are earning more than $10 million combined, designating center fielder Leonys Martin for assignment and removing first baseman Danny Valencia from an everyday role.
Martin, acquired during the 2015-16 offseason in part because he offered three years of club control, must accept a minor-league assignment to receive his guaranteed $4.85 million if no team claims him on waivers.
Valencia, owed $5.5 million, now projects to be the lesser half of a platoon with another newcomer, the recently promoted Dan Vogelbach, a left-handed hitter.
Several of Dipotos other acquisitions are off to better starts, most notably right fielder Mitch Haniger, who is emerging as a candidate for AL Rookie of the Year, and Taylor Motter, who has filled in capably for the injured Jean Segura at shortstop.
Segura is expected back on Tuesday, while reliever Steve Cishek, recovering from surgery to repair a torn labrum in his left hip, also could return this week.
The Mariners, though, remain one of the seasons early disappointments at 8-12.
Their starting pitching remains suspect, and the team overall still must demonstrate that it is more than an ill-conceived collection of parts.
AROUND THE HORN
*As if the Astros arent loaded enough, first baseman Yuli Gurriel is emerging as an offensive force, batting .469 with a 1.156 OPS in his last nine games (albeit with a .500 BABIP).
Gurriel, 32, appears much more comfortable than he did in his debut last season, Astros people say. He is mature enough to understand that he is a good hitter first, not a slugger. And, after spending the majority of his career in Cuba at third base, he also has become a good first baseman quickly.
*The Padres Austin Hedges started the season 0-for-24, but even then manager Andy Green was saying that the catcher had the biggest impact of anyone on the team.
Hedges, 24, has since started to hit, popping five home runs in a span of seven games from April 15 to 22. He did not let his early offensive slump seep into his catching, bench coach Mark McGwire said, gaining respect from everyone with the club who saw how he handled the pitching staff and prepared game plans.
*Showalter is looking forward to the return of Rickard, who has been out since April 9 with a sprained left middle finger but is expected to return next week.
Rickard can lead off against left-handed pitching and play all three outfield positions. The Orioles outfield defense will improve markedly when Rickard and Craig Gentry are on the field together in the late innings.