Dustin Ortiz: CM Punk comes in early, stays late, and he's part of the team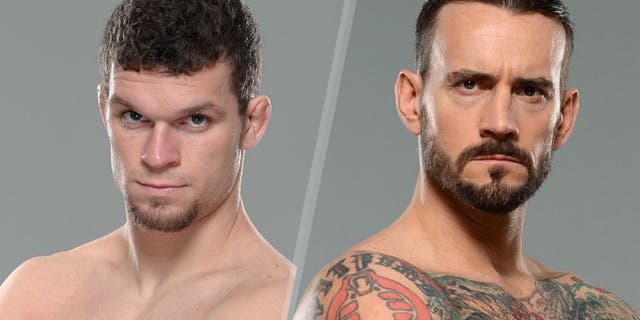 From the moment former WWE pro wrestler CM Punk signed with the UFC, the circus of attention surrounding his move into mixed martial arts began.
The proponents were excited that a personality as large as Punk with a rabid fan base following wherever he goes would bring some new attention to the UFC. The naysayers were just as loud, thanks to Punk earning a UFC contract with no fights and absolutely no mixed martial arts experience under his belt.
The real proof of the Punk experiment won't come until he actually signs his first fight contract and steps into the Octagon. Until then the only word about how far Punk has developed comes from his teammates at Roufusport in Milwaukee, where a ton of UFC notables train including former lightweight champion Anthony Pettis and flyweight contender Dustin Ortiz, who fights this weekend in Nashville against Willie Gates.
Ortiz is a veteran with five UFC fights under his belt as well as a career that stretches back more than five years. Ortiz spends a lot of his time inside the gym led coach Duke Roufus and according to the top-15 ranked flyweight, Punk is right there beside him each and every day.
"It's cool to have him there. He shows up early and stays late," Ortiz told FOX Sports on Thursday. "He's doing privates with the coaches, which is awesome. He's really putting in the time and effort. He's a cool dude. He's part of the team and that's how I see it and he fit right in. He brings a new aspect to the UFC and the UFC's always growing. He adds that grow factor."
Part of the backlash about Punk's signing came from fighters as well, who believe the novice mixed martial arts fan is getting a free pass to compete in the UFC while most people on the roster had to scratch and claw their way through the regional scene before finally getting the call to fight in the Octagon.
Even Roufusport wrestling coach Ben Askren was vocally opposed to Punk getting a shot to fight in the UFC until he got to know the former WWE wrestler. Ortiz admits he never had a preconceived notion about Punk when he signed, and he treated him the same as every other fighter who steps on the mats at the gym.
"I never really had an opinion of him. I'm not going to judge a guy I don't know," Ortiz said. "So he came in and I just introduced myself like I would anybody and started our relationship that way.
"He's your average guy and his heart feels like he wants to try this out so more power to him. Just like anybody else trying to be a fighter. They see the UFC and the success that's available there and he wants a part of it so come on in and get your hands dirty."
Punk has been training non-stop since he first arrived at Roufus Sport back in January and as FOX Sports first reported, he even landed a second house in Milwaukee so he could cut down on the commute time from his home in Chicago.
Over the last eight months, Punk had a ton of knowledge poured into his body, but the question still remains when he will make his UFC debut. Punk always defers to his team and coaches at Roufusport about a debut date, but rumors have put his first fight around the end of 2015 or beginning of 2016.
Ortiz watches Punk train at the gym and says the former pro wrestler turned pro fighter is coming along at his own speed while learning the ins and outs of the fight business. It's not an easy road to travel and Punk might have more obstacles than most, but he's putting everything into preparing for his debut fight in the UFC.
"He's making huge improvements every, single time," Punk said. "Everybody's different. I came from a wrestling background, I wrestled all through middle school and high school so I got into it a little faster than your average person. Then these kids coming up these days, they're going to be even faster because they are mixed martial arts completely.
"He's just at his own pace and I think between the coaches and himself, they'll know when he's ready and it will be perfect timing."