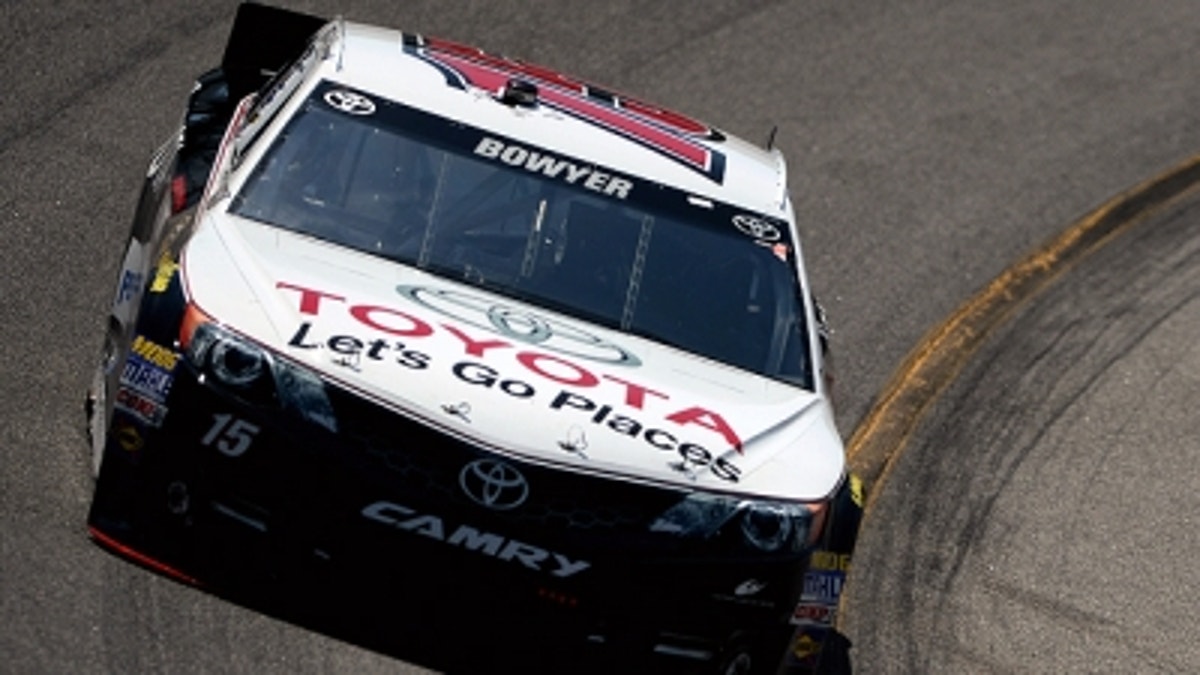 A parts review by Toyota after Matt Kenseth's penalty led the manufacturer to pull three engines from Michael Waltrip Racing's inventory as a precautionary move.
All three engines recalled were earmarked for Clint Bowyer. One was his engine for Saturday night's race at Richmond; the other two were his primary and backup engines for Talladega.
"We took every connecting rod in our inventory and removed anything that was too close for comfort," Toyota Racing Development vice president David Wilson told The Associated Press.
The review found that there was at least one connecting rod in each of the three Bowyer engines that left TRD uncomfortable in the wake of Kenseth's issue.
NASCAR found this week that one of the eight connecting rods in Kenseth's race-winning engine from Kansas did not meet the minimum weight requirement. The engines are made by TRD out of Costa Mesa, Calif., and then shipped to Joe Gibbs Racing and Michael Waltrip Racing in North Carolina.
The teams unpack the engines and install them in the cars, and have no access to the parts or pieces inside.
Still, NASCAR levied harsh penalties against Kenseth and JGR that essentially stripped the team of everything but the trophy. Kenseth was docked 50 points, as well as the three bonus points he earned in Sunday's win. Crew chief Jason Ratcliff was fined $200,000 and suspended six races, and team owner Joe Gibbs had his license on the No. 20 Toyota suspended for six races.
Toyota was docked five manufacturer points.
The issue began when the manufacturer shipped the connecting rod to TRD even though it was outside the tolerance the manufacturer allows on weight. It came with paperwork that clearly stated its weight, and that was missed by TRD employees.
Kenseth then won the race, which automatically means his engine is taken back to NASCAR's Research & Development Center in North Carolina for a thorough inspection. It was there that NASCAR found one of the eight rods to be too light.
JGR is appealing the severity of the penalties, and TRD is accepting full responsibility for the mistake.
Now the manufacturer is backtracking to double-check everything in inventory while also reviewing its own quality control practices.
"There should be some check along the way," Wilson said. "When it wasn't caught in receiving, then it should have been caught on a visual inspection. In this instance, the first level of failure was that the part was shipped to us at all. The second level of failure is we didn't intercept it."
TRD's head engine builder has a Monday morning meeting in Germany with the manufacturer. Although Wilson has declined to identify the manufacturer, it's believed that Toyota switched vendors sometime in the last few years to Mahle.
MWR team co-owner Rob Kauffman met with Wilson to discuss the Gibbs incident and said TRD was working to correct the quality control issues.
"They are using an abundance of caution right now," Kauffman said of TRD's decision to take Bowyer's three engines.
"They know, David knows, this cannot happen again."