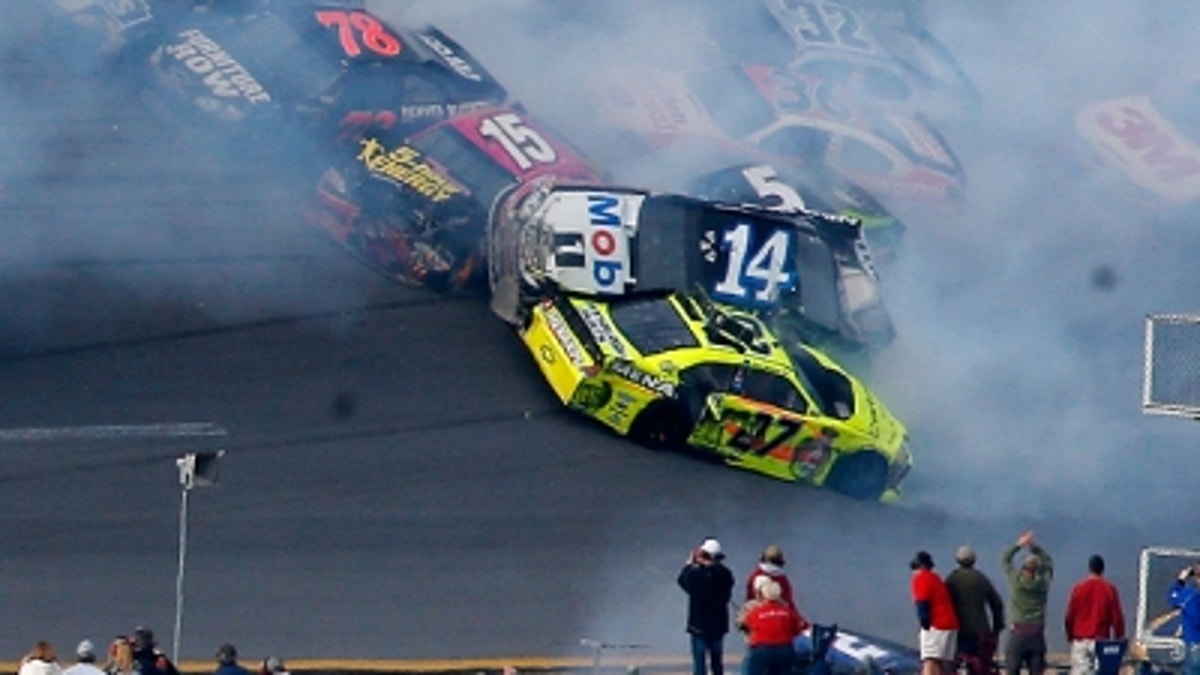 Of all the big-name drivers in the NASCAR Sprint Cup Series, few have had more disappointing seasons this year than three-time champion Tony Stewart.
With exactly one quarter of the 2013 campaign in the books, Stewart sits 22nd in points, with just one top-10 finish in his No. 14 Stewart-Haas Racing Chevrolet. Stewart hasn't finished better than 17th in his last six races. It is the worst start of his Sprint Cup career, which dates back to 1999.
This week, NASCAR races at Talladega Superspeedway, a place where Stewart has had a few highs and a lot of lows in his career. It's also a place where he is one of the favorites, and if Stewart can win here, he can turn his entire season around.
Stewart has finished second six times in Sprint Cup races here and won at Talladega in October 2008. But since that victory, his fortunes have turned sour: In Stewart's last eight races at Talladega, his average finish is a depressing 21.875.
Last October, Stewart was leading on the last lap when he threw an ill-fated block on Michael Waltrip, which triggered a 25-car pileup. In that race, Stewart wound up on his roof in the last-lap scrum and was officially credited with a 22nd-place finish.
A year ago in the spring Talladega races, frustrated with rules put in place to limit two-car tandem drafts, Stewart launched one of the all-time funniest NASCAR rants, done completely deadpan.
"We didn't quite crash half the field which is what we normally look to do here," Stewart told reporters with a completely straight face. "I was excited about it. I thought it was a pretty good race. I made it further than I thought I would before I got crashed. I call it a successful day."
But he was just getting started.
"I feel bad that as drivers we couldn't do a better job of crashing enough cars for them today," Stewart said. "... I feel like that is what we are here for. I feel bad if I don't spend at least $150,000 in torn-up race cars going back to the shop. We definitely have to do a better job with that."
Asked about his own race, Stewart added, "I had a blast. It would have been a lot more fun if I could have gotten caught up in one more wreck. If I could have done that it would have been perfect."
All jokes aside, Stewart needs a good run this weekend to get headed back in the right direction. He's done it before: In 2011, Stewart said he was running so poorly that he thought getting a spot in the Chase for the Sprint Cup was a waste, because he didn't think he could do anything with it.
Yet after earning just three top fives and no victories during the 26-race regular season in 2011, Stewart exploded in the Chase, winning five of 10 races and scoring six top fives in earning his third championship.
So what does Stewart have to do this weekend to win at Talladega? Be lucky and be good.
"Someone described racing on the superspeedways of being a combination of a science project and the luck of a casino, and it's exactly that way," said Stewart. "You do everything in your power to take care of the science or technology side, do everything you can to build the fastest car you've got.
"But if you don't have the luck to go with it, even if you don't have any drama with getting the car touched – nothing happens to the car – if you're just in the wrong spot at the wrong time at the end, it can take you out of whatever opportunity you had," Stewart said. "You can have the best racecar in the field and not get the chance to get through to the front."
Tom Jensen is the Editor in Chief of SPEED.com, Senior NASCAR Editor at RACER and a contributing Editor for TruckSeries.com. You can follow him online at twitter.com/tomjensen100.