Copa América: Brazil Defeats Ecuador to Reach Quarterfinals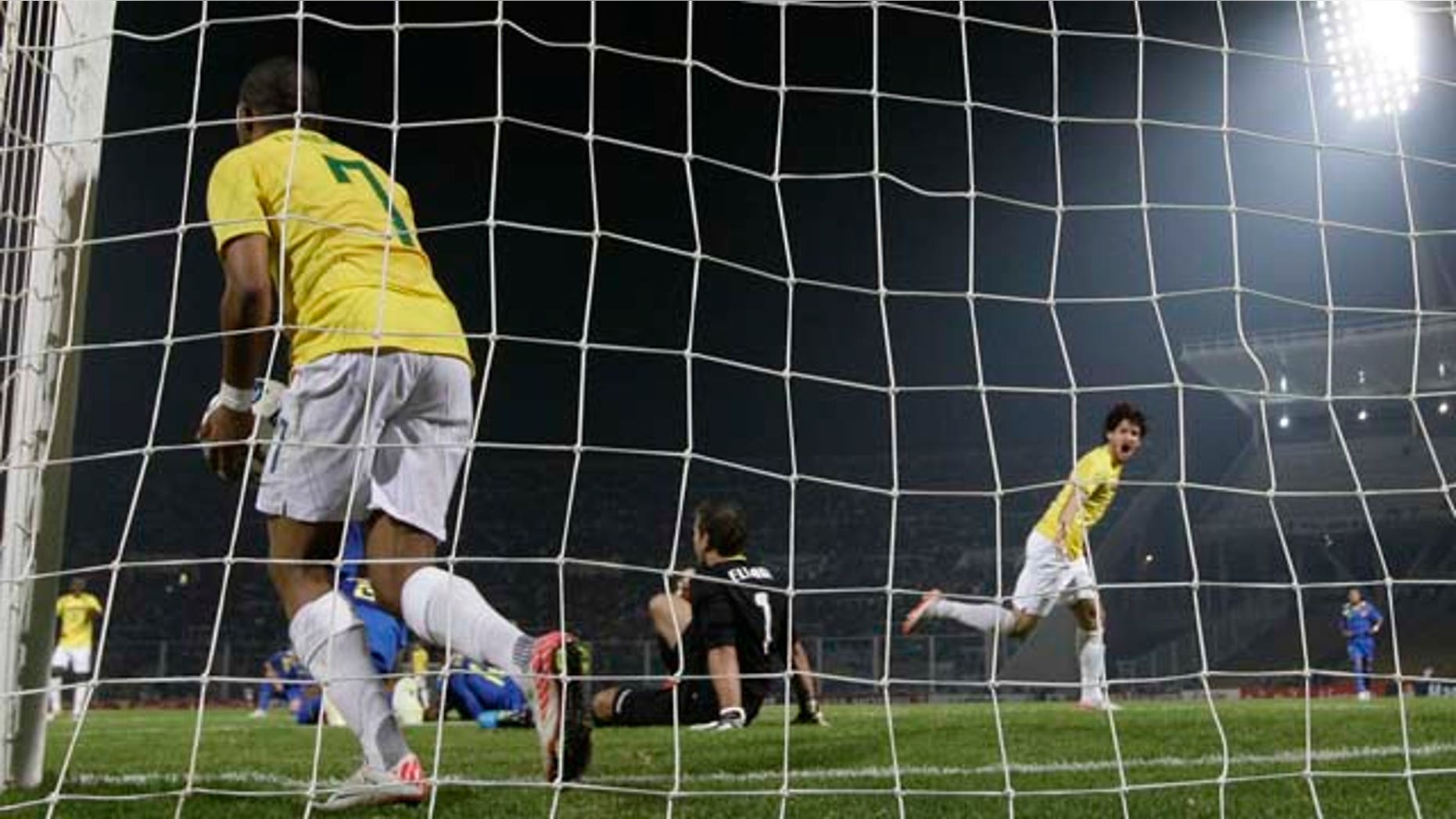 Brazil, one if the favorites to win the Copa América, is still alive.
It was harder than expected, but Brazil reached quarterfinals in the South American championship and has started showing the form that makes it the co-favorite with Argentina to win it all.
Brazil and Paraguay clinched the last two remaining quarterfinal berths on Wednesday. Brazil defeated Ecuador 4-2 with two goals each from Neymar and Alexandre Pato to top Group B, and Paraguay drew 3-3 with Venezuela. Venezuela had already advanced.
Brazil has won the last two Copa América titles — and four of the last five — and will face Paraguay in the weekend quarterfinals. They drew 2-2 in the group stage.
Argentina plays Uruguay, Colombia is against Peru and Chile faces Venezuela in the other quarterfinals.
"It was the type of match we needed," Pato said. "It was like a final to us and we had to win it no matter what. We did it and advanced in first place, which is what we wanted."
Brazil and Argentina both managed only draws in their first two group games. But when it counted, Lionel Messi delivered for Argentina — a 3-0 victory on Monday against Costa Rica — and Neymar and Pato stepped up for Brazil to build momentum going into the quarterfinals.
"I like the way he played," Brazil coach Mano Menezes said of Neymar. "He came back to mark on defense too. It's important for him to play this role in the national team, too. We have confidence in (the young players) and we know they can continue to improve during the Copa América."
Argentina has the advantage of playing at home, but it is faces pressure to deliver its first major title since 1993.
Brazil is under less pressure, playing with a mix of youth and experience and building up for the 2014 World Cup in Brazil.
Brazil finished with five points in Group B, level with Venezuela but ahead on goal difference. Paraguay, which allowed two late goals in a draw with the Venezuelans, advanced with three points as one of the two best third-place teams in the three groups.
Chile was the best team in the group stage, but suddenly Brazil and Argentina look very prepared going into the final eight.
"We played with that will to win," Pato said. "Everybody expects Brazil to always play a great match but it's very hard, all teams want to beat Brazil's national team, and today it wasn't different. Now it's time to get back to work. It's a new Copa América."
Brazil went ahead twice, from Pato in the 28th minute and Neymar in the 48th. But Ecuador equalized each time with Felipe Caicedo scoring in the 37th and 58th. But when Pato scored again in the 60th, there were no more comebacks with Neymar sealing the match in the 76th.
"We leave a bit sad," Caicedo said. "We had the character to rally two times. We could have tied again, but we lost our concentration. We left Brazil too much space, and you can't do that."
The loss will put pressure on Ecuador coach Reinaldo Rueda, with reports that Costa Rica coach Ricardo La Volpe might replace him.
Venezuela picked up a good psychological boost in the draw against Paraguay with two goals in the last five minutes from Grenddy Adrian Perozo and Nicolas Fedor.
Venezuela has been the surprise of the tournament. The country is better known for its great baseball players, and is the only team in the 10-member South Américan confederation that has never played in the World Cup.
Venezuela coach Cesar Farias offered reporters a 15-minute lecture after the match, upset that his team is often written off as the weakest in Latin América.
"This is a team that works hard, has put in lots of hours, played lots of games and is asking for respect," Farias said.
Based on reporting by The Associated Press.
Follow us on twitter.com/foxnewslatino
Like us at facebook.com/foxnewslatino