Copa América: Argentina's Fate Will be Determined by Which Lionel Messi Shows Up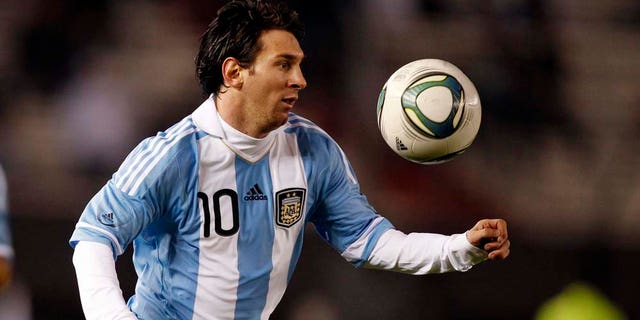 Believe it or not, as good as Argentina has been and can be with all the marvelous players the country has produced over the past two decades, the Albicelestes haven't won a major soccer title since 1993, when they were Copa América champions.

That is difficult to believe from a country that has churned out some of the world's most feared attacking players. Do the names Diego Maradona, Gabriel Batistuta, Ariel Ortega, Hernán Crespo, Carlos Tévez and Lionel Messi ring a bell?

The Argentines have won 14 Copa crowns, the most of any South American country. So the expectations always have been great, but the realizations have been downright disappointing over the past 18 years.

Especially when you consider the talent.

Even with fabulous and entertaining Messi and Tévez in the lineup and a solid supporting cast behind them, the Argentines squandered an excellent opportunity to end the drought at the World Cup in South Africa last summer. But then-coach Maradona, who had been likened to a madman by many observers during his reign of error, did not deploy the correct tactics when needed. The Argentines' weaknesses were exposed in a devastating 4-0 quarterfinal defeat to Germany.

Now, it is Sergio Batista's turn and charge to clean up the mess and try to put Argentina back on track. Batista, a member of Argentina's 1986 World Cup world championship squad, directed the Under-23 team to the gold medal at the 2008 Beijing Summer Olympics.

The eyes of the world will be on Argentina for two reasons: One, it is the host of Copa América for the first time since 1987. And two, it has some of the best players in South America, if not the world.

Being the host team can be a double-edged sword. You're obviously familiar with the turf, but the public's expectations and pressure can be enormous, if not sometimes unrealistic.

Messi, the best player on this planet, has not been able to deliver the same performances for the national team as he does for Barcelona in Spain's La Liga. The numbers say it all: Messi has scored 180 times in 269 matches for Barca (plus 15 league and international championships, including three UEFA Champions League titles) and only 17 goals in 57 games and no titles for Argentina.

Whether it is a difference of playing styles, the pressure of playing for one's country or not having the same players around him (remember, Barcelona can buy the right players at will, while national teams are "stuck" with the ones they've got), it has been a major cause for concern.
Like it or not, Messi always will be in the spotlight for whatever team he plays for, whether he is attracting attention from opposing defenders trying to stop him or TV cameras waiting to capture an astounding move past a foe or his latest magnificent goal.

After a rather disappointing World Cup – Messi did have his moments, but he was not always at his dominating self – the 24-year-old striker can make it right this time with a spectacular performance in his home country.

Saying that, Argentina is far from a one-man show.

Batista has few, if any, incredible changes in players or in playing style. But sometimes a new coach and atmosphere (i.e. no unpredictable Maradona) can go a long way.

Besides Messi, Batista has been blessed with many attacking options from which to choose, including Sergio Aguero, Ezequiel Lavezzi, Angel Di Maria, Diego Milito and Tévez.

The midfield also is another strong point with Esteban Cambiasso, Javier Mascherano and Ever Banega usually doing the most damage.
If there is a weakness, it is the defense. That is a head scratcher because central defenders Nicolas Burdisso and Gabriel Milito are considered solid players, and 37-year-old right fullback Javier Zanetti brings a wealth of experience (140 caps).
Sergio Romero is expected to start in goal.
The Argentines kick off their Group A schedule against Bolivia Friday, followed by Colombia on Wednesday and Costa Rica on July 11. They should get past the first round with relative ease and will face their real challenges in the July 16 quarterfinals, the July 19 semifinals, and if they're fortunate, the July 24 final at Estadio Monumental in Buenos Aires.
If Batista can get the most out of this dangerous side and have Messi performing like he is wearing the scarlet and blue colors of Barcelona, he could be considered coach of the tournament because his team most likely will be the team of the tournament – as in champions.
Michael Lewis, who has covered international soccer for three decades, is a frequent contributor to Fox News Latino. He can be reached at SoccerWriter516@aol.com.
Follow us on twitter.com/foxnewslatino
Like us at facebook.com/foxnewslatino