Carolina remains unbeaten; Rivera hopes team doesn't take winning for granted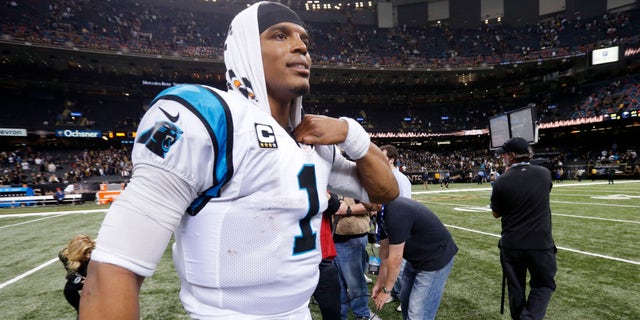 NEW ORLEANS (AP) – Cam Newton missed some open receivers, while at other times open receivers dropped passes that could have resulted in long gains.
Carolina's offense committed three turnovers, its special teams had an extra-point blocked and returned for 2 points the other way, and its defensive backs allowed Saints quarterback Drew Brees to complete big plays over their heads.
In essence, the Panthers did many of the things that losing teams do — and still won, 41-38 over New Orleans on Sunday.
They're also still undefeated — posting just the ninth 12-0 start of the NFL's Super Bowl era — and they're the NFC South Division champions for the third consecutive season.
They're that good, apparently. Coach Ron Rivera only hopes his players don't take all this winning for granted.
"It does talk a little bit about having that kind of ability, not being at your best, and still winning a football game," Rivera said. "The thing that we've got to be smart about, too, again, is that we are going to come up against another team that it may not go that way. We've got to learn from this. We have to grow. We've got to understand that we have to take care of business."
The Saints (4-8) played well enough to make the game compelling and dramatic enough to enliven the Superdome crowd — just not well enough to outlast Newton and Co., who dropped New Orleans its fourth straight loss.
"They had a lot riding on this game and so did we," said Saints quarterback Drew Brees, who passed for 282 yards and three TDs, including a 54-yarder to Brandin Cooks. "This was just a really hard fought performance on both sides, and both teams took it down to the wire."
Some things to know about the Panthers triumph in New Orleans:
CLUTCH CAM: Newton passes for 331 yards and five touchdowns, capped by his 15-yard scoring strike to Jerricho Cotchery with 1:05 left to put the Panthers up for good. He also hit scoring passes of 12 yards to Mike Tolbert, 13 yards to Devin Funchess and 13 and 45 yards to Ted Ginn Jr. New Orleans took the lead twice in the fourth quarter, but Newton answered with TD passes each time.
CROSSED UP: The Saints' defensive backfield continues to struggle with blown coverages and the result has New Orleans on pace to break the 1963 Broncos' record of 40 TD passes allowed in a season. The Saints have now given up 35 touchdowns passing and still have four games left.
"We have to take it upon ourselves to know what we're doing," Byrd said. "It comes down to us as players, and we're making mistakes we can't be making. You can't say it's scheme. Us as players have to make sure that we're all locked in and doing our responsibility."
KEEPING THE FAITH: Ginn said he had no excuse for dropping a pair of passes that had the potential to go for touchdowns, but appreciated that Newton went back to him for his two second-half TDs.
"With Cam being who he is, he came back and gave me another chance and I made up for it," Ginn said.
Added Cotchery, "Bad plays are going to happen but what we do as a team to bounce back from them defines us. Things are going to happen out there on the field just like life, and it's how you respond."
AN NFL FIRST: Saints linebacker Stephone Anthony was already having a good game when he did something never before seen in the NFL. Having already returned a fumble he caused 31 yards for a score, Anthony wound up in the end zone again when he became the first NFL player to return a blocked extra-point kick for 2 points, taking advantage of a new rule put in this season allowing defensive players to run back failed conversions. Anthony's return of Graham Gano's blocked kick covered 82 yards.
AROUND THE BALL: Panthers safety Kurt Coleman continues to lead the NFC in interceptions after making his sixth this season when he hauled in Brees' overthrown deep pass intended for tight end Ben Watson. It was his fifth interception in his past six games.