Cain Velasquez vs. Junior Dos Santos: The Real Main Event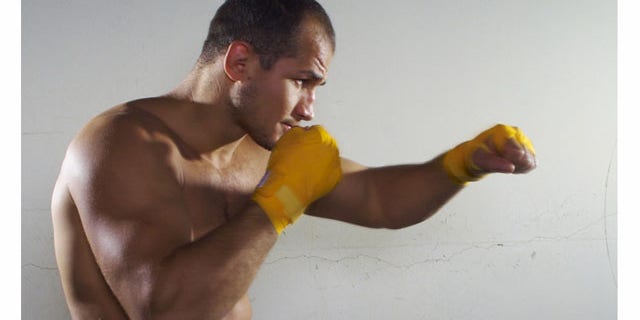 For the first time on network television, the UFC on Saturday night will present a fight featuring two of their most popular mixed martial arts fighters and featuring one of the most prestigious titles in the fight game.
Cain Velásquez will defend his world heavyweight championship against Junior Dos Santos.
These two men not only represent their division and the Ultimate Fighting Championship organization, their fight is the last step for mixed martial arts. It allows UFC to cement their fighters and their sport in the mainstream.
To put it bluntly, if the UFC wants to become like pro football, basketball and baseball, it needs to come out of their corner fighting – and that's what this presentation offers just that opportunity.
The UFC and Fox, which signed a TV deal this year, are bringing their best fighters and their best match-up to free TV Saturday.
One thing's for sure, it will be the most watched MMA fight in television history.
Unlike CBS and the now defunct EliteXC – which gave the world Kimbo Slice, the infamous Internet brawler, as the backbone of their showcases – the UFC chose to go with their Latino champion as their next big step into the mainstream.
Since defeating Brock Lesner last year, Velásquez's stock has risen with MMA experts and casual fans. Latinos have latched on to him as their champion, and his popularity has risen.
This will be his first fight back since injuring his shoulder against Lesner.
On the other side is a humble hulk of a man, whose striking prowess is considered the top of his division. Dos Santos represents the Brazilian history in MMA, a proud honorable warrior who expects to end Velásquez's reign as champion and do it in front of a nationally televised audience by knockout.
The UFC chose to air it and promote it as the lone nationally televised fight of the broadcast. They also chose not to place it against the Pacquiao-Márquez fight later that night so that there would be no conflict for fight fans.
The bottom line here, though, is that the UFC doesn't want to attack boxing head on; they want to win the fans over by putting out the better product.
They respect boxing but they hope to put themselves over as the consistent superior to boxing.
For Latinos across America what better way to introduce them to or cement their loyalty to a sport than by giving them the biggest match-up they can with their biggest Latino figure versus the most touted prospect to come from Brazil in a long time.
I can't tell you who will win this fight; Las Vegas has Velásquez winning, but it's close.
Here's a winner you can take to the bank, though – MMA fans, Latinos and the UFC, by virtue of the event being on TV.
When's the last time you turned on football and saw an ad for a big time fight with two guys who have Spanish sounding last names and one who has "Brown Pride" tattooed on his chest?
In my opinion, boxing needs to take a lesson from the UFC and mixed martial arts and try to win back fans – or else it's going to go down for the count.
I'd advise you to watch the "real" heavyweight champion fight Saturday night for free and save your money on what is likely and easy Pacquiao win.
While I admire Manny Pacquiao and his ability, this is his third fight against Juan Manuel Márquez, who has a draw and loss in his two previous fights with Pacquiao. Márquez has also lost to Floyd Mayweather.
Besides Mayweather-Pacquiao, there's no future fights or development in boxing that has marquee value.
Give the UFC credit for thinking outside of the box.
You want to know why MMA is overtaking boxing? Because they know it's about the fan and giving them what they want.
MMA wins big Saturday.
Victor García is an associate producer for Fox News Channel and a regular contributor to FoxNewsLatino.com.
Follow us on twitter.com/foxnewslatino
Like us at facebook.com/foxnewslatino