Brewers' Eric Thames hits homer in fifth straight game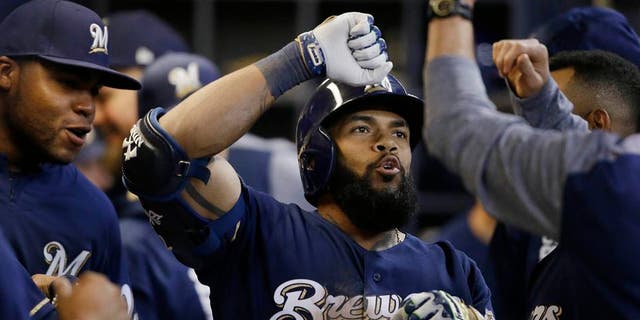 NEWYou can now listen to Fox News articles!
Now that Eric Thames has more home runs (seven) than the Red Sox (six), the question must be asked:
What did the Brewers know and when did they know it?
Did the Crew happen upon a secret translation of Thames numbers from the Korea Baseball Organization (KBO)?
Brewers general manager David Stearns chuckles at any such notion, but his signing of Thames to a three-year, $16 million free-agent contract last Nov. 29 is starting to look like the steal of the off-season.
Thames, 30, homered for the fifth straight game Monday and also hit a double and single against the Cubs, demonstrating why he was nicknamed God in Korea.
So, what exactly did the Brewers see in Thames, a left-handed hitter who is listed at 6-feet, 205 pounds?
Stearns said that most projection systems rate the KBO somewhere between high Double A and Triple A, but that the Brewers evaluate players case by case.
In this case, we saw a player who, while in the United States previously, had a really challenging time adjusting to breaking stuff out of the zone and had chased a lot, Stearns said.
He went over to Korea, not only did he fairly drastically change his swing mechanics, but he just saw breaking stuff after breaking stuff and breaking stuff after breaking stuff. His zone discipline, with that breaking stuff, improved a fair amount.
To us, that was a change that we thought had a chance to translate to the major-league level.
Thames, during stints with the Blue Jays and Mariners in 2011-12, batted .250 with 21 homers and a .727 OPS in 684 plate appearances about one full seasons worth.
His chase rate on breaking pitches was 33 percent and even higher against left-handers, according to the scouting service Inside Edge. He then spent 13 in the minors before heading to Korea and averaging 41 home runs over the past three seasons in the hitter-friendly KBO.
The Brewers signed Thames to replace Chris Carter, who tied for the NL lead with 41 homers last season. Stearns acknowledged that there was risk in the acquisition, that even with Thames successful start, pitchers will adjust to him and he will need to adjust back.
Well, so far, so good.
Thames chase rate on breaking pitches entering Monday was 21 percent, well below the league average of 31.5 percent. Two of his seven homers have been on breaking balls, and another came on a changeup.
We started talking about Eric in the fall of 2015, said Stearns, who became the Brewers GM in September of that year. We reached out to his agent and learned that he had another year to go over there. We kept track of him.
We actually at that point did not have an Asian scouting presence; we do now. But fortunately, the KBO is fairly well-documented through video. We were able to keep track of what he was doing over there not only from a performance standpoint but from a subjective-evaluation standpoint as well.
The Brewers brought Thames to Milwaukee for a visit after his KBO season finished last fall, getting to know him, asking him first-hand about his breakthrough.
They liked him. He liked them.
After 13 games, his performance needs no translation.