Brazilian Soccer Player Stabbed, Referee Dismembered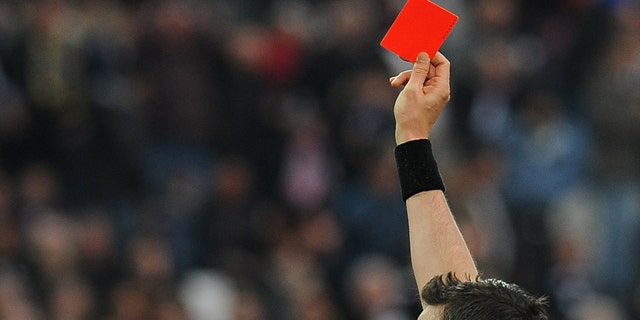 It's soccer gone wild in Brazil.
But not really the kind of headline the Brazilian government is looking for as it gears up to host next year the two most-watched sporting events in the world, the soccer World Cup and the 2016 summer Olympics.
After an argument over a red card escalated into the stabbing of a player and the dismemberment of a referee in an amateur game, one man so far has been arrested in the horrific case, according to a statement by local authorities.
Two others remain on the run.
Luis Moraes Sousa, 27, is accused of leading a team of three in the beating, stoning, murder and dissection of referee Otávio Jordão da Silva after the ref fatally stabbed player Josenir Santos Abreu in a fight over one of his calls.
The Public Safety Department of the state of Maranhão said in a statement that it all started when Silva, 20, expelled Abreu, 30, from an amateur soccer game on June 30. The two got into a fist fight, then Silva took out a knife and stabbed Abreu, who died on his way to the hospital.
The statement issued last week said Abreu's friends and relatives immediately "rushed into the field, stoned the referee to death and (cut up) his body."
Local news media said the spectators also decapitated Silva and stuck his head on a stake in the middle of the field.
"Eyewitness reports have already indicated a few people who were at the scene. We have identified Luis Moraes as the leader of the crime and he has already been arrested. The other two helped to dismember the victim. We have trails on both," according to the statement "We will arrest them, too, and hold all of those involved accountable. One crime will never justify another," Santa Inês police officer Valter Costa said in a statement, according to leading Brazilian newspaper, O Globo.
Police officers were able to identify the suspects from photos and videos taken by observers on their cell phones.
Santa Inês police continue to search for the other two suspects, Francisco Edson Moraes de Sousa and Josimar de Sousa who go by the nicknames of "Pirolo" and "Chiquinho."
The Associated Press contributed to this report.
Follow us on twitter.com/foxnewslatino
Like us at facebook.com/foxnewslatino