Bisping edges Silva in brutal, back-and-forth war at UFC Fight Night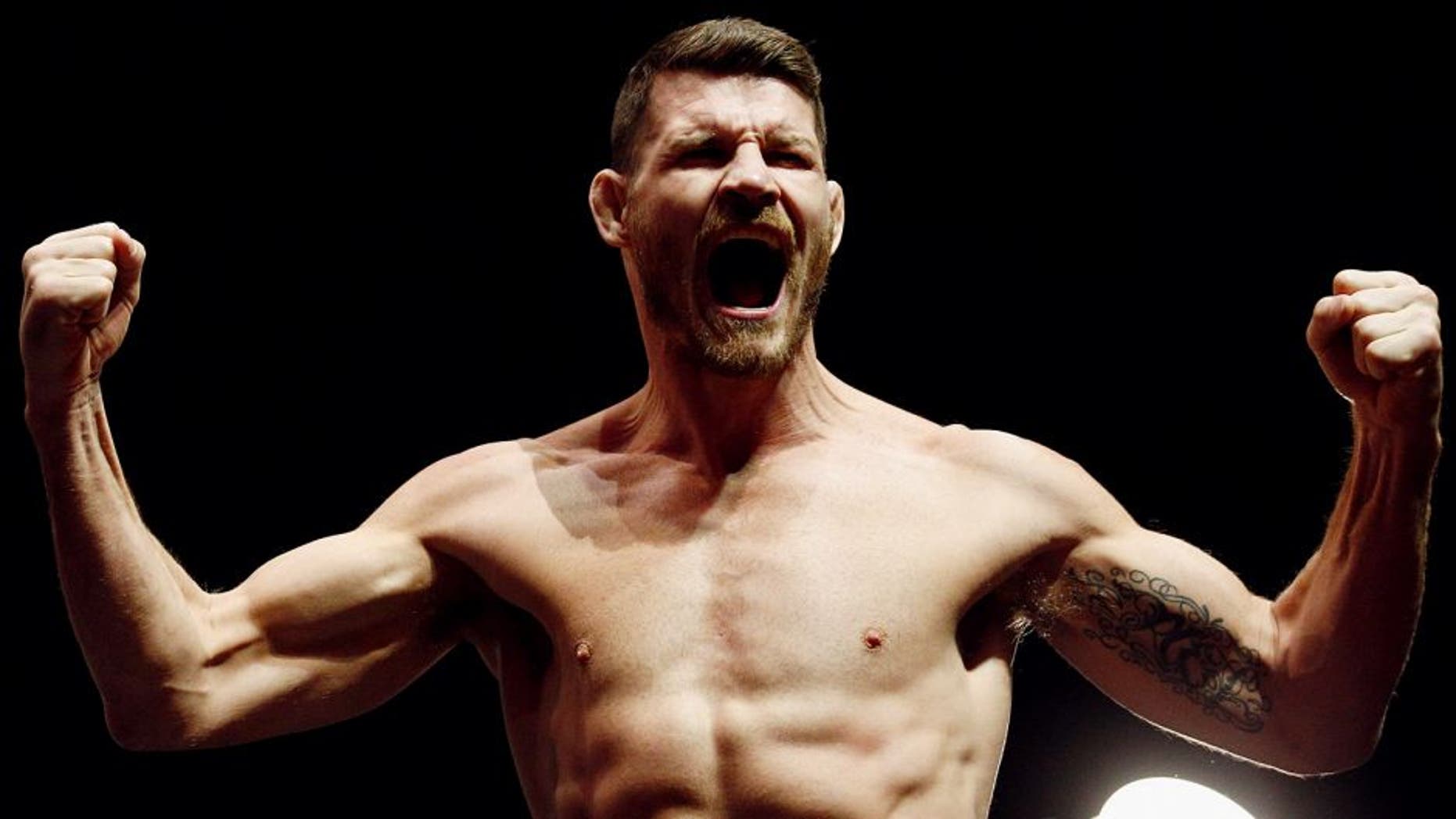 Michael Bisping has rarely been shy about proclaiming his own greatness and calling for title shots after wins. Yet, after a thrilling back-and-forth, bloody fight against former middleweight champion Anderson Silva, Saturday in London, "The Count" was simply thankful, relieved and overjoyed.
"I don't know what to say, I'm [expletive] crying," he told the cheering partisan crowd after he won a unanimous decision over Silva, with scores of 48-47, all-around.
Bisping and Silva both gave fight fans plenty to be thankful for by displaying unbelievable conditioning, grit and skill. Early on, things didn't seem as though they would be so competitive.
Through nearly the first two rounds, Bisping quietly dominated Silva by walking him down against the cage and catching him with quick punches to the head. Just as Bisping coach Jason Parillo promised before the fight, the Brit's foot and hand speed were far superior to Silva's, at this late point in his career.
As Bisping stalked and stung, Silva characteristically used mainly head movement as defense. It wasn't enough.
Eventually, Silva became more aggressive with his own punches, but mostly missed and resorted to taunting Bisping. Still, the TUF champion stayed focused, kept his mind about him, and fired off crisp punches.
Near the end of the round Bisping wobbled Silva badly with strikes. After the round ended, Silva tried to hug Bisping but the hometown fighter stayed disciplined and shoved him away.
In the second, Bisping continued to out-strike Silva. With 30 seconds left in the round, he landed a left hook, right cross, left hook punch combo to the head that felled the living legend.
Once on his bottom, Silva collected himself and immediately landed an up-kick to the face of the charging Bisping.
The Brit dove into Silva's full guard and released a barrage of punches downwards, while keeping his own posture high and strong.
Only the end of round horn could stop Bisping's onslaught, however.
In the third round, Silva had his moments, including a brief takedown after catching a kick from Bisping, and a head kick. Overall, however, Bisping continued to hold the strikes-landed advantage on Silva until a confusing sequence of events in the final moments of the period.
Silva, now having backed Bisping up against the cage, landed a straight punch to the face that dislodged his opponent's mouth guard. Instead of continuing to defend himself and fire back, Bisping pointed at his mouthguard on the floor, apparently trying to get referee Herb Dean to momentarily stop the fight, retrieve the shield, and let Bisping put it back in his mouth before continuing the battle.
Typically, however, referees don't pause fights to retrieve mouthguards until there is a lull in the action so as not to unduly influence a bout's outcome. Silva poured it on as Bisping tried to communicate with Dean.
Once free from a clinch, but still against the cage with an attacking Silva right in front of him, Bisping once again dropped his hands to point in the direction of his gumshield.
At that point, Silva capitalized and landed a flying knee to the head that dropped Bisping hard, appearing to knock him out, cold. Silva didn't follow up on Bisping's prone body, choosing instead to turn his back, raise his hands and scale the Octagon fence wall in celebration, believing he'd scored a walk-off KO.
Though Bisping appeared out on contact from the knee as he slumped against the wall, and onto the mat, the referee did not call the fight. A moment later, the round horn sounded.
Silva was told to come down off the fence, stop his celebration and get ready to fight round four. Somehow, Bisping would fight on for two more rounds, and do so with real aggression.
Bisping entered round four unsteady on his feet, and his face bleeding, badly. Still, he pressured Silva against the cage, maintaining his superior hand speed.
Later in the round, however, Silva countered off of a Bisping punch-flurry and landed a hard, left straight punch to the head. A left elbow and nasty uppercuts followed from "The Spider."
Silva had Bisping hurt, again, and ended the round with a left Superman cross to the face.
In the fifth round, Bisping's face was still bleeding badly, and indeed Dean would soon call for the ringside doctor to come in and make a determination of whether or not Bisping could see well enough to continue.
Bisping was allowed to fight on and he did so with gusto. By this point, however, Silva had long ago found his rythym and once again hurt Bisping with strikes.
Cornered against the cage once again, Silva let fly a left front kick to the face of Bisping that would have likely been able to knock out most human beings. Bisping's head rocked backwards, his knees buckled underneath him and he stumbled.
He kept his footing, however, and soon connected with a big overhand right. Bisping wobbled and circled into Silva's power side before shooting in for a takedown.
The attempt was in pretty deep but Silva got his hips under Bisping's as well as underhooks and defended the takedown. Then, he landed a knee to the body and a jab to the face.
Hurt and likely changed forever, Bisping still pressed Silva, afterwards, and that is how the fight ended.
Bisping was given a chance to call for the title shot he said he'd deserve if he beat Silva, after being awarded the unanimous nod with scores of 48-47, all-around. Instead, admitted he had more pressing concerns and interests.
"I think I need to go see a doctor for a second, then maybe a beer," he chuckled before saying, "I've always wanted a shot."
"All I know is I've wanted this fight my entire life, because of you guys. You give me the power -- I'm just a guy from a very humble background. You guys have been in my corner every time. This means so much to me."
Leading up to their UFC Fight Night main event, Bisping and Silva exchanged trash talk and threats. Over five rounds, they shared a lot more than that with one another -- namely hard punches, kicks and elbows.
Both men were nearly knocked out, or completely knocked out at various times and saved by the bell. Post-fight, with his face a crimson mess due to the Brazilian legend's handiwork, Bisping was able to admit that he was still an Anderson Silva fan.
In the end, however one scored the close fight, Bisping and Silva certainly both proved how badly they wanted this bout, and what it meant to each of them. For Bisping, it was largely about trying to kill his hero.
"I worship this guy," he said.
"He is the greatest martial artist of all-time. That's why I'm so emotional, right now. This fight was a life-long quest.
"Anderson, I know I said things about you ... [but] you inspired me ... Anderson, thank you."
After completing his post-fight interview, Bisping bowed to Silva, and Silva did the same to him. Then, they embraced.
Still, an emotional Silva said that he believed he had done enough to win the fight. "I am very happy because I'm back," he said in English, seeming to struggle to get his words out through all his feeling.
Then, in his native Portuguese, Silva continued. "Brazil, what can you do," he asked.
"You saw the fight. I thought it went differently. The mission was given, and I thought the mission was completed. But, I guess not."
With the win, Bisping improved his record to 28-7 and extended his current win-streak to three. The loss drops Silva to 33-7.