Baseball Roundup: A-Rod Returns, Little League World Series, and Tabata Gets Big Deal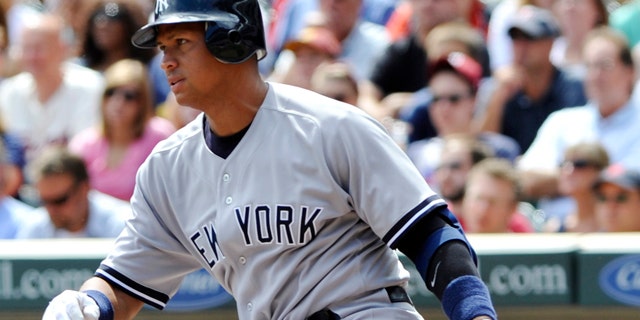 Yanks Slugger Comes Back
Yankees third baseman Alex Rodríguez was back in the lineup Sunday after missing 38 games but the team got its offense from other sources to beat the Twins.
Rodríguez went 0 for 5 hitting in the cleanup spot but Curtis Granderson hit an inside-the-park homer in the seventh inning and then Mark Teixeira followed with a solo shot in New York's 3-0 victory.
It was Rodríguez's first game back since July 7. The slugger was out of action after undergoing surgery to repair a torn meniscus in his right knee. With A-Rod not in the lineup, the Yankees went 25-13 and have a half game lead over Boston in the American League East.
In his first at-bat, he grounded out to short and did so again in his next plate appearance. In the fifth inning he popped out to first with the bases loaded and later was retired on a fly ball to center field in the seventh. Then in the ninth, he flew out to right.
Rodríguez did not show any rust on the field and made a barehanded play on a bunted ball to get the batter out at first. Later in the game he tried to backhand a grounder, misplayed it but was not charged an error.
Rodríguez has only 13 homers in 80 games and has not homered since June 11.
LIL' BIG LEAGUERS COME UP BIG, MEXÍCO AIDED BY REPLAY
Teams representing Mexíco and Venezuela came up big Sunday, remained undefeated and will face each other this Wednesday in a semifinal game in Williamsport, PA.
While many have called for instant replay to be expanded and included close calls, Mexíco benefited from the replay rule in their Sunday night game against Japan.
With runners on first and second and two outs in the sixth inning, a Japanese little leaguer hit a hard grounder to the shortstop. His throw seemed to pull the first baseman off the bag. While the first baseman's foot did come off the bag, his foot was on the bag when he caught the ball. The first base umpire initially ruled the runner safe at first, loading up the bases for Japan.
The umpire met with the coaches and the Mexican manager decided to use his challenge. The call was then overturned, ending the threat for Japan.
13-year-old Bruno Ruíz won it for Mexicali, Mexíco with a single to left to bring the winning run home from third.
Earlier in the day, the little leaguers from Maracay, Venezuela cruised to an 8-0 victory over Langley, British Columbia.
With a 3-0 lead in the fifth inning, Yonny Hernández hit a two-run shot and Neil Prieto followed with a solo homer.
Later in the the sixth, Hernández came up again and added his second two-run homer of the game.
FADING PIRATES LOCK UP TABATA
Although the Pittsburgh Pirates have faded out of contention in the National League Central division, the Pirates wanted to make sure that one of their young players is around to give them that extra push for years to come by agreeing with outfielder Jose Tabata to a six-year, $14.75 million contract extension through 2016 on Sunday.
The deal also comes with three club options that could keep him in Pittsburgh through 2019.
The 23-year-old Venezuelan was acquired in a trade deadline deal with the New York Yankees in 2008.
General manager Neal Huntington told reporters the Pirates had "begun to scratch the surface of his potential. It's our job to help him grow."
He made his major league debut last season and batted .299 in 102 games. He had 4 home runs and drove in 35 runs.
Tabata is valued as one of their core pieces in turning things around in Pittsburgh. The Pirates have eclipsed the 57 wins they had last season despite Tabata's injuries that have limited his offensive number.
"The Pittsburgh Pirates gave me an opportunity to play in the big leagues," said Tabata, who in 75 games this season is hitting .271 with four homers and 17 RBIs.
"I don't want to talk about the money but I can say it's good because I can take care of my family. I like Pittsburgh. I like the city. I like the people. I want to stay here for a long time."
K-ROD GETS WELCOMED BY METS
Francisco Rodríguez made his first appearance against the Mets on Saturday afternoon and helped waste a six-run lead as he was tagged for three runs in his eighth inning relief outing.
K-Rod, who was traded to Milwaukee during the All-Star break, still earned the win though as his teammates came back in the ninth inning to score four runs to squeak out a 11-9 victory.
Rodríguez was greeted by boos and proceeded to get the first two batters out before unraveling. He walked Ruben Tejada and Josh Thole followed with an RBI double. Angel Pagan then hit a two-run shot to give the Mets a 9-7 lead.
Adry Torres, who has covered MLB, NFL, NBA and NCAA basketball games and related events, is a regular contributor to Fox News Latino. He can be reached at elpiloto137@gmail.com or follow him on Twitter: @adrytorresnyc.
Follow us on twitter.com/foxnewslatino
Like us at facebook.com/foxnewslatino