Ballage's late TD caps comeback, sends Sun Devils past UTSA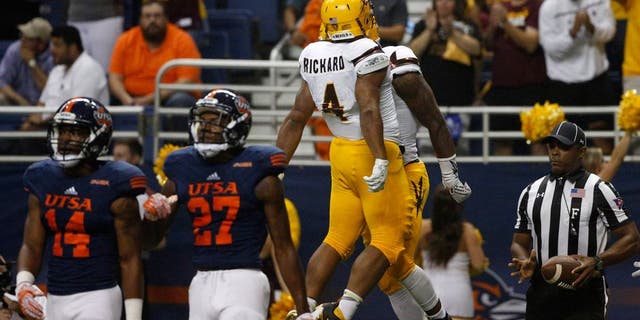 SAN ANTONIO -- The touchdowns came more easily back home in the desert. Down in Texas, the Arizona State Sun Devils found themselves in a grinder where every yard and score was tough to earn.
Kalen Ballage scored on a 2-yard run with 3:15 to play and Arizona State rallied from 16 points down in the second half for a rugged 32-28 win over Texas-San Antonio on Friday night.
Heavy favorites against a Conference USA program still in its infancy, the Sun Devils found themselves down early and fighting from behind nearly the entire game a week after putting up 68 points in a win over Texas Tech.
"Never give up," Arizona State linebacker DJ Calhoun said, adding his team was probably a bit "cocky" after its previous win. "We came in here thinking we could just run past this team. We fought. Never give up."
Arizona State scored two fourth-quarter touchdowns. Ballage, who tied an NCAA record with eight touchdowns against Texas Tech, capped the rally when he took a direct snap and powered over the goal line. The touchdown was set up by a defensive pass interference penalty on third down one play earlier.
Zane Gonzalez kicked four field goals, including two from 54 yards, for Arizona State (3-0) and became the Pac-12 career scoring leader.
Manny Wilkins passed for 264 yards and two touchdowns for the Sun Devils. Wilkins threw a 27-yard score to N'Keal Harry with 3 seconds left in the first half. His 45-yard pass to Frederick Gammage in the fourth quarter cut the UTSA lead to 28-25.
Wilkins shook off what looked like a ferocious hit in the first quarter and didn't miss a play.
"I don't ever sit on the floor," Wilkins. "I'm going to get up and go to the next play. I've got a fighter's mentality."
Dalton Sturm passed for 229 yards and three touchdowns for UTSA (1-2). He also ran for 82 yards, including a 34-yard touchdown in the third quarter that had the Roadrunners thinking about a program-changing upset.
"Proud of the effort we had," Sturm said. "But I felt like everybody else in the locker room: It hurts."
THE TAKEAWAY
ARIZONA STATE: It was a victorious but ragged trip home for coach Todd Graham. The Sun Devils found themselves with a lingering hangover after their touchdown party in the desert last week. The points were much tougher to come by in the Alamodome as the Sun Devils were plagued by turnovers and drives that stalled and settled for field goals. Kalen Ballage produced little against the Roadrunners until the game-winning drive and even set up a Roadrunners touchdown with a fumbled punt return.
"That was as hard of a win as we've had," Graham said. "We showed a lot of youth and made a lot of youthful mistakes."
UTSA: If one game can be a confidence builder and a crusher, this is it. The Roadrunners are playing just their sixth season of football and punched above their weight for nearly four quarters, but couldn't hold on against an opponent from a Power 5 conference. First-year coach Frank Wilson will ache about letting this one get away, but at least he found the quarterback that should lead the Roadrunners into their Conference USA schedule.
"We believe we can play with anybody in the country," UTSA safety Michael Egwuagu said. "We believed that coming in and we believe it after."
UP NEXT
ARIZONA STATE: The Sun Devils start Pac-12 play at home against California on Sept. 24.
UTSA: The Roadrunners play at Old Dominion on Sept. 24 to start their Conference USA schedule.
DEFENSIVE CRACKDOWN
After a 92-yard touchdown drive to start the third quarter, the Roadrunners gained just 51 yards the rest of the half. Arizona State's defense allowed only one first down over UTSA's final five possessions.
FINAL WORD
"I'm as happy as I've been after a win," Graham said. "All that matters is we found a way to do it."