Alfredo Simon, No Longer Jailed for a Murder in His Native Dominican Republic, Focuses on Baseball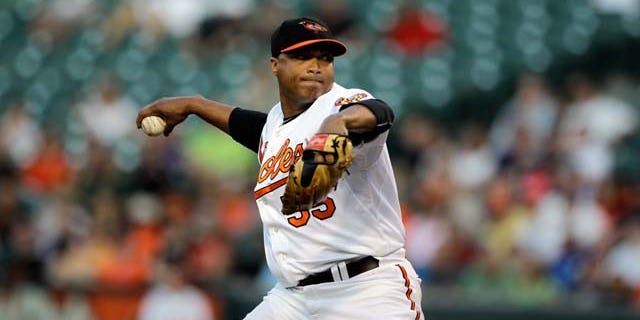 Alfredo Simón of the Baltimore Orioles was in the news this week – for all the right reasons.
The hard-throwing right-hander, who pitched seven strong innings against the Kansas City Royals, helped his team snap a three-game losing streak.
That newsworthy performance was a far cry from a headline-grabbing incident which he was involved in a few months ago – when the 6-foot-6-inch pitcher was arrested in his native Dominican Republic after his cousin was fatally shot on New Year's Eve.
"Sometimes baseball players have problems and you know how the justice system is over there," Simón said recently during an Orioles' road trip to Yankee Stadium. "They want to take advantage of you being a baseball player and they want money."
On that fateful night in the Dominican Republic, Simón and other locals fired shots in the air to ring in the New Year. His cousin, Michael Castillo Almonte, 25, was struck by gunfire and later died. Castillo's half-brother, Starlin Castillo Hernández, 17, was wounded but survived.
Simón turned himself in to the authorities and was subsequently locked up in a San Felipe jail in Puerto Plata for two months. He was never properly charged.
An appeals court judge granted his request to be released on bail. Simón paid $2 million pesos, the equivalent of roughly $53,000 and was eventually released.
"I knew that I didn't commit that (crime). There was no evidence for them to have me locked [up]," said Simón, who last Monday attended a legal hearing in the country.
The prosecution's witnesses never showed up, however, and the next hearing was scheduled for October 18.
Simón was forced to miss spring training. He remained in Sarasota, Florida, for extended spring training and made four starts for the Double-A Bowie of the Eastern League in the minor leagues.
He finally rejoined the big club – and couldn't be more grateful to the organization for standing by him.
"They've given me great backing because, as you know, sometimes when you have problems like that, teams don't support you a lot," he said. "But they had my back and they went out there to talk to me and I told them that I had not done that.
"I told them to wait out the process," he added. "They were there for me. They supported me in everything."
Manager Buck Showalter has been impressed by the way Simón has handled the adversity.
"He's handled it well, all things considered," Showalter said. "We hope it gets taken care of with good results for everybody."
Simón has had an uneven season, going 3-4 with a 3.83 earned run average.
Still, Matt Wieters said his batterymate is better equipped as a starter because he can utilized four pitches. More than anything, though, the catcher is just happy to have the big hurler back.
"It was definitely a hard situation. We were all praying for him to be able to get everything taken care of and be able to get back with us," Wieters said. "Anytime you're missing one of your brothers on the team, you want him to get that taken care of so he can get back to play baseball.
"Once he came back, he's been great," he added. "He's been going out there every fifth day giving us a good chance."
For Simón, his performance on the mound, he now knows, is relative.
"Everything is heading in the right direction up until now," he said. "I don't feel guilty of anything because in reality they caused me pain. But because of that I'm here. They don't have any proof. Sincerely those are issues that are dealt to you so that you can wake up in life."
Adry Torres, who has covered MLB, NFL, NBA and NCAA basketball games and related events, is a regular contributor to Fox News Latino. He can be reached at elpiloto137@gmail.com or follow him on Twitter: @adrytorresnyc.
Follow us on twitter.com/foxnewslatino
Like us at facebook.com/foxnewslatino