After perfect season spoiled last year, No. 11 Shockers set sights on deeper NCAA tourney run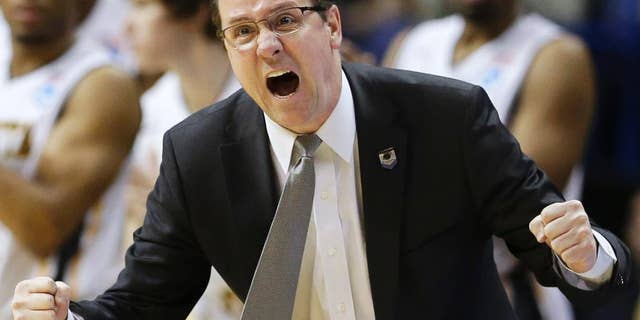 WICHITA, Kan. – When last season finally ended for Wichita State, and Gregg Marshall had a chance to reflect on it, the Shockers' coach relished just about everything.
Five months without a loss. Five months climbing the polls. Five months in which Wichita State stayed nationally relevant after its inspired Final Four trip the previous season.
Just about the only thing Marshall didn't care to think about was the way it ended.
The Shockers were seeded No. 1 in the NCAA tournament but were placed in the same region as eighth-seeded Kentucky. The Wildcats would upset Wichita State on the way to the national title game, where they lost to Connecticut.
"I didn't really think about it that much," Marshall told The Associated Press. "What I tried to focus on was the five-month journey we'd been on, and all the positives, all the good memories and good times that we were able to share during the run. At the same time, you know, that game — it slaps you in the face how suddenly it's over."
Now, it all begins again.
The No. 11 Shockers return the nucleus from that team that finished 35-1. Point guard Fred VanVleet is an All-American candidate; Ron Baker is one of the nation's best guards; Tekele Cotton is a lock-down defender and big man Darius Carter a valuable rim protector.
The biggest loss was forward Cleanthony Early, who always seemed to come alive during the NCAA tournament. But he's been replaced by an influx of talented freshmen and transfers.
"We always hold ourselves to the highest standards, trying to get deep into the tournament every year," VanVleet said. "We've got a good group back, a bunch of guys that have never played. We need to find the right balance of mixing those guys in."
They'll have to do that in a hurry against a much tougher schedule.
The Shockers open against New Mexico State on Nov. 14, then head to Sioux Falls, South Dakota, for a game against Memphis. Wichita State also has games against Saint Louis, Seton Hall and Alabama, and a trip to No. 25 Utah in early December.
Marshall said the tougher schedule is a positive sign.
For years, the Shockers struggled to land games against schools from power conferences. It simply wouldn't do them any good. Wichita State was good enough to beat them, but not high-profile enough so that such a loss would be taken into consideration by the NCAA selection committee.
That has changed. Now, even if Seton Hall or Alabama were to lose to Wichita State, their RPI wouldn't take much of a hit. And if they pull an upset, well, it would be worth even more.
"I think it behooves these other teams to play us," Marshall said. "Our goal all along, for eight years, has been to play the best teams that will play us. But it's been difficult to get those teams to pull the trigger. We want to put ourselves in a position with our nonconference schedule that we can get an at-large bid if we need it."
Nobody expects the Shockers to need it, of course. They're heavily favored to win the Missouri Valley, just as they did last season. The league lost much of its teeth when Creighton left a couple years ago, and the Shockers have become the team to beat.
"We just want to play against the game," Marshall said. "That's what my college coach used to strive for, play as well as you can against the game. You're striving for perfection, I know that's impossible to achieve, but every day we're trying to get better."
Well, the Shockers were oh-so-close to perfect last season.
They won all 34 games they played in the regular season and Valley tournament, and then routed Cal Poly in the second round of the NCAA tournament. But then they ran into Kentucky, and the two teams waged one of the most entertaining games of all of March.
The Wildcats won 78-76 when VanVleet's 3-pointer at the buzzer sailed wide.
While Marshall chooses to remember the Shocker's great run, the shot that VanVleet took inside the Scottrade Center that day sticks in his mind.
It's provided big motivation this offseason.
"We still should have won the game. We were in position," VanVleet said. "We had a bunch of plays we messed up. We were that close. We felt like we should have and probably could have won that game."