Adam Jones, Giancarlo Stanton create indelible memories at World Baseball Classic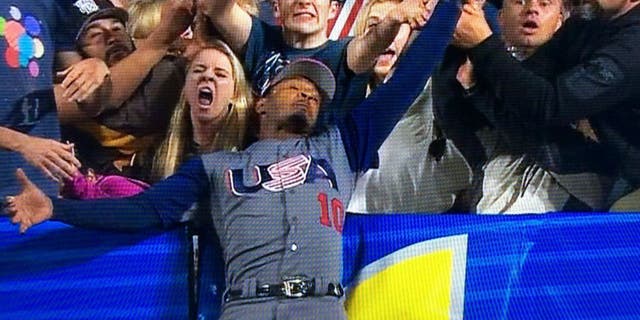 SAN DIEGO -- If there was no such thing as Team USA lore in the World Baseball Classic before, there is now. Or at least, there should be.
Center fielder Adam Jones' catch Saturday night was the stuff of legend, the kind of play that, had it happened in the World Series, would be celebrated for generations.
Giancarlo Stanton's home run, while not as shocking, was also memorable - your typical, Stanton-esque 117.3 mph bullet that gave the U.S. the lead for good.
Maybe, just maybe, American baseball fans will view the tournament differently now.
Team USA, after its stirring 6-3 triumph over the Dominican Republic, is headed to the semi-finals for only the second time in four tries. Its next opponent will be Japan on Tuesday at Dodger Stadium, and team officials have informed Nationals right-hander Tanner Roark that he will start.
Don't mean to lecture, but it's time for people stop complaining and just watch the games, the riveting, rollicking games that are as tense and dramatic as many you will see in October.
For all its flaws the WBC is a baseball carnival, a passion play that had Team USA manager Jim Leyland pumping his fist as he left the field and U.S. players buzzing excitedly afterward, particularly about Jones' heroics.
The Marlins' Christian Yelich said Jones' play, "might be the coolest catch I've seen." The Pirates' Andrew McCutchen said, "I've never seen anything like that in person."
The leaping grab -- which robbed Jones' Orioles teammate, Manny Machado, of a home run that would have pulled the D.R. within 4-3 leading off the seventh inning -- amazed even Jones himself.
"I'm still kind of in shock that I even got to that ball," he said. "I mean, off the bat I'm just like, 'This ball's hit really far, so just keep going, keep going.' You know this California air's going to slow it down, and you just never quit.
"That's just the style I play with. I don't mind running into a wall or two."
True enough - Jones' back slammed into the right-center field wall as he stretched his left arm over the fence to make the play. U.S. reliever Tyler Clippard mouthed, "Oh my God" in gratitude. Machado held his helmet high in tribute. Jones tipped his cap in return.The play became more significant when the next batter, Robinson Cano, hit a home run off Clippard -- a home run that would have tied the score if not for Jones' magnificent effort.
The sellout crowd of 43,002 at Petco Park saluted Jones, a San Diego native, by breaking into chants of "A-dam Jo-ones" -- chants that Jones said he had never before heard in his 11-year career.
It was the kind of catch that triggers memories of the past, the kind that had Team USA members and reporters alike reaching into their own personal histories for comparisons.
McCutchen said the play reminded him of Torii Hunter's catch on Barry Bonds in the 2002 All-Star Game.
Leyland recalled an Otis Nixon catch in July 1992 when the Braves outfielder dug his spike into the wall and soared to rob the Pirates' Andy Van Slyke.
A reporter mentioned to Jones a grab that the Angels' Mike Trout made on the Orioles' J.J. Hardy at Camden Yards in June 2012.
"That was the third inning of a random game," Jones said. "This was on a different scale, different magnitude."
McCutchen, a longtime center fielder who is moving to right this season, made a similar comparison to Hunter's catch on Bonds, saying, "That was an All-Star Game. This is the World Baseball Classic."
It sounds funny, I know -- many fans probably view the All-Star Game as more meaningful than the WBC, though that might change now that the game no longer will determine home-field advantage for the World Series.
Well, the foreign players see it differently, and so do the U.S. players who choose to participate in the tournament.
Team USA, remember, had suffered a heartbreaking 7-5 defeat to the D.R., the defending tournament champion, exactly one week before in Miami. The rematch also started poorly for the U.S., which trailed 2-0 after the first inning. The deficit could have grown in the second if the U.S. starter, Royals left-hander Danny Duffy, had not escaped a second-and-third, none-out jam by allowing no runs.
That inning began a pattern; the D.R. would finish 1-for-11 with runners in scoring position. The U.S. tied the score in the third inning, and Stanton -- batting (beginital)eighth(endital) and starting for the first time in three games -- unleashed his two-run shot with two out in the fourth.
The Dodgers' Justin Turner responded with this tweet:
-- Justin Turner (@redturn2) March 19, 2017
Only three home runs have been hit harder in the two seasons of StatCast measurements, according to Daren Willman, Director of Baseball Research and Development. Stanton, naturally, hit two of them.
Yelich, Stanton's teammate with the Marlins, said the U.S. players were saying things like, "Oh my God, that's amazing."
"I see that all the time, though," Yelich said, smiling. "That's kind of how he hits him."
Fun moments. Memorable moments. And yes, legendary moments, too.
Maybe American fans will see that now. Maybe this was the night that Team USA finally created its own lore in the WBC.