U.S. Spearheads Global Response to Haiti Earthquake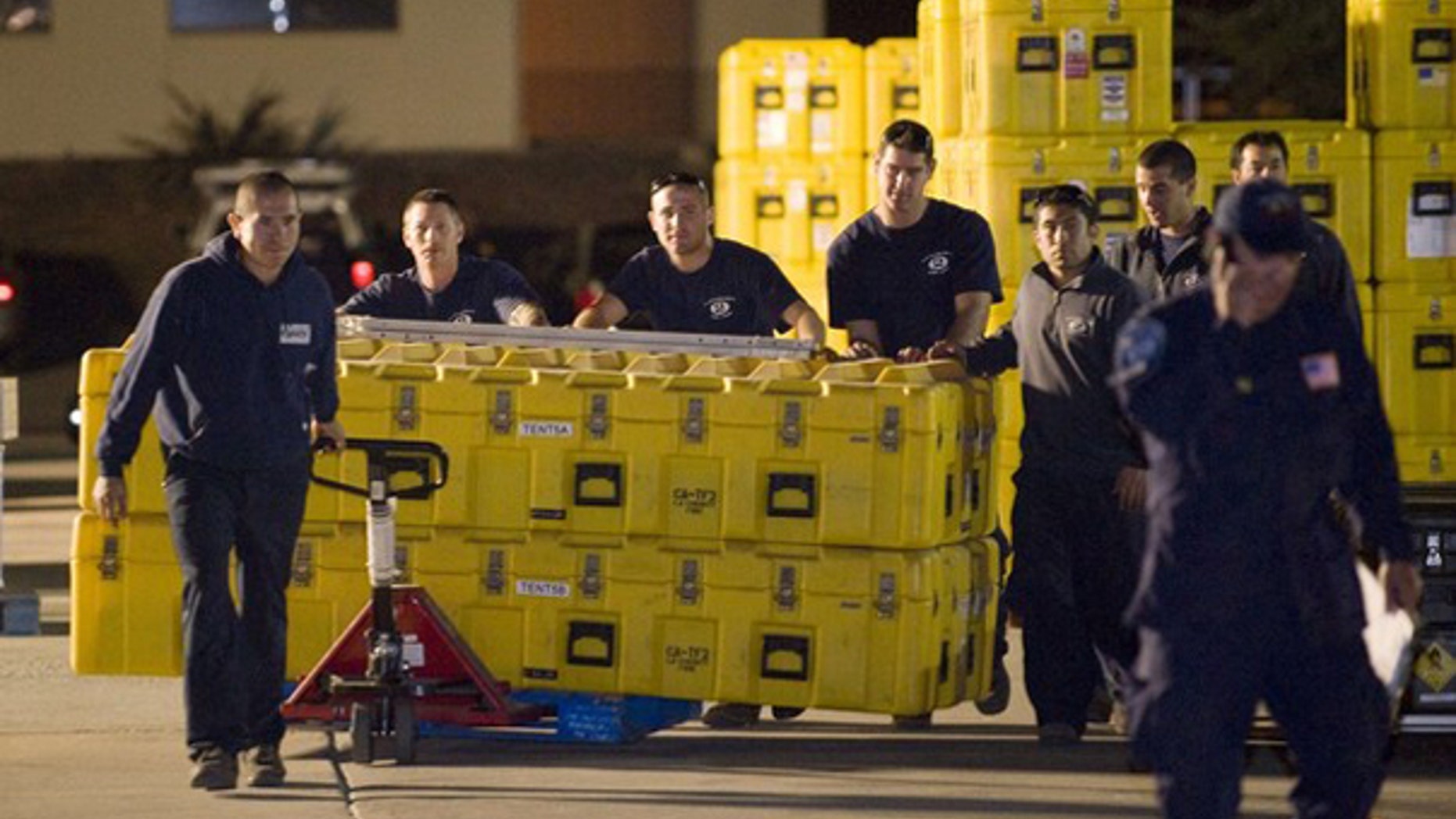 The United States was leading an international relief effort Wednesday to rescue victims trapped in the rubble and provide aid after a devastating earthquake in Haiti, as dozens of other countries contributed assistance ranging from heaps of cash to small teams of aid workers.
Canada, European nations and countries across Latin America have mobilized supplies and aid for the island nation.
But one geographically close country is conspicuously absent from the roster of helping hands.
Cuba, which had evacuated some of its residents as a precaution in case the earthquake triggered a tsunami, has so far not offered any assistance publicly to its devastated island neighbor.
Though the two countries have had warm ties since establishing relations 12 years ago after a 36-year break, the Cuban government Web site, along with Cuban news agencies, did not detail any offers of Cuban aid.
A representative from the Cuban diplomatic offices in the U.S. could not be reached for comment.
Despite the missing neighbor, most major nations in the Western Hemisphere, along with many European nations, were scrambling to provide aid by Wednesday morning.
President Obama on Wednesday promised "unwavering support" to Haiti following a powerful earthquake that he said was a "tragedy" that "seems cruel and incomprehensible."
"The people of Haiti will have the full support of the United States in the urgent effort to rescue those trapped beneath the rubble and to deliver the humanitarian relief of food water and medicine that Haitians will need in the coming days," he said.
Obama announced a "swift, coordinated and aggressive effort to save lives" consisting of search-and-rescue operations and humanitarian relief of food, water and medicine. The United States, with its proximity to the disaster zone, is quickly deploying Marines and rescue workers to the country as well as a full range of heavy-duty resources that includes helicopters, ships and transport planes.
Gen. Douglas Fraser, head of U.S. Southern Command, said that one of the U.S. Navy's large amphibious ships, which has medical capabilities, will likely head to Haiti with a 2,000-member Marine expeditionary unit aboard. The hospital ship USNS Comfort, which has about 560 medical personnel on board, is also getting ready to leave for Haiti, according to a defense official, though the crew has not yet received formal orders to depart.
Fraser said other U.S. military forces are on alert, including a brigade, which includes about 3,500 troops. Fraser said that the Pentagon is "seriously looking at" sending thousands of Marines to assist with disaster relief efforts and security in Haiti. The general said that a U.S. aircraft carrier, the USS Carl Vinson, is also heading from Norfolk, Va., and should arrive Thursday afternoon.
The U.S. Agency for International Development has taken the lead for the United States and is sending two 72-person search-and-rescue teams carrying tons of equipment to the island nation. Coast Guard cutters and aircraft are on the ground and ready to assist, according to the Department of Homeland Security. U.S. Southern Command is also deploying a team of 30 engineers, operational planners and other specialists to arrive in Haiti Wednesday.
Meanwhile, the European Union approved 3 million euros -- worth $4.37 million in U.S. currency -- in aid to Haiti, with more funding reportedly expected. The E.U. is planning to send a team of experts to assess the damage Wednesday afternoon. Israel and Ireland also had disaster aid teams on the way while China sent the first contingency to arrive after it announced some from its diplomatic mission in Haiti were missing.
In North America, Canada, according to the Toronto Sun, was sending a military reconnaissance team as well to assess the damage and determine what aid and assistance is needed. Mexican President Felipe Calderon released a written statement saying his administration is establishing contact in order to "provide timely support for (Haiti's) population and restore life on the island to normal."
Across Latin America, other nations beside Cuba were stepping up to help.
According to the Times of London, Peru will direct its 205 peacekeepers in the country to help rescue efforts. The Dominican Republic is sending a team of rescue dogs to search for victims. Nicaragua has pledged to send a team to repair electrical lines in Haiti.
Even Venezuela announced that it would send a team of 50 rescue workers to the disaster zone. A statement on Venezuela's government Web site announced the country would send food, medicine and other humanitarian aid.
the Bolivian government announced that its military contingent in Haiti was assisting in the rescue efforts and that the country would prepare an aid package.
Gonzalo Espariz, a spokesman for the Organization of American States, said member countries of the group plan on "channeling" aid through an affiliated organization in Haiti.
"We don't know to what extent," he said, but added that representatives from member nations are meeting throughout the day to determine what is needed.
Other nations expressed support for the victims but did not detail aid. According to the Fars News Agency, Iran sent its "condolences" to the people of Haiti.