U.S. Likely to Seek Death Penalty for Sept. 11 Terror Suspects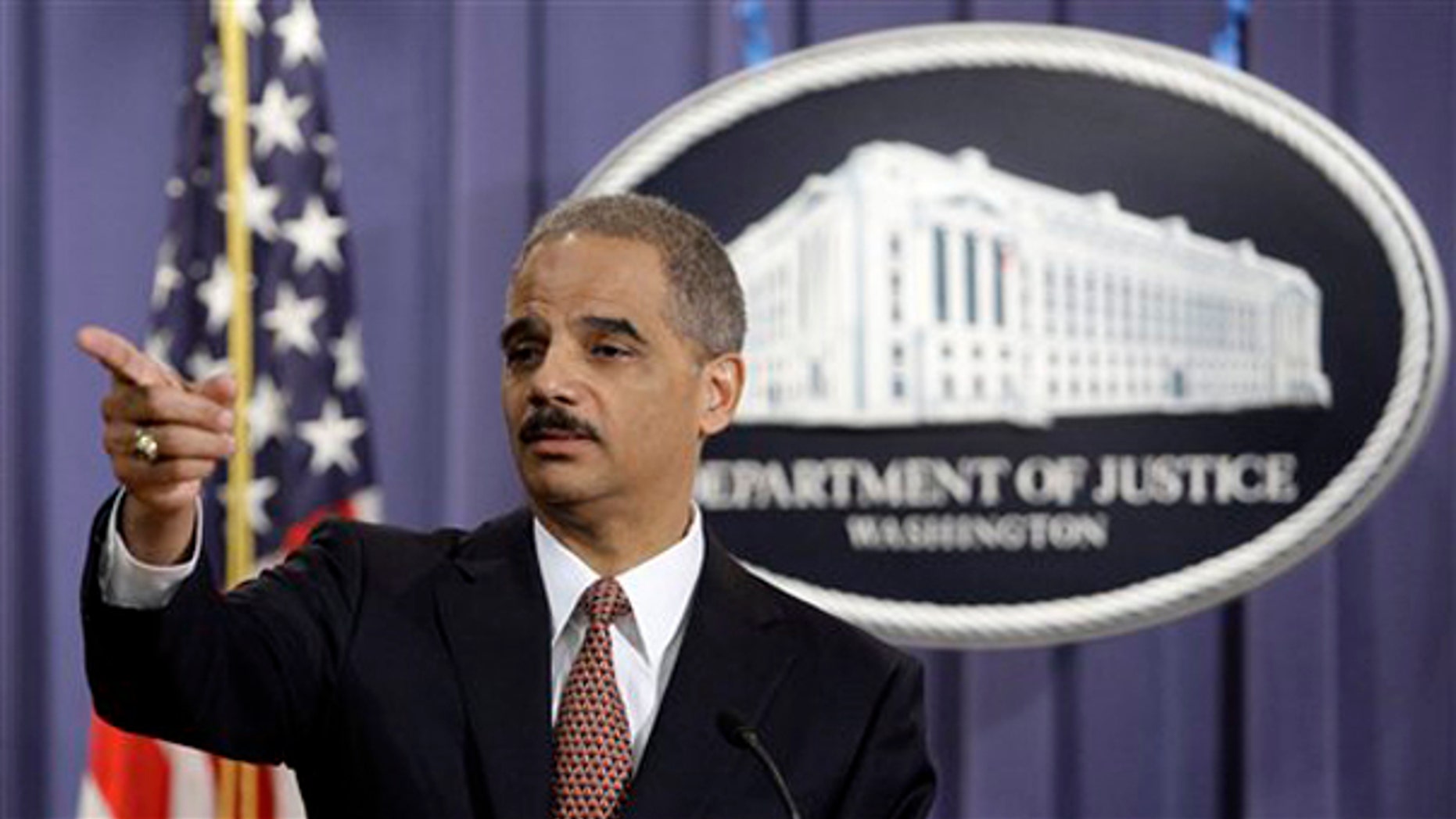 WASHINGTON -- Federal prosecutors will likely seek the death penalty for the self-proclaimed mastermind of the Sept. 11 attacks and his accomplices who are being returned to the scene of their alleged crimes, the nation's top law enforcement officer said Friday.
In a decision that drew immediate outrage from some lawmakers and victims' families, Attorney General Eric Holder said Khalid Sheikh Mohammad and four others now detained in Guantanamo Bay will be moved to a prison facility near the Brooklyn Bridge and stand trial in a civilian federal courtroom down the street from the World Trade Center buildings that Mohammad takes credit for demolishing on Sept. 11, 2001.
"The Department of Justice will pursue prosecution in federal court of the five individuals accused of conspiring to commit the 9/11 attacks. Further, I have decided to refer back to the Department of Defense five defendants to face military commission trials, including the detainee who was previously charged in the USS Cole bombing," Holder said at a Justice Department briefing.
Calling this the toughest decision he has made as attorney general, Holder said he is instructing attorneys in the Southern District of New York and the Eastern District of Virginia to pursue the death penalty for the five.
"For over 200 years our nation has relied on a faithful adherence to the rule of law to bring criminals to justice and to provide accountability to victims. Once again we will ask our legal system in two venues to rise to that challenge. I am confident that it will answer the call with fairness and with justice," Holder added.
The decision infuriated Republicans and many who had lost loved ones on Sept. 11.
"These terrorists planned and executed the mass murder of thousands of innocent Americans. Treating them like common criminals is unconscionable," Sen. John Cornyn, R-Texas, said in a statement.
"This, I think, will go down as one of the worst decisions any president has ever made," said Rep. Peter King, R-N.Y.
"The only thing they are going to do is give them a stage to mock us ... and this makes me sick to my stomach," said Tim Brown, a former New York City firefighter and founder of TheBravest.com, a group that is petitioning the administration not to bring terrorists to civilian courts.
President Obama, speaking in Tokyo, said he will insist that Mohammed be subject to "the most exacting demands of justice" and called the move both a prosecutorial and a national security decision.
"I'm absolutely convinced that Khalid Sheik Mohammad will be subject to the most exacting demands of justice. The American people insist on it. My administration will insist on it," he said.
Mohammed and the four others -- Waleed bin Attash, Ramzi Binalshibh, Mustafa Ahmad al-Hawsawi and Ali Abd al-Aziz Ali -- are accused of orchestrating the attacks that killed 2,973 people on Sept. 11, 2001.
Bringing such notorious suspects to U.S. soil to face trial is a key step in Obama's plan to close the terror suspect detention center at Guantanamo Bay, Cuba. Holder said Friday's decision "marks a significant step forward to close Guantanamo and bring to justice those individuals who have conspired to attack our nation and our interests abroad."
However he acknowledged it would be very difficult to meet the administration's self-imposed Jan. 22 deadline for closing the facility.
The decision is also a major legal and political test of Obama's overall approach to terrorism. If the case suffers legal setbacks, the administration will face second-guessing from those who never wanted it in a civilian courtroom. And if lawmakers get upset about notorious terrorists being brought to their home regions, they may fight back against other parts of Obama's agenda.
Holder did not give specific charges to be filed against the defendants.
"They will be charged for what we believe they did, and that is to mastermind and carry out the 9/11 attacks," he said. He added that he has seen evidence that is not yet public that gives him confidence that "our outcome will be successful."
The New York case may also force the court system to confront a host of difficult legal issues surrounding counterterrorism programs begun after the 2001 attacks, including the harsh interrogation techniques once used on some of the suspects while in CIA custody. The most severe method -- waterboarding, or simulated drowning -- was used on Mohammed 183 times in 2003, before the practice was banned.
But some supporters said they have confidence that the U.S. courts could successfully try enemy combatants.
"The transfer of cases to federal court is a huge victory for restoring due process and the rule of law, as well as repairing America's international standing, an essential part of ensuring our national security," said Anthony D. Romero, Executive Director of the American Civil Liberties Union. "However, it's disappointing that the administration has chosen to prosecute some Guantanamo detainees in the unsalvageable military commissions system. ... Justice can only be served in our tried and true courts."
Former Rep. Tom Andrews, director of the National Campaign to Close Guantanamo, said the U.S. courts have already proved themselves capable of ensuring terrorist convictions, though he seemingly declined to classify Mohammed and the others as terrorists.
"One hundred ninety-five terrorists have been convicted in U.S. federal courts since 2001. The terrorists who bombed the World Trade Center in 1993 were tried and convicted in U.S. courts and are now locked away in a federal supermax prison," Andrews said.
"Those responsible for 9/11 are not warriors, they are criminals and mass murderers. Treating them as anything else plays into Al Qaeda's hands and rewards them an elevated status that only stokes their desire for 'martyrdom.' They need to be subjected to the full force of law and justice -- nothing less," he added.
Sen. Joe Lieberman disagreed, saying the defendants are not the average criminal afforded access to U.S. federal courts.
"The terrorists who planned, participated in and aided the September 11, 2001, attacks are war criminals, not common criminals. Not only are these individuals not common criminals but war criminals, they are also not American citizens entitled to all the constitutional rights American citizens have in our federal courts," he said.
Justice and Defense Department officials spent part of the morning notifying Sept. 11 victims' family members, members of Congress, state and local officials, governors, federal agencies and and others about the decision. Early Friday, an e-mail went out to victims' family members telling them that an announcement would be coming later. Since then a "series" of e-mails has been sent, according to one official.
"The Defense Department and Justice Department are doing their best to provide information" to victims' family members and "we're trying to include as many people as we have," the official said. "Our paramount concern is informing them."
The actual transfer of the detainees from Guantanamo to New York isn't expected to happen for many more weeks because administration officials have to notify Congress and wait 45 days.
Among those facing military commissions is Abd al-Rahim al-Nashiri, who is accused of conspiring to blow up the USS Cole, which caused the death of 17 U.S. sailors while the ship was refueling in Yemen in 2000.
At the last major trial of Al Qaeda suspects held at that courthouse in 2001, prosecutors did seek death for some of the defendants. However, Guantanamo transferee Ahmed Ghailani, charged with assisting in the embassy bombings in Tanzania and Kenya in 1998, is not facing the death penalty.
Mohammed already has an outstanding terror indictment against him in New York, for an unsuccessful plot called "Bojinka" to simultaneously take down multiple airliners over the Pacific Ocean in the 1990s.
Mohammed admitted to interrogators that he thought up the attacks -- he allegedly proposed the concept to Usama bin Laden as early as 1996, obtained funding for the attacks from bin Laden, oversaw the operation and trained the hijackers in Afghanistan and Pakistan.
However, concerns have been raised that his confession would be thrown out because he was water-boarded. Others have suggested that the defendants could delay a final trial for years through procedural motions. Some parents of adult victims of the Sept. 11 attacks have said they fear they will die before justice has been served on the detainees.
The charges against the others are:
-- Bin Attash, a Yemeni, allegedly ran an Al Qaeda training camp in Logar, Afghanistan, where two of the 19 hijackers were trained. Bin Attash is believed to have been bin Laden's bodyguard. Authorities say bin Laden selected him as a hijacker, but he was prevented from participating when he was briefly detained in Yemen in early 2001.
-- Binalshibh, a Yemeni, allegedly helped find flight schools for the hijackers, helped them enter the United States and assisted with financing the operation. He allegedly was selected to be a hijacker and made a "martyr video" in preparation for the operation, but was unable to get a U.S. visa. He also is believed to be a lead operative for a foiled plot to crash aircraft into London's Heathrow Airport.
-- Ali allegedly helped nine of the hijackers travel to the United States and sent them $120,000 for expenses and flight training. He is believed to have served as a key lieutenant to Mohammed in Pakistan. He was born in Pakistan and raised in Kuwait.
-- Mustafa Ahmad al-Hawsawi, a Saudi, allegedly helped the hijackers with money, western clothing, traveler's checks and credit cards. Al-Hawsawi testified in the trial of Zacarias Moussaoui, saying he had seen Moussaoui at an al-Qaida guesthouse in Kandahar, Afghanistan, in early 2001, but was never introduced to him or conducted operations with him.
Fox News' Catherine Herridge and Michael Levine and The Associated Press contributed to this report.